Yoder's Country Market
Story and photos by Stokes R. Reagan

'Twas the month before Christmas and all through my home, not a mantel was decorated, not even a gnome…
When my sister and I were growing up, Christmas was a big deal in our house. Christmas meant poinsettias in the greenhouse, homemade bows hanging from the ceiling, and decorations everywhere. So many nutcrackers and snow globes…I think if it had been socially acceptable, my mom would have left the tree up and fully decorated all year.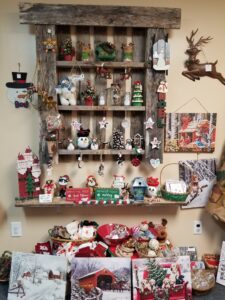 Me? I'll admit it. I'm a bit of a grinch. The decorations never come out before Thanksgiving. I don't really care whether our tree is real or fake. Holiday movies? Not a fan. Christmas is for my kids.
But I love the Christmas spirit. People generally try to treat each other nicer during the month of December. Children have a perpetual look of joy on their faces. Everyone is kinder, more patient, more generous. People spontaneously break into song.
Christmas spirit hangs in the air like mistletoe in the Christmas Room at Yoder's Country Market. From decorations to gifts, Christmas is a year-round affair in the small room at the back of the country store in Blanch, North Carolina (previously featured in the Spring 2020 issue of Hyco Lake Magazine https://hycolakemagazine.com/yoders-2020/).
Yoder's Country Market owner Brittany Scruggs credits local artist Peggy Lambert with the idea for the Christmas Room. In fact, many of the products in the Christmas Room are handmade by Peggy herself. Brittany says she loved the idea. A lot of her customers make yearly trips to Yoder's in the summer. They can pick up Christmas items outside of the Christmas season. Whether you're browsing the store or waiting for your lunch, make sure you take a peek into the Christmas Room.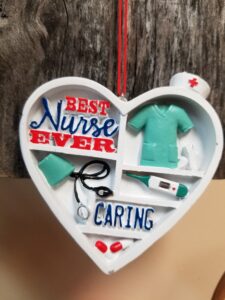 A mantel is propped against the back wall, atop which sits an assortment of Santa stocking holders. Rustic pallets hang on the wall, displaying wreaths, mugs for hot cocoa, and an array of Christmas odds and ends. On the floor lie rugs to encourage your friends and neighbors to jingle all the way into the holiday spirit as they arrive at your house. It's a Christmas wonderland.
The Christmas Room at Yoder's features an assortment of tree ornaments from cute gingerbread people to rustic stars and delicate angels. There are even ornaments for that special teacher, firefighter, or nurse in your life. Is your wife the Best Nurse Ever? Tell her with an ornament!
Look no further for stocking stuffers! There's a table in the Christmas Room packed with Christmas-themed toys, games, crayons, and candy. Need a gift sure to cause a smile? Pick up a tin of reindeer poop.
If you have an animal lover on your Christmas list this year, Yoder's has you covered. They have a variety of canvas prints featuring horses, dogs, deer, and birds in winter scenes. Some of the canvas prints even light up.
When the winter holidays roll around, my kitchen gets a lot busier. I love turning on the Christmas music and lighting a holiday candle to get me ready for Christmas baking. With scents like Under the Mistletoe, Holiday Baking, and Christmas Eve By the Fire, the selection of all-natural soy candles in the Christmas Room is sure to get you in the holiday spirit.
"You found a candle called 'Holiday Baking' and didn't buy it for me?" I guess I know what I'm getting my husband for Christmas this year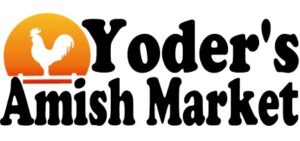 90 County Home Road
Blanch, NC 27212
(336) 694.1800
www.ncyodersmarket.com
Stokes R. Reagan is a Caswell native with a strong passion for supporting her local community. She lives in Blanch with her husband and two children. You can reach her online at [email protected].