Story and photos by Stokes R. Reagan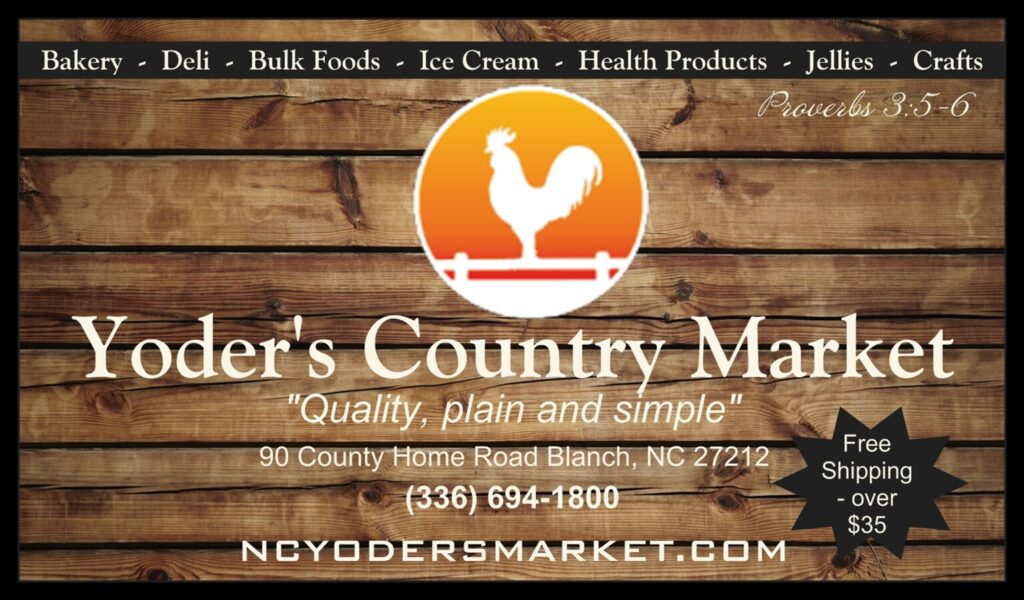 Stepping into Yoder's Country Market is like stepping into the past. Aisles of bulk goods line the shelves. Pleasant music is playing at a low volume and the smell of fresh baked goods is wafting through the air. Caswell County's motto of "Preserving the Past, Embracing the Future" is personified at Yoder's, where you can buy unbleached baker's flour as well as gluten-free garbanzo bean flour. Off to the side is a rack of dishcloths claiming to be the "world's best" that reminds me of the dishcloths my grandparents used when I was growing up. Everything about Yoder's is the best of the past and the present.
Can't make it to the store? You can order it online. It's not just bulk foods and dishcloths. On one side is a country market; on the other side is a deli where you can order lunch and ice cream, then "sit a spell," eating and relaxing with friends. Artwork for sale by local artists like Russell Watlington and Peggy Lambert hangs on the walls. A tabletop checker game sits atop an old barrel with a ladderback chair for each opponent, harkening back to a simpler time.
A cooler full of a wide variety of Troyer meats and cheeses separates the two sides of Yoder's. Manager Latoya Sidney can tell you what you need to know about the choices in the deli. "I like to try everything," she says, "so the customers will know." And there are a lot of choices, including kettle-fried chicken, Virginia ham, homemade chicken salad and pimento cheese spreads and something called sauce meat. Now I was born and raised in Caswell County, but I have to admit to ignorance about sauce meat. Latoya took the time to explain this mystery meat to me. For those of you who don't know what it is, I'm not going to be the one to tell you. Trust me — you're welcome.
Lunch Time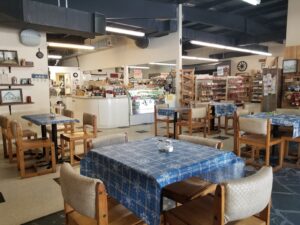 Stop by Yoder's Country Market for lunch one day and you won't be disappointed. Latoya can help you create your sandwich. These are huge sandwiches with hand-sliced meats and cheeses layered between two slices of bread that was baked in-house. My turkey on sourdough was at least four inches high and overflowing with meat. Soups are offered seasonally and change daily. Yoder's began offering side, chicken salad, and chopped meat salads in 2019 as a summer replacement for soup. However, it was so popular they decided to continue offering salads during the cooler months as well. While Yoder's currently offers only cold sandwiches, salads, and hot soup, there may soon be hot sandwiches and wraps offered in the deli. Owner Brittney Scruggs said she would also like to offer more traditional southern fare like pinto beans and cornbread in the future.
Ice Cream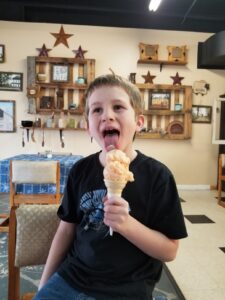 Across from the meat and cheese is the Blue Bell ice cream cooler filled with creamy, delicious flavors like peachy peach and banana pudding. The store also carries the oddball flavor popular with kids, Krazy Kolors, which is vanilla ice cream in bright, fun colors. You can get your ice cream in a sugar cone, a waffle cone, or a cup. If the mouthwatering ice cream isn't enough, upgrade to a milkshake or a root beer float.
Baked Goods
If you're not hungry when you walk into Yoder's, the baked goods may change your mind. There is a wooden rack laden with bread freshly baked by Grace, Mary, and Carla and the selection in the bakery is the spotlight for me. Owner Brittney says her favorite is the original pound cake. When Brittney bought Yoder's, she wanted to try a cake like her grandmother's pound cake.
"One of my favorite things about being a business owner is trying new things out. When you take over a business, there's things that [customers] love about it, that you don't want to change. Then there's some things you say, hey, this isn't going so well. Let's try something else. In the beginning, it worried me a little bit to try new things. But it's funny because I have a baker's heart; that's what I love to do. That's my niche, I guess."
She was apprehensive about trying the plain pound cake next to all the other cakes offered, but it has become one of the store's three top-selling items in the bakery.
"We do lemon; we do triple chocolate, but it's just neat because everybody will say is this sour cream and I'm like no, it's just the original, like Grandma's pound cake. They'll say 'okay, great. That's exactly what I'm looking for.' It's just neat, original pound cake, how much it's taken off."
Yoder's bakery doesn't just make pound cake, though. The store offers a wide selection of cookies, cakes, pies, and loaves of bread that change depending on the day and season. This fall, make sure you stop in for a pumpkin whoopie pie. I have it on good authority that they're to die for.
Yoder's Isn't Just a Place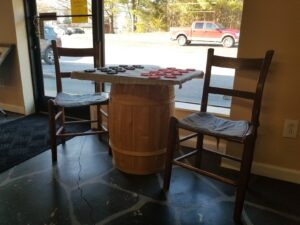 When my son Austin was in elementary school, my mom picked him up every Friday and took him to Yoder's. They would get ice cream and sit in front of the store and watch the cars drive past. That's part of the attraction of Yoder's Country Market for many of its visitors. Yoder's isn't just a building or a business. Yoder's is a place to tell a story.
During the mid-1990s, Caswell County was home to a booming Amish community. I grew up next door to a wonderful Amish family with a daughter my age. One of my fondest childhood memories is riding our bikes together on the dirt road between our houses. Sam Yoder, one of the Amish men who settled in Caswell, opened a store which he appropriately named Yoder's. The Amish community departed as quickly as it arrived, including Sam, who sold his store to Rick and Liz Smith. The Smiths relocated Yoder's from its previous spot on Blanch Road to its current, high-traffic location just seconds off NC Hwy. 86.
Six years ago, Stoneville native Brittney Scruggs was working at State Employees Credit Union and expecting her second child with her husband, Justin, who teaches P.E. at South Elementary School. Some people would think that was enough adventure, but not for Brittney. Eighteen days after buying Yoder's Country Market, their second child was born. She credits a former employee who stayed on during the transition whom she says could "run this place with his eyes closed. It was great." She added that, when she thought about starting a business, she envisioned starting from scratch, and everything being her own idea. "But when you come into something, it's all laid out that you have to learn." Brittney says although she's a Rockingham County native, Caswell County "has become home for me." In fact, her parents have moved to Caswell County to be closer to their grandchildren.
She said she appreciates being able to employ local people. "I guess I do take a little bit of pride in that…being able to offer jobs to people at a place I call home."
Locally Made Products
That commitment to the place she calls home is reflected in the products she stocks at Yoder's. "When you shop local, you're helping a family," she says. Local products are "one thing that I've enjoyed adding to the store." In the corner, there are walking sticks "designed by Mother Nature" and "refined by 'The Stickman.'" Handmade Easter wreaths adorn the walls.
Tina Barbour of Make Mine Homemade in Roxboro has a shelf in Yoder's dedicated to all-natural personal care items such as salves, deodorant, and sugar scrubs. Made with only natural ingredients like ethically foraged wild black elderberries, Tina also keeps a supply of elderberry syrup in the store year-round.
Susanne Byrd Hawkins of Anderson is the face behind many Mama B's products. Mama B's was born when Susanne had a bumper crop of tomatoes and okra. "Already canning food for my own family and friends, Mama B's was born," she says. Yoder's carries a wide selection of locally made items, from jams, pickles and jellies to handmade tobacco stick crafts. You can also find Byrd Farm tomatoes at Yoder's during the summer. However, Brittney and Susanne say you might see more than just tomatoes in the store this summer.
Meadows Edge Farm, owned by Phil and Elizabeth Barfield, is another local vendor featured prominently in Yoder's Country Market. The farm, an apiary located in Blanch, stocks honey and a variety of honey byproducts at Yoder's, such as lip balms and body salves. They even make a natural alternative to harmful chemicals in their Tick Blocker Balm.
Yoder's is About People
Mr. Brown is a man known as "the fudge guy." Brittney says he knows the employees by name and "he's one of those customers that truly is like family." Mr. Brown, after moving to the area, came into Yoder's for the first time on Jan. 1, 2014 — Brittney's first day after taking over Yoder's from Rick and Liz Smith. "He was that positive that I needed," she says.
"When you have a small business, your business stays open because of your customers," Brittney said, adding that, when she first took over, she wondered if a country store was "becoming a thing of the past." But, she says, "it's something people desire." Now with her fifth child on the way, Brittney is looking to the future. "It would be neat to somehow expand, with more tables and chairs and food-wise. We have people who come in for meetings and get-togethers and we have to bring in more tables. But it would be neat to have a country scene where if people wanted to come in and host larger meetings they'd be able to."
Yoder's Country Store is located at 90 County Home Road, Blanch, NC 27212. It is open Monday through Friday from 10 a.m. to 6 p.m., Saturday from 10 a.m. to 5 p.m., and closed on Sunday. To order or find out more, you can also visit online at www.ncyodersmarket.com.


Stokes R. Reagan is a Caswell native with a strong passion for supporting locals who thrives on cultivating a sense of community. She lives in Blanch with her husband and two children. You can find her at the Caswell Local Foods Community Lunch every second Wednesday of the month or at [email protected].