Edgewood Townhomes in Halifax, VA
By Peter Berry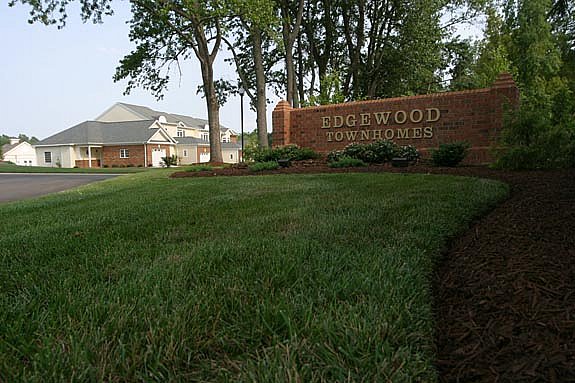 Yes, it is true, I am not from around here. But…my kids were born here, so I cannot be sent back north of the Mason Dixon line.
I grew up in the small town of Baldwinsville, New York, about 15 miles west of Syracuse. Now I live at Hyco Lake, surrounded by small towns. The air is clean, the taxes are reasonable, and the pace of life is slow. Okay, so it's not that slow, but it is better than the big city!
After years in our nation's capital and many more in the capital city of North Carolina, I am pleased to have settled in an area similar to my hometown. Except of course for the taxes, cost of living, overcast skies, and SNOW! To me, the Hyco Lake Region (Person County, NC | Halifax County, Va. | Caswell County, NC | Danville, Va.) is just about as close as you can get to Heaven on Earth.
I was in my teens the first time I saw a townhome community. Just across from the plastics plant, some big developer built these funny looking structures that looked more like apartments than single family homes. It wasn't until the late 1970s that I stepped inside one. I had never seen so many stairs.
Fast-forward to the mid-1980s, when I lived in the Washington area. Several of my friends were buying townhomes because they couldn't afford a single-family house. Not me. I was saving up to buy a real house with a yard, just like my parents.
I think you understand my opinion of townhouses. That did not change while I lived in Raleigh for over 20 years. To me, they are rows and rows of boxes that look the same. Parking is limited. Nobody knows their neighbors. And you have to pay exorbitant Home Owner Association and maintenance fees.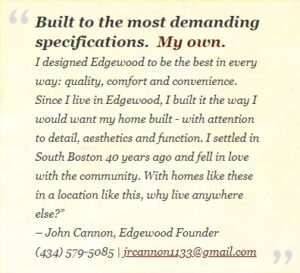 My opinion started to change when I met the man who developed a little-known community in Halifax, Va. John Cannon explained that he was building some new units and might be interested in advertising in Hyco Lake Magazine. Still skeptical, but happy to work with him, I began to learn more. When I discovered that this man, the actual developer, lived in the beautiful complex that he created, that's when I started to pay attention.
Now I understand that Edgewood Townhomes in Halifax is rather unique. After spending a morning with two of the first residents, I too would consider living there… if only it were on the lake.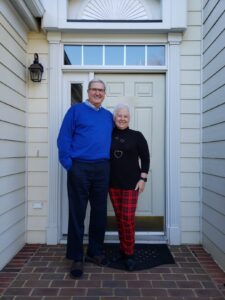 I dropped by Logan's and Carolyn's beautiful home mid-morning for a cup of coffee and a chat about how they came to live in a townhome community and this one in particular. The conversation meandered through many topics. We shared our "love later in life" experiences, and discussed careers, kids, and even vacations.
Logan grew up on his family farm in Halifax County, then attended the University of Richmond. After graduation, he found it difficult to land a job in the big city at the height of the Vietnam War. It seemed that most employers were not willing to invest in a young man who might be drafted at any time.
Luckily, a bank in South Boston, where he had been working during the summers, offered him a position. That is how he came back home to live on the family farm. He lived there until buying a home at Edgewood, but I'll get back to that later.
Not long after Logan returned to the area, his father passed away after battling cancer. By then his brother and sisters had all moved away to live in cities much larger than South Boston. Logan lovingly stayed home to look after his mom and take care of the family farm.
It was not until the early 1990s that Carolyn entered Logan's life. Until then, he was a self-proclaimed workaholic with a career and the farm occupying all of his time. Carolyn was born and raised in Texas, then worked in California. She was teaching school when a company that offers software for school systems and teachers asked her to become a trainer. Her new job would involve traveling around to school systems, teaching customers how to get the most out of the software. After four years in California, a transfer to Virginia was offered. So, she packed the car and drove to the East Coast for the new assignment in Richmond. She was terrified of moving across the country and taking on this responsibility in an unfamiliar part of the country. Fear nearly paralyzed her. Plans were to stay one year.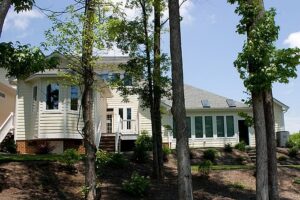 As fate would have it, she met Logan on one of her trips to South Boston. Their first blind date was uneventful and he never called her. So, she called him! Their second date took them to Clarksville Station in Roxboro, which happened to be closed on Mondays. Searching for just the right place to eat, they drove and drove and drove — all the way to Chapel Hill and back. They finally settled on Wendy's in Roxboro. How romantic. After a two-year long-distance relationship, they married in 1995.
Happy to live out their lives on the family farm, they settled into a comfortable routine. Logan's mom had passed before they met. They only owned a fifth of the property, but were doing 100 percent of the work. Things had to change.
They first looked at Edgewood in Halifax when the roads were still mud and the first foundations were being laid. They insisted on quality and a home that would require little to no effort to maintain. It needed to be close to shopping and health care because this was to be their forever home. Within a month of the first units being completed, three were sold. One of these still belongs to Logan and Carolyn.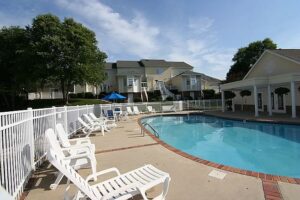 Logan is quick to compliment John Cannon's insistence on quality. He says that each unit is better than the ones before. Carolyn can't say enough about the pool, grounds, and the clubhouse. They laughed when explaining about peeking out their back door to see if anyone is at the pool. If so, they'll grab a glass of wine, stroll over and strike up a conversation.
Carolyn went on and on about the neighbors. "When we have to go out of town, it's like having house sitters all around us," she said. Edgewood Townhomes is a real community where folks interact and actually care about one another. Even with those who are not there long.
In one case, Logan explained that he and Carolyn quickly became close to a new family. Enough so that Carolyn and Logan were invited to join them on a family vacation in Portugal. This was not some fancy resort in the Mediterranean. They actually experienced this European paradise with the family, as locals.
Logan and Carolyn are truly happy at Edgewood and continue to enjoy the amenities of its townhome community.
The local hospital owns a couple of units at Edgewood. It provides these homes to new physicians and their families, giving them a chance to get to know the area before investing in a home.
With all of my travels around the Hyco Lake Region, I have yet to come across a community like Edgewood Townhomes. It is truly a unique Living Style.
Edgewood Townhomes are located in Halifax, Va. (434) 575-5780 | EdgewoodTownHomes.com


Peter Berry is the owner and Editor of Hyco Lake Magazine.