Story and photos by Sam Seamster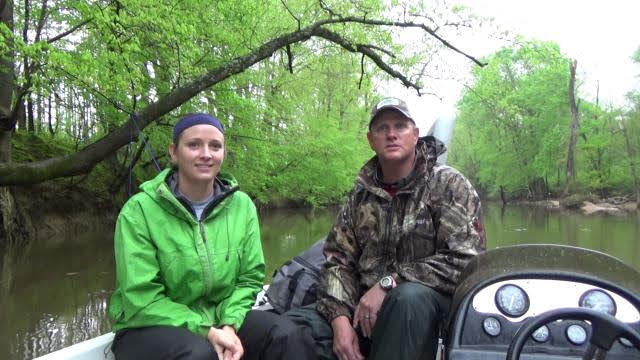 I hope you've had successful fishing over the past couple of months. This time of the year is a really great time to be fishing. As the water cools down, the fishing gets hotter. A few weeks ago, I ran into Peter Berry, the owner of Hyco Lake Magazine, at the boat ramp. As we talked about the winter issue, he posed a great idea for an article on Christmas gifts for fishing enthusiasts.
My mind immediately started to recall some of the most memorable Christmas gifts I've received, and some not so memorable ones. My most memorable gift was a new Honda four-wheeler; man, that was a surprise. I still have that same four-wheeler today, some 20 years later.
Fishermen can be particular about the type of fishing equipment they use, and for that reason, most people steer away from buying these items as gifts. My wife has made the statement that I'm too particular about my fishing and hunting equipment for her to buy any of it for me for Christmas. In this article, I will list some possibilities, many of which I have used or are used by my friends.
Battery Powered Fillet Knife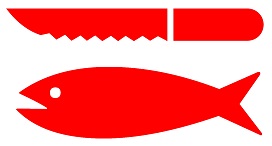 First on the list is the Bubba Knife – a cordless fillet knife. It has a lithium ion battery with a long run time. It includes a seven- and nine-inch tapered flex blade and nine- and 12-inch stiff fillet blades, a second battery and a charging cord. It comes in a molded carrying case, making it easy to take with you on the boat, and is easy to clean. I have personally used this fillet knife and it is a great-to-have "no cord" to drag around. I still use my old electric fillet knife with the cord but I think this Bubba Knife is in my future.
Fish Cleaning Table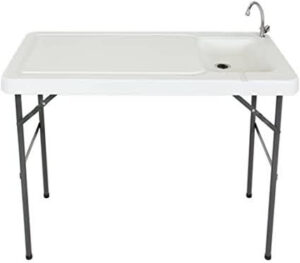 A folding portable fish cleaning table has a built-in sink and faucet. I use mine all the time. To use it you simply attach a water hose to the faucet for clean running water, and place a bucket under the drain hose to catch the wastewater. It has folding legs for transporting and storing. I have enjoyed my cleaning table for many years and I tell anyone that doesn't have one it's a must have. I always take mine with me when I visit the coast to do some surf fishing.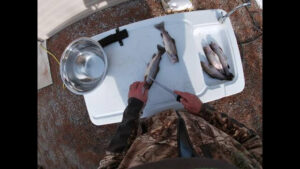 Live Bait Cooler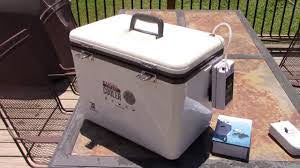 Next on the wish list is a live bait cooler; something to keep your minnows alive and frisky. There are several on the market but the one I use is the Engel bait cooler. They have four sizes to choose from, including 7.5, 13, 19, and 30 quarts. I use the 13-quart size for transporting minnows to the lake. These coolers have a pump that will run on D batteries or a 12-volt adapter. The cooler is fitted with two latches and is sealed around the top so that, if it turns over in your truck or boat, it will not spill water everywhere.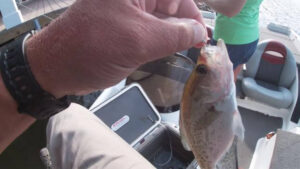 While we're on the subject of coolers, I had added an aerator to an old Playmate cooler and gotten by with it for several years. On one particular day, I headed out of the store with three dozen minnows and a full cooler of water. It was heavy, and as I strained to hoist the cooler up and over into the boat, the lid came unlatched and all the minnows and water came pouring back on me. I was soaked and all my minnows were flopping around in the parking lot. It was not a good day! I made my mind up right then that I was going to buy myself a nice bait cooler.
Life Jacket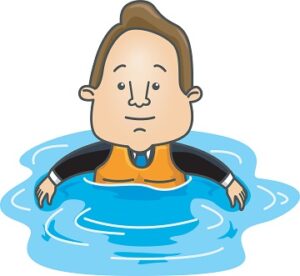 A life jacket is probably the most important gift you could give someone who is out on the water. It is just what it says — it saves lives. Most people don't wear life jackets because they are big, bulky and uncomfortable. There are, however, some nice inflatable life jackets that wear really well. If you have someone who likes to venture out alone on the water frequently, this is a great gift. Most people have the bulky orange ones stuffed somewhere inside a storage compartment and the only time they appear is when the warden checks them. There are a lot of different brands of inflatable life jackets on the market and most are very good. My suggestion would be to buy the best one you can afford. It may save a life.
Fishing Net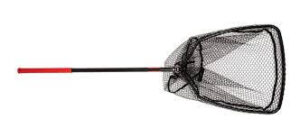 If you look around at different boats going by you will see a variety of fishing net sizes, colors, and materials and they too can be pricey. Fishing nets are like most items; as the price increases so does the quality. The Bubba Net is nice and comes in three different sizes, so before you buy one for someone, you should know the species of fish that person most often fishes for. The Bubba has a coated net so it will not harm the fish. The handle is made of carbon fiber so it's really light to take along on the boat, kayak or even from the bank.
Rain Gear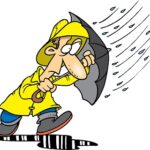 Rain gear can be specialized from cold weather to warm weather and a host of other things so I'll keep this simple. Many fishermen do not carry rain gear simply because they don't fish when it's raining. But sometimes you get caught in the rain trying to get back to the dock, as I did a month or so ago, and guess where my rain suit was? In my shop at home.
A set of Frogg Toggs would make a nice gift for anyone. I bought my wife a set just in case we get caught out on the water and it starts to rain. Frogg Toggs fold up really compactly and don't take up much room in the boat. You can store them under the seat or in one of the compartments. If the temperature is down around 50 or 60 degrees and you get really wet and have to ride all the way to the ramp, trust me, you will be cold. Do yourself a favor and get a good rain suit.
Costa Sun Glasses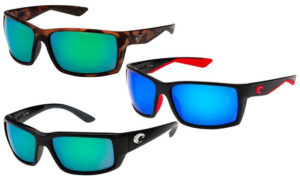 I will say I am indulging in this item. I really like my Costa glasses. I have an everyday pair and a fishing pair. You can customize these glasses almost like customizing a suit of clothing. They have lenses for night driving all the way to bright sunlight. I have sensitive eyes when it comes to bright light and I have really noticed a difference in eye fatigue while out on the water on a bright, sunny day. I can guarantee if you get someone this gift their eyes will light up.
Rod and Reel Combos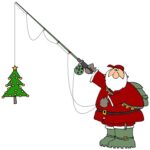 Now, I have to be careful with the next two items. Rods and reels for fishermen are specialized items and everybody has their own top choice, so I'm going to only make two suggestions for this category.
First is an ultra-light rod and reel combo — the Pflueger President spinning reel and Fenwick Eagle fishing rod combo. I do not have this particular reel but I do fish with Fenwick rods and I have been very satisfied with mine over the years. The Pflueger has 10 ball bearings so it is a smooth-running reel. You can get this on Amazon and you can choose the length of rod you want. This combo is good for smaller size fish.
Next is a medium size spinning reel and rod combo, the Penn Battle III spinning reel and fishing rod combo. The Battle III reels are really smooth winding, lightweight, and come with five ball bearings. You can use braid or mono line on them. The rod is a Penn graphite rod and, depending on your choice of reel, probably will come with a six-foot, six-inch rod.
I hope I have given you some new ideas for Christmas this year. I know I would certainly like to receive any of the gifts listed above. I would love to hear from you as to whether this was helpful. I always like to see someone get a really great gift. Keep an eye out for my YouTube Channel. I'll be fishing all winter.

Check out Sam Seamster's Facebook page and YouTube Channel: Wild Life Adventures