By Denise S. Hudson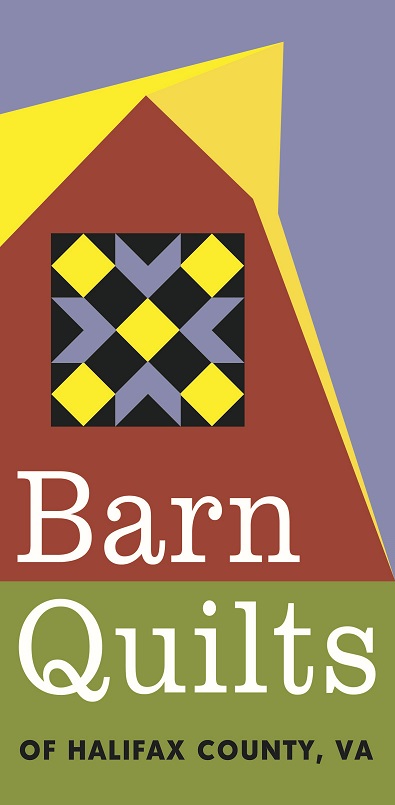 Have you seen the paintings of quilt squares popping up around Halifax County, Virginia?  They are more than just a folksy attempt to beautify the bucolic landscape of the countryside or enhance the historic buildings of our towns.  These pieces of art are fueling a movement to promote tourism, spark economic development, and encourage folks to visit the Halifax area. What started as a local grassroots interest in barn quilt art has now blossomed into the creation of a Barn Quilt Driving Trail. Tourists and locals alike can at their leisure drive throughout the county viewing the various artistic renditions of quilt pieces.
Just under two years ago the Halifax Barn Quilt Trail started when a small group of individuals gathered to discuss Barn Quilt art and the possibility of starting a Trail in Halifax. From that small group of dedicated women came the first pieces of the trail, which has grown to over 50 barn quilts being displayed throughout the county.  The Trail pieces are varied with many of the quilt patterns honoring ancestors and agriculture, Halifax's tobacco heritage, and the Freedom Trail.  Halifax has beautiful old barns and farm sheds, as well as historic buildings that are perfect backdrops for these works of art.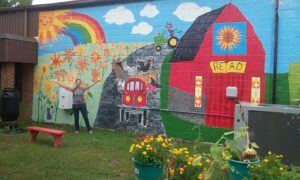 Barn Quilts started in Ohio. The book "Barn Quilts and the American Quilt Trail Movement" tells the whole story.  Donna Sue Groves loved quilts and she loved barns.  When she and her Mother moved to Adams County, Ohio, she got the idea of brightening up a barn on their property. She encouraged her community to follow her example and as a result the first Barn Quilt Trail was formed in Adams County, Ohio in 2001.  As a result of Donna's efforts Quilt trails are now being organized and are located across the country.
The creation of the Halifax Trail has sparked entrepreneurialism with several local businesses and artists, now painting custom pieces, teaching classes to those who wish to paint their own piece or selling pre-made Barn Quilt pieces at the Halifax Farmers' Market and Visitors Center.
The Barn Quilts scattered throughout Halifax County have become so popular with visitors that the organizing group is preparing for its Second Annual Barn Quilt Trail Day on April 27th, 2019.  This annual event brings people to Halifax County and the dollars they spend benefit our Farmers' Markets, shops, restaurants and other businesses.
So, save the date and come to Halifax County on April 27th where all are welcome to drive the trail and participate in various special activities along the way. Starting at 9:00 a.m., visitors can stop by the Town of Halifax Farmers' Market or the South Boston-Halifax Visitors Center and pick up a detailed Barn Quilt Trail Map, suggested itineraries, and information about the special events along the trail.  Some things to do on this day:
Stroll the Halifax Farmers Market and meet artists who paint Barn Quilt pieces.
Visit a winery, restaurant, or distillery and admire their Barn Quilts.
Visit a local church that proudly displays a Barn Quilt honoring local Veterans will be open to the public and offer light refreshments.
Be welcomed to the Historic Elmo Grocery where they can help paint the Community Barn Quilt piece.
See Oak Grove Plantation Bed and Breakfast that be open to Barn Quilt Trail travelers and offering a tour of the historic Thomas Day property.
And if Visitors wish to paint their own Barn Quilt piece, they can stop by Pecan Hill Farm where the owner will be hosting a drop- in Barn Quilt painting class.
These are just a few of the special activities you can expect to experience along the trail on April 27th. Additional information about this event and special activities can be found on the Halifax County Barn Quilt Trail Facebook page or the Halifax County-South Boston Tourism website www.gohalifaxva.com.

You may also be interested in the Person County Quilt Trail