By Candace Dishmond-Baskervill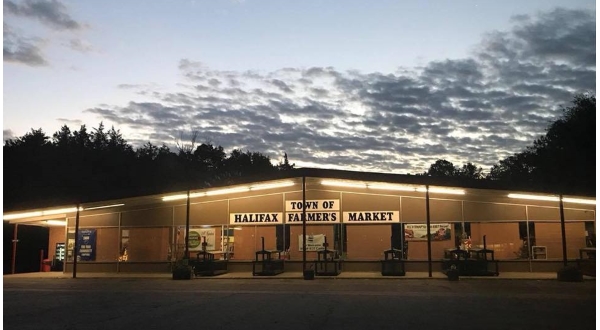 Nestled in the heart of downtown Halifax, Virginia, there is a hidden gem that I just have to unearth for you! Imagine for a second, a giant indoor and outdoor market full of local artisans, antiques, gently used goodies, locally packaged foods, handmade treasures, essential oils, and repurposed creations and then, (as if that's not enticing enough!) pair that with the best local produce, jams, jellies, herbs, eggs, spices, pork skins, and pasture raised meats.
This treasure trove is located at 209 South Main Street in the cute little town of Halifax. The "Market", as locals affectionately call it, is open every Saturday in January through April from 9 am until 1 pm and 8 am until 1pm from May until December. They also have other special events and holiday hours that they announce on their social media page.

The Farmers Market is managed by Denise Barksdale, who is also the Assistant Town Manager for the Town of Halifax. Denise has worked tirelessly for the last eight years turning the Market into what it is now. When she took over management, it only offered outside produce vendors and only about six of those. Now, she has grown the market to where the building in which it is housed, an old grocery store, is at max capacity and the exterior spaces are full year-round as well. When I asked Denise how she grew this so much in the last eight years, she told me that it was almost natural. The market was what the community wanted and needed. The artisans and crafters kept asking the town for an affordable, community-oriented place to sell their wares. It started out as local artisans and crafters, and in recent years, antique collectors and dealers and furniture repurposers and refinishers have taken up vendor spaces in the Market with their beautiful pieces. She finished her answer to me with a simple, "these people have become family."
Denise says that the diversity of what is offered at the Market is what makes it unique. Vendors spend their weeks working on their wares and you never know what you might find from week to week. I can personally attest to this. I love to stop in and stroll through the vendor booths and see how they have taken something old and created it into something new, or taken an antique window and painted a beautiful ocean scene on the glass. There is always a surprise or two waiting to be found. In addition to being very kind and easy to talk to, the vendors themselves are very knowledgeable about what they have to offer, including the history behind each piece. It is fun to load up my reusable shopping totes, and spend my Saturday morning picking up some of the best locally grown produce, meat and homemade soups, salads, and snacks for my family to munch on throughout the following week. I can never stop by and just shop the produce stands outside, my curiosity always gets the best of me and I have to "just take a peek" inside. That "peek" always ends up taking a few hours because the Market is the community gathering spot on Saturday mornings. Inevitably, I end up seeing people I know, chatting with the vendors, and making a purchase or six or seven!
The Market hosts a litany of special events throughout the year, and they never disappoint! The Spring Bazaar and Earth Day Celebration are two that are very exciting and I cannot wait to watch my kids and see them experience all of the fun and educational things that the Market will have to offer. The Earth Day Celebration will kick off on April 25th with a free community paper shred event from 4-7pm and then wrap up on the 27th of April with an E-Recycling (electronic device recycling) Event, Shitake Mushroom Class, and a Rain Barrel project for the grown-ups. Kids can participate in dirt crafts, rock painting and make a recycled bird feeder out of a cardboard toilet paper roll.
It is definitely fair to say that the Halifax Farmers Market offers consumers some pretty unique ways to reduce, reuse and recycle all while shopping and spending time locally. That's definitely an idea that I can get behind.
Upcoming Events at the Halifax Farmers Market:
Master Gardner and Staunton River Battlefield workshops- 2nd Saturday of the Month from May-September
Spring Bazaar- April 6th
Earth Day Celebration- April 27th
Cruz In- June 1st
Fairy Garden Contest- June 8th
Grand Opening Celebration and Market Tour- August 10th
2nd Annual Iron Chef Competition- September 7th
See these and other farmers' market events https://hycolakemagazine.com/farmers-market-events/
Follow the Halifax Farmers Market on Facebook for more events, classes and to see a sample of what all is offered! http://www.townofhalifax.com


Candace Baskervill is a consignment store owner in Halifax County. She actually got her feet wet in the resale industry at the Halifax Farmers Market three years ago helping her dear friend Susi Robbins who is a vendor at the Market during the Holidays. Today she regularly shops the market as often as she can and has developed somewhat of an addiction to the chicken salad and herbed cheese spread on top of fresh local cucumber slices that she discovered and fell in love with. https://shopsweetcees.com