Lately we have all had occasion to say that things "ain't what they used to be." For some, there has been a return to simpler things, perhaps coupled with a certain nostalgia. Some things that we might have taken for granted — like having a front porch — might be poised to reemerge as a way to reconnect with people and the world around us.
The front porch is a significant feature of southern life. For those of us who have a front porch and still use it, it is like an early form of social media. Way before cell phones and email, locals would sit on their porches to take the evening breeze, sip a glass of tea, and wave to their neighbors and passersby. It was a place for families to gather, receive guests, catch up on the latest news, and build community. The front porch was a place where local and family history was recounted, memories recalled and re-lived for new generations. All of this happened, and continues to happen, on Miss Eleanor's Front Porch, Antiques and Collectibles, LLC, a new shop at 1207 North Main Street in Roxboro.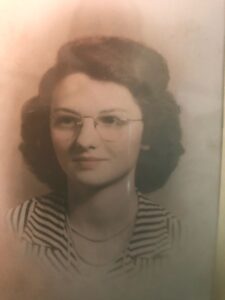 Flash back to Roxboro on Jan. 1, 1921 and the birth of Eleanor Davis Gray. When she attained double digits age wise, she went to work at her family's general store, A.R. Davis Store in the Cavel community. She loved making deliveries on her bicycle to visit with neighbors and customers, probably on their front porch. (The bicycle in front of the shop is a tribute to Miss Eleanor.) She left school in May 1937 at the age of 16 to work in a local mill, Collins and Aikman, to help the family financially. In 1948, she married and went on to have four children. Her daughters, Kathryn Hester and Betty Compton, are the proprietors of the shop that now bears Miss Eleanor's name.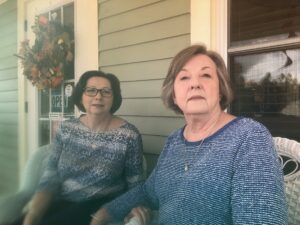 The Main Street site for the shop is connected to Miss Eleanor and her family historically. Originally a possession of Miss Eleanor's mother, Bessie Barnette Davis, the property eventually passed to Miss Eleanor, who left it to her daughters. The family never lived in the residence, but used it as a rental property. When the last renter left prior to 2004, the property remained vacant until 2011, when the sisters decided it was time to do something about it. Their choice was to refurbish the house, a process that would take the next 10 years and lots of care and attention to detail. The result is a clean, bright, lovely space that has preserved such features as the original pine flooring and the V-board panels that cover the walls and ceiling, so named because of the bead and V-shaped grooves that were cut into the wood panels. Other fixtures such as the front check-out counter feature new beadboard that was custom made by Betty's husband. He also restored showcases within the shop and continues to restore some of the pieces that are acquired for the store.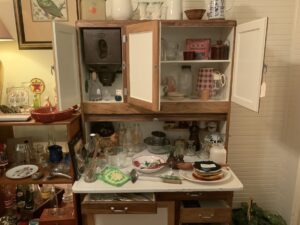 The items for sale have been obtained by Kathryn and Betty over the years from flea markets, yard sales, estate sales, and antique shows. Kathryn began collecting in earnest about 20 years ago, but her love of pretty things comes from her mother and grandmother. Both previous generations made an effort to acquire nice things, such as china and glassware, to beautify their homes. As such, china, glassware, embroidered linens, prints, artwork, and jewelry all feature prominently in the current displays. There has also been a particular effort to acquire men's accessories, something which the sisters confess has not been easy. They do have enough items to create a considerable display, however.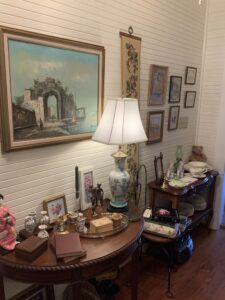 The most valuable piece in the shop is the 1920's restored antique Napanee Dutch kitchenette made by Coppes Bros. & Zook Co.in Nappanee, Ind. (They dropped a "p" in the brand name.) Two additional valuable pieces in the shop right now include an Italian glass tray and a hotel tea-tipper, considered an amenity for hotel service back in the day. I cannot do these pieces justice with my own description. The sisters, however, are knowledgeable about each of the pieces they offer for sale and can fill visitors in on the history if so desired.
The shop is a bit like a museum. This alone makes it worth a trip. Kathryn and Betty understand that they are not just selling nice things, but history as well. They tell the stories of artifacts, however grand or common their use, that make up part of our past and continue to live on through our current appreciation, custodianship, and use of them.
This brings me back to the image of the front porch as a place where history is recalled, preserved, and shared. Miss Eleanor's Front Porch is such a place.
Miss Eleanor's Front Porch, Antiques and Collectibles, LLC
1207 North Main Street
Roxboro, NC
William Spivey is a librarian by profession and a recent transplant to Person County. He is an avid cook, loves art, needlework and gardening/landscaping. His favorite pastime is creating and collecting miniatures. See his story, It's the Little Things, on our website: https://hycolakemagazine.com/its-the-little-things/
Photographs by Norwood Walker.