When I was growing up, the kitchen was a meeting place. Memories of grandma's apple cake, the smell of warm cookies, my sister swatting my hand away at a failed attempt to snatch some cookie dough have stayed with me. Sitting on the kitchen counter while my mom baked her famous chocolate chip cookies was a time to share the triumphs and the tragedies of the day.
The kitchen is where memories grew, like the time I swapped sugar for salt, which resulted in a hard brick of chocolate even the birds wouldn't eat; decorating gingerbread men and sugar cookies at Christmas, and learning that it is easier to clean as you go than it is to do it all at the end. The kitchen has been a safe space and, for me, baking is the place to go when feeling stressed or celebrating an accomplishment.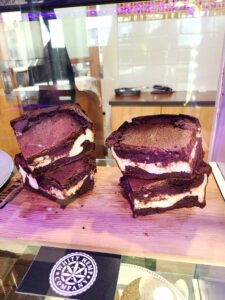 Our family has always celebrated occasions, special and every day, with baked goods. Every Sunday after church we stopped by our local bakery for something delicious. From Philadelphia Butter Cake to donuts to coffee cakes, Sundays started with something sweet. Birthdays and graduations always include cake, Christmas brings cookies, Easter something light.
This is what we want to share with Person County. We want to help celebrate. We want to be the safe place to rely on. We want to be part of the memories.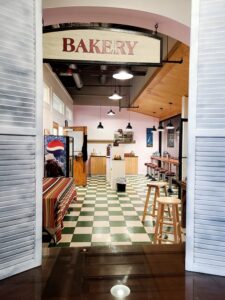 We moved to Person County in 2017, when Thomas, my husband, had an opportunity in the hemp business and I was fortunate to get a position in education. We knew we wanted to become part of the community. In 2020, Thomas had the opportunity to break off on his own and create Whitt Hemp. At the same time, we launched Pumpkin and Bugg's through the Farmer's Market on Depot Street. As the weeks went by, our customers directed our sales, eventually marrying the two concepts.
Pumpkin and Bugg's and Whitt Hemp now serve both traditional baked goods and those infused with CBD. At our shop in Hall's Way, customers can also find CBD oils, lotions, and wellness products from other community and farming partners. As we continue to grow, we hope to offer more CBD products for our customers, along with a rotation of baked goods.
We also plan to add classes and programs in the near future.
When we started the bakery, we knew we had something special, and that is proven whenever our customers share their stories and stay for a chat. They have become part of our family and we hope to be able to continue to build memories as we meet in the kitchen.
Pumpkin & Bugg's Bake Shop
44 Gordon St.
Suite #60
Roxboro, NC 27573
(813) 727-9049