Miniature artists play a hidden role in our daily lives and yet we are surrounded by their work. The money that we spend, postage stamps, book covers, jewelry, and product labels are all examples of miniature art in our everyday lives. (Can you find the spider on the one-dollar bill?) I don't think that many people have slowed down to appreciate the skill and level of detail that goes into the creation of these everyday items. However, there is something about a model train or dollhouse that captures the imagination of children and adults alike. This fascination is not new.
A Brief History
Broadly defined, a miniature is any object smaller than life size; a tiny copy or small version of something. Cave paintings are some of the earliest examples of miniature art. The ancient Egyptians created miniature dioramas of workers, butchers, bakers, brewers, etc., to accompany their dead into the afterlife to provide them with everything they would need. Statues of household gods from ancient Greece and Rome are also examples, as are the stained-glass windows and religious statuary of the Middle Ages.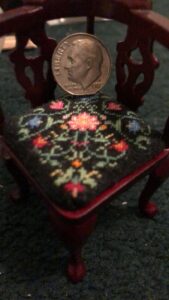 The Dutch are generally credited with developing, in the 17th century, what we would today call a dollhouse. These were elaborate pieces of furniture, cabinets generally, divided into small interior "rooms." They were works of art used to display miniature versions of art work and objects that could be found throughout the house. Although it is a popular notion that these cabinets were also used as teaching tools for young ladies of the day, they were not toys. Young ladies of a certain class were expected to know how to manage a household and thus needed to know things such as how to select silver, carpet, tapestries, and linens, and how to display them to advantage. The objects contained in these cabinets included real silver, gold, ebony, mahogany, ivory and silk; precious artworks, not playthings.
The 18th and 19th centuries saw the advent of the dollhouse that we are most familiar with today. Examples from this period take on the shape of actual houses instead of cabinets. Originally created by artists and artisans, as the industrial revolution progressed, so did the mass production of toys including dolls, dollhouses, and all of the related furnishings and decorations. Most of these early examples look a bit odd to us largely due to differences in scale. Even though all of the objects are easily recognizable as miniatures, some objects just seem a little out of proportion. Thankfully, this was rectified in the early twentieth century with the creation of a standard one inch to one foot scale for miniature work. In other words, a three-foot table becomes three inches in miniature, a nine-inch plate becomes three-quarters of an inch, etc. The result is the ability to create realistic, proportional, and historically accurate scenes.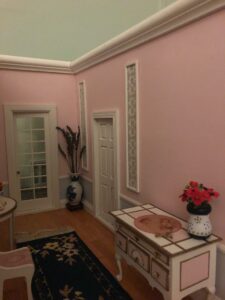 My personal history with miniatures began when I was a child and a family friend showed me an old pie safe that she had converted into a dollhouse. I was captivated by this tiny world and wanted one of my own. Instead of buying a house and furnishings, I chose to make them. So, my first attempt was a cardboard box with working doors (thumbtacks make good doorknobs), a refrigerator crafted from a toothpaste box, and lots of furniture made from popsicle sticks, wooden matches, and toothpicks. The tools of my trade were emery boards, straight pins, school scissors, and lots of glue and paint.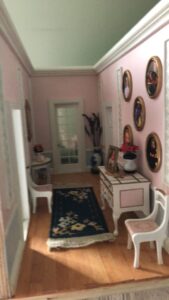 I outgrew this version and focused on perfecting my needlework skills, which eventually led me to recreating historical carpets in miniature because I could not find the pieces that represented the historical periods that most interested me. Oddly enough, I ended up in a living situation with a curio cabinet. My first thought was a dollhouse. Slowly but surely, I began to collect pieces and transform this cabinet into a small residence. This led to an interest in creating period room boxes. Ever the artsy/craftsy type, I bought miniature furniture kits and began seeking out other miniaturists and suppliers. Most of the materials that I use have to be obtained from specialized vendors. Even though we encounter miniatures in our everyday lives, it is often difficult to find locally the materials needed to create them.
The Project
A series of life changes brought me to Person County and Hyco Lake. A further series brought me into contact with one of my fellow writers, Norwood Walker and Hyco Lake Magazine. When Norwood saw my work with miniatures an idea began to form in his mind. From the time his granddaughter, Vivian Grace, was born she spent many hours sleeping on her grandfather's chest till their hearts almost began to beat in rhythm. He knew that someday he wanted to do something extra special for her. Little did he realize that in the process of creating a special lifetime gift I would also develop a special lifetime friendship.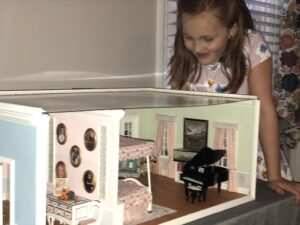 Browsing one day in Carol's Collectibles, Norwood came across some miniature furniture kits. Marked at under $4 each, he bought all three. He shared his purchases with me, and I asked him what he wanted to do with them. Without hesitation, the words tumbled out of Norwood's mouth, "Create a room for Vivian!" Thus it began. I started drawing up plans, frequently consulting Norwood about what he wanted for the project and what he thought Vivian would like. Primarily, Norwood wanted it to be something his granddaughter could keep forever; something she would look at and realize how much she was loved. Not an easy task.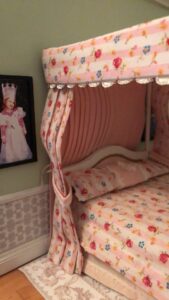 Norwood and I started with things that Vivian was interested in like music, dance, books, flowers, family, animals, and unicorns. Norwood found a 1:12 scale baby grand piano at a Hobby Lobby and grabbed it, along with some patio furniture and plants. The final design had a large room and hallway with doors opening to a terrace running the length of the structure. This led to a flurry of online ordering of doors, windows, doorknobs, flooring, other construction materials, and furniture. Once the individual walls had been designed, a friend of mine assembled the pieces and added the finishing touches.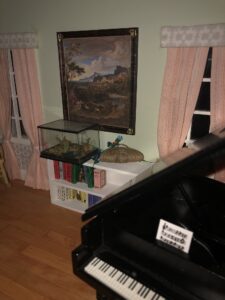 Once the basic structure had been completed, Norwood and I still had a lot to do. For example, the flooring had to be sanded, stained and wiped, stained again, and then a final coating applied after it was installed. I trained Norwood in staining techniques and gave him homework. In the meantime, I was at work designing unicorn pattern wallpaper, sewing the canopy and spread for the bed, creating paper flowers, a terrarium complete with a turtle and plants, and book covers for Vivian's favorite books. In addition to looking for paintings of rainbows and dancers to personalize the artwork in the room, I also miniaturized family pictures, contributed by Norwood, to draw the entire family into the finished product. One delightful find was a unicorn mirror. The mirror is placed on the back wall so that anyone who looks into the room is instantly "invited" into the room. They are transported to a place of imagination.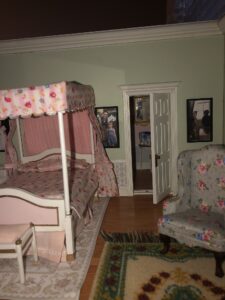 As this dream gift for Vivian continued to unfold, Norwood was drawn increasingly into this small imaginary world. He went from simple "oh wows" to being too choked up for words and hardly being able to see through tears of wonder, joy, and gratitude. Throughout the process, Norwood was very generous with his appreciation and praise of the creativity, hard work, and affection that I invested in the project.
The Gift
In order to make this a true surprise, Norwood told no one in his family until the final version was almost ready. Vivian's parents were kept in the dark until the very end lest they let something slip. Vivian's birthday was in November, the original deadline, but Norwood's daughter revealed that Vivian was to receive a great six-foot tall dollhouse they had found for Vivian's birthday. Christmas became the new target.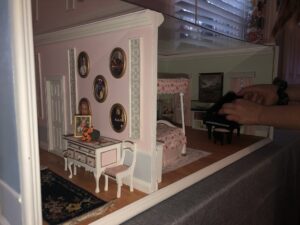 Norwood picked up the completed house in early November and transported it to his sister's house. I had carefully wrapped and packed all the furnishings in five boxes and labeled each one. Everything was all set. It would be December 28 before the entire family would meet at his sister's, and Vivian would receive her gift. I was on pins and needles.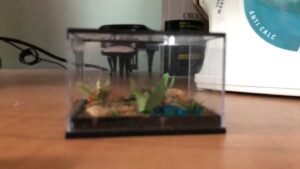 It was worth the wait. Norwood and his family watched as Vivian inspected the basic shell painted in her favorite colors, discovered the unicorns in the wallpaper, the unicorn mirror above the fireplace, the slate terrace, her family pictures on the wall, and then unwrapped the pieces of furniture and décor reflecting her favorite things, which she could use to make the space her own.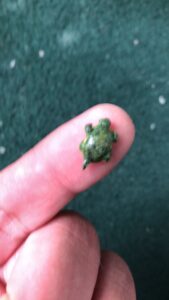 According to Norwood, it was as good as the night she was born. When Vivian stuck her head in and discovered all the unicorns, she was glowing. Her initial response was, "Bop-Bop, I just want to crawl in there and live." Those words made almost a year's worth of planning, sanding, shopping, and, for Norwood, being "gently" schooled in the world of miniatures, more than worthwhile. Vivian now has a special place to go, a place of her own. Norwood is eagerly awaiting the stories she will undoubtedly create about living in this special room of love.
If you have to stay indoors and isolate, what a gift to have a place where your creativity and imagination can have free reign. With all that has happened in 2020, for some of us it will always be the year of Vivian's room.