For 12 years, Milton Studio Art Gallery in Milton has featured art works, in many forms, by juried and regional artists.
According to owner and artist Shirley Cadmus, visitors enjoy browsing through framed and unframed canvases and one-of-a-kind items such as carved wooden bowls made from pine, maple, or oak and handmade baskets crafted from staves, pine needles or grasses. Handcrafted jewelry created from metal, glass and clay is on display and for sale as well.
"When customers visit the gallery for the first time, they come in thinking they will just walk in for a few minutes," said Cadmus. But many times, they "spend a couple of hours slowly circling displays, asking questions, deciding on a purchase — often their first purchase of an original artwork."
Cadmus said two goals of the gallery are "helping others own original art" and "promoting artists." The work "in this small former mill town is quite reasonable in cost, especially when compared to costs in large city galleries," she added.
The artists' personal stories often become a part of the customers' experience, Cadmus said.
"Visitors want answers about the items and creators. Every artist seems to have had a unique beginning, which the customers enjoy learning about," she explained. The artists have often "developed unique personal methods and personal styles, such as intricate paper cutting, unusual graphic overlays or color combinations not often seen," she said.
Shoppers are "astounded by the variety and quality available here," Cadmus said, adding that all visitors seem to enjoy "looking at the handmade jewelry, the landscapes, the abstracts, the unusual, the variety of mediums." Available items vary as artists change their offerings, so returning customers are treated to varying displays, she said.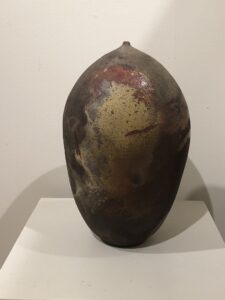 Framed art includes canvases of hunting dogs during duck hunting forays; a steam engine arriving at a North Carolina depot as townspeople shop, and portraits of landscapes, individuals and animals.
Also on display are bamboo poles cut with a chainsaw and decorated with epoxy clay in various colors. Large bamboo used to create rain sticks and aboriginal walking sticks based on those used in ancient Australia are featured as well.
Large and small canvasses offer visuals created using objects that might otherwise find their way to the landfill. Displayed near those works are oversized architectural birdhouses; carved wooden bowls; carved wildlife; carvings of various sizes, and baskets created from laths, pine needles and rope.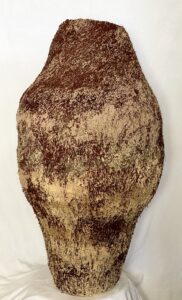 The gallery also offers fiber art works including quilts, rugs and potholders. Pottery from the utilitarian to the precious and from the unusual to the ordinary pique visitors' interest, according to Cadmus. Jugs, Raku pots, cups, vases, pitchers, plates, platters and facial pottery in various glazes and hues are on display as well.