Wild Life Adventures – NC Marine A New Business in Town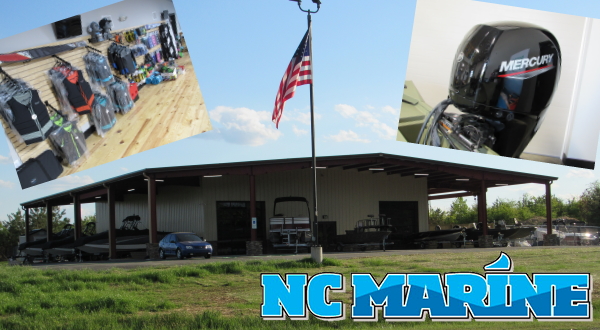 If you are like me, you get excited to see a new business come to the area, especially if it deals with boats and other watercraft. I always get a thrill out of admiring new boats, even if it is not a watercraft that I would purchase myself. Over the past few months, as I made my way down Highway 57 towards Hyco Lake to launch my boat, I have watched the completion of a new building on the corner of Skylark Drive and Highway 57. That building is now a business called NC Marine, and is complete with offices, a repair shop, and a showroom displaying new watercraft. I assume many of you started to wonder, like me, what new products or services this new business would bring to the area. In this article, I will cover some of the things that NC Marine offers. But first, let's meet the owner.
Brandon Patrick
Brandon Patrick is not only a business owner but a husband and a father of two children who keep him busy. He is originally from Durham. About 15 years ago, he moved to Mayo Lake to pursue his passion for water sports. He was a wakeboarder and wake surfing competitor for four or five years, until he had a freak accident that ended his ability to compete in those two sports. He has volunteered his time to work with different Christian ministries that share the love of wakeboarding with young people. Having a business such as this ensures that he can stay active in those ministries.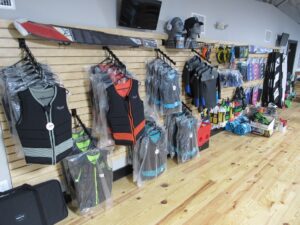 Patrick's background as a mechanic led him to start his own business, Your Mobile Technician, (YMT) in 2006. He said he started out small, working out of the back of a pickup truck, but as time passed, the business grew and, with God's blessings, he went from one truck to two trucks and several trailers, and then to a 40 x 40 shop before moving into the old building on Highway 70. That's when he started NC Marine.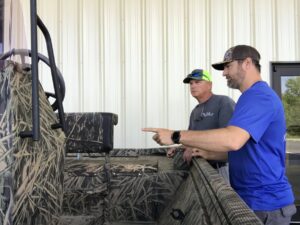 Starting a boat dealership was an easy decision because he already had a passion for boats and watersports and was already working daily on watercraft. This year, Patrick decided to move the business to its current location because it put him closer to his customers. He has seen an increase in his customer base in this area over the last couple of years and having this new location makes it convenient for the customers to drop off boats as well as allowing his staff to get service to the mobile customers more quickly.
As I talked to Patrick, I quickly realized there was much more to this business than just boats and service. He is passionate about all the things his business has to offer customers and for all the things to come in the future. He began to list all the things that he offered and it was hard to keep up with the vast list. I was amazed at all the things one could get done at one business. Patrick has created a one-stop shop, so to speak.
Watercraft
When it comes to watercraft there are endless possibilities to choose from. You may know what you want or you may be someone who doesn't quite know what to purchase and you have a lot of questions. In the latter case, NC Marine and its sales staff can be a huge help. There are a lot of things to consider when making such a purchase, from the type of watercraft to the color to financing. Patrick's staff is more than happy to walk customers through the process. In the showroom, customers can find fishing boats, pontoons, wake boats and personal watercraft. There are also some used boats. As you can see, you can find a boat that fits your needs.
Services Offered
Service on your watercraft is an essential part of ownership and ensuring a long life for the boat and motor. Not maintaining equipment can be costly. As the old saying goes, an ounce of prevention is worth a pound of cure.
NC Marine can service inboards, outboards, stern drives, jet drives, personal watercraft, and anything else in the boating industry. The company can also perform warranty work on Mercury engines. The dealership can perform routine maintenance, winterization, detailing and all types of installation work. I currently drive well over an hour to service my boat but now NC Marine will make it a much shorter trip and I look forward to the more convenient location.
YMT (Your Mobile Technician)
Let the service come to you! That's right, if you need your boats, jet skis, cars, trucks, and trailers serviced, the technicians can come to you. YMT will come to your location and perform all the same services that take place in the shop at the dealership. YMT offers a complete range of boat and jet ski repair and maintenance services — everything from routine maintenance to oil changes in or out of the water.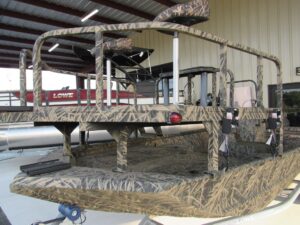 Are you looking for someone to perform maintenance on your vehicles and get a fleet discount at the same time? YMT can maintain your vehicles with onsite repairs and service at your location. They are certified in several different areas of automotive services and detail. If you are interested in trying the mobile technician service, give Patrick a call for pricing and details on all the different services.
What the Future Holds
In the future, Patrick said he hopes to have a full pro shop which will include hunting accessories, clothes, and blinds; fishing supplies such as rods, reels, and tackle; boating accessories, and automotive supplies. He also plans to have an area for the storage of boats, RVs and campers.
In stock now are towable items like wakeboards, tubes, surf boards, skies, and life jackets. If you are looking for items like these, stop by and shop around.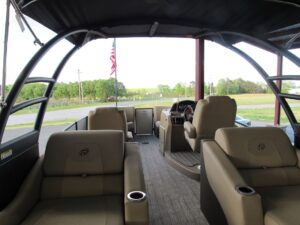 If you have been thinking about buying or upgrading your boat, whether it is a fishing boat, pontoon boat, wake boat, or personal watercraft, go by and visit the showroom at NC Marine. The sales staff will be glad to help you in any way they can. The purchase of a new watercraft is a big decision and comes with a lot of questions. The knowledgeable sales staff can walk you through the steps of your new boat purchase.
I look forward to doing business with NC Marine in the future and you never know, I might get them to quote me a price on a new boat.

33 Skylark Drive
Semora, NC 27343
Sales (919) 867-1880
Service (919) 730-9105
www.NCMarineSales.com
"And remember, I'll see you on the water."
Check out Sam Seamster's Facebook page and YouTube Channel: Wild Life Adventures