PITTSYLVANIA COUNTY, VA- Adding farm-grown flowers in 2018 for weddings, home decorating, and special events has provided the clients of Gentleman's Ridge Farmstead with unique floral choices.
Dahlias, David Austin roses, specialty zinnias, rosemary, cosmos, lisianthus, snapdragons, anemones, ranunculus, and peonies grown at the Farmstead cascade from brides' bouquets, grace mothers' shoulders and groomsmen's lapels, and fill baskets. Located six miles from Danville, Va., on Route 360 in Pittsylvania County, the catering and on-site events business is entering its 36th year.
Jessie Decker, marketing director, explained, "I researched organic flower production and trained in workshops targeted to my goals while I purchased seeds and bulbs." Michael Decker, vice president, worked behind the scenes. "I installed a 15′ x 50′ hoop greenhouse and winter cold frames, fenced three flower fields, then I ran water lines and emitters along the flower rows," he said.
Jessie said, "With flower buds forming and first blooms emerging, we were so excited; such lush blooms and colors. Brides, reunion planners, everyone who books an event with flowers sends me photos of what they like best. I advise concerning flowers, close to their favorites' appearances, that are expected to bloom during the event time frame." By choosing seasonal flowers, bridal parties reduce costs.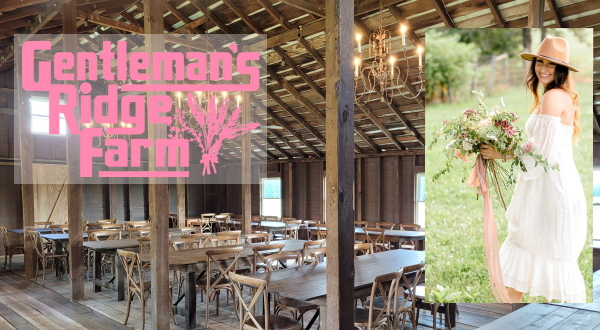 Farmstead's Flowers
"Brides love eucalyptus, so I grow large potted eucalyptus shrubs to supply greenery for arrangements. We held a bridal luncheon recently with mothers and attendants. I taught them how to make their own corsages, then refrigerated their creations," Jessie said.
Farmstead's flowers are not only for weddings but also graduation parties, holiday home decorations and they fulfill bi-weekly orders for fresh blooms. Winter wreath classes are planned.
Outside seating on an expansive deck located off the clubhouse dance floor allows views of woods, rolling meadows, and horse pastures. For weddings, flower drapes can adorn romantic arches, religious crosses, and cascading tree branches, adding to the natural beauty for the bride and groom.
Preparing For Local Weddings
Rustic metal bar chairs surround rough-sawn tree trunk tables placed in a park setting near the first events building, constructed for wedding/baby showers, class events, and family gatherings of 70 to 125. A commercial kitchen, constructed nearby in 2006 to accommodate a jam/jelly production, opens into the second building, a modern light-filled clubhouse.
Entering catering was a happenstance.
"We were selling jams and jellies at holiday shows, at farmers' markets, and through standing orders," explained Susan Tedder, Jessie's mother. "Someone asked my husband if we could cater an event. I said no. He convinced me we could do it; I took a deep breath. Then I learned we were committed as beginners with a barbecue for 250. Nothing like starting off with no experience and massive attendance. But our barbecue was a hit. Word-of-mouth spread."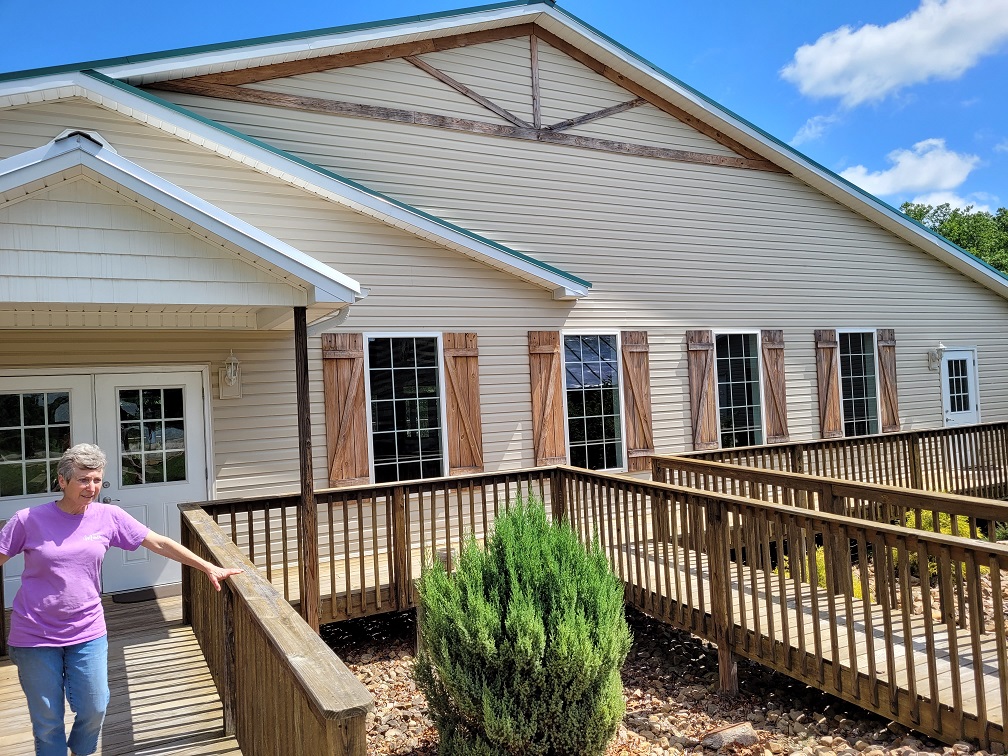 Feeding The Team
As baseball returned to Dan Daniel Park in Danville after the national Covid shutdown, team catering also returned. "One of our constant take-outs is feeding the visiting team and the Danville Otterbots baseball team, morning and evening, for all home games. The guys line up, telling us how much they enjoy the food as they pick up the boxes," said Susan.
"Why did I stay in catering? I love the art of cooking, of trying recipes. I would make cookies and give them away in the dorm when I was studying geology at William and Mary. I have always loved to cook. We moved into catering full-time in 2005. Immediately, we developed wide-ranging food selections. Sixteen years later, we offer Breakfast, Brunch, Lunch & Dinner Homestyle, Lunch & Dinner Classic, Special Dinner, Desserts and Heavy Hors d'oeuvres."
"We can handle any cuisine request, if given enough leeway," Susan said. "We change food choices as trends emerge, though we are often asked for southern homestyle or Italian or barbecue. We are also receiving more requests for multiple food bars at weddings with different cuisine choices."
Thinking Outside The Box
Thinking outside the box during Covid, the family operators opted not only to produce 100 to 200 meals a week for pickup, but to also build a third event building for spring and fall events. The rustic new location accommodates 150 and ties nicely into the Farmstead name.
"My father and I," Michael explained, "reworked a two-story barn near present parking and flower beds. We deconstructed a second pack/barn stable, abandoned for 50 years, and moved all planks and poles. Every wood piece from the stable was used, plus we purchased siding for the outside wall. Finished, we have a 60′ x 70′ two-story barn with two floors for sit-down meals, dressing areas and a food staging area."
Construction began in June 2020 and finished in October 2020; the first wedding in the barn was April 2021 with farm-style tables, chairs, and rustic benches.
A Diverse Farm
"If my father could see the farm with its diversity and its third-generation evolution to a directors' business model, he would be astounded," Susan said. "My dad, the gentleman in the Farmstead name, bought the farm in the 1950s. Already there's a fourth generation, Jessie, and Michael's children, growing up within the Farmstead operation. We are grounded for the future.
"We can handle 500 attendees off-site and 275 at the Farmstead," said Susan, who leads the events planning, then turns over supply ordering to Jessie. "In June 2021, we had five events in one day; the work was planned, streamlined with assigned hours and tasks. Twice we had two weddings in one day, on two consecutive weekends. We can park 250 cars. One December we handled 75 events."
Weddings at Gentleman's Ridge Farmstead, known for no glitches, are popular because "we offer package deals that include a DJ, sound system, catering, dressing facilities, wedding director, bridal party luncheons, and floral arrangements. From year to year we learn, though I still make too much potato salad," said Susan. "Our internal motto is, 'We Will make it happen.'"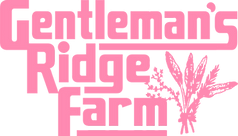 589 Gentlemen's Ridge
Blairs, Va. 24527
(434) 441-6580
http://www.gentlemansridgefarmstead.com
Marie Pridgen produces news/feature articles showcasing regional entrepreneurs, businesses, and individuals that enhance the Hyco Lake Region. She edits business/professional publications, guides writers, and has researched and authored a college history as well as written for regional magazines, educational institutions, newspapers, and the Virginia Journal of Education. She concentrates on Pittsylvania Co., Va..; Caswell County and Rockingham County, N.C., and Danville, Va., because they are rich in unique businesses and individual attainments. She is available at [email protected]