DANVILLE, VA- The manager was disappointed when he saw Sparky Adams. At a half inch under 5 feet 5, Adams was by far the smallest player who showed up for Danville's spring training on that March day in 1920.
"He asked if I'd brought my nursing bottle," Adams told The Sporting News in a 1920 interview. "One of the regulars said he would show me to my room and bed. He took me to a linen closet in the hotel and opened a drawer for me."
While his coach and teammates didn't initially appreciate the future All-Star, they quickly changed their minds once he got on the field. As Danville's shortstop that season, Adams batted .326, collecting 98 RBIs and 20 stolen bases. One year later, he was playing in the major leagues, building a career that included a 1931 World Series win with the St. Louis Cardinals.
Danville Kickstarted Several Careers
Adams isn't the only major leaguer whose career started in Danville. Over more than 115 years, dozens of All-Stars and Hall of Fame players got their start in the River City. Before playing for the San Francisco Giants, Willie McCovey suited up for the Danville Leafs. So did Bill White and Leon Wagner. Before Craig Kimbrel, Andrew Jones, and Ronald Acuna Jr. put on that Atlanta uniform, they were members of the Danville Braves.
But baseball isn't just part of the River City's history. The city's latest team, the Danville Otterbots, is focused on building for the future, both on the field and in the community.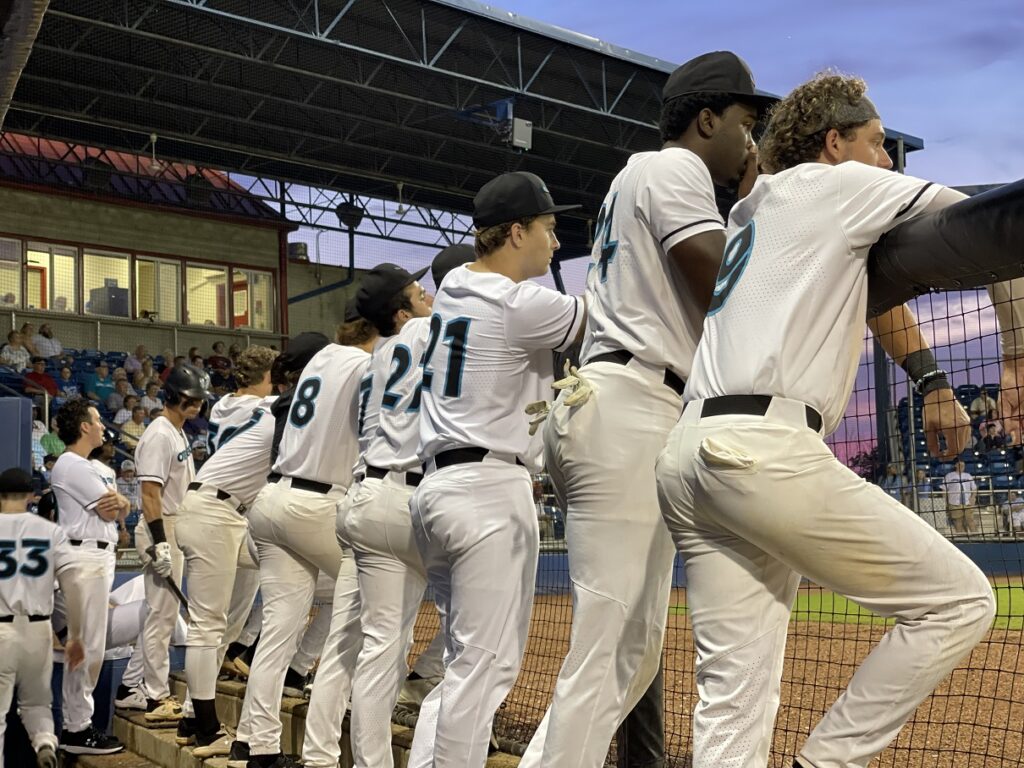 Shifting Gears
Everything changed in 2019. Major League Baseball owners decided they didn't want 160 minor league teams anymore and started making cuts. Lists of teams getting eliminated suddenly became a list of leagues. In the end, 40 teams and three leagues were dropped. They could still operate, but not as affiliated clubs. That caused a problem for the Danville Braves. Since 1993, the Braves had been the "rookie level" club for Atlanta's MLB prospects.
As soon as Atlanta drafted and signed players, most spent a season in Danville. Virtually all of Atlanta's current players and previous top prospects over the last 27 years called the River City home for at least one season. But unlike other rookie-level teams, who had private ownership, the Danville Braves were owned and operated by their major league club. When MLB cut ties with Danville's team, so did Atlanta, with the major league club terminating their lease with the city.
MLB came back with a solution. Danville and the other Appalachian League teams could relaunch as a summer collegiate league. Current college players would be recruited by each team for a season running from June until August. The players would get another avenue to perform in front of scouts and the teams could still operate. There was just one catch: all the teams had to rebrand and have a local owner.
For Danville, that solution came in the form of Ryan and Brittany Keur. The couple, through their company, Knuckleball Entertainment, bought the team in January 2021. They quickly set up a staff, including general manager Austin Scher, who began building a future for baseball here while remembering its past.
Transforming The Team
Danville's baseball teams have changed names like some players swap jerseys. First, in 1905, they were the Tobacconists, a callback to what was at that point considered "The World's Best Tobacco Market." That only lasted a year before the league folded. Then came the Danville Red Sox in 1906, the Bugs in 1911, and the Red Sox again from 1912 to 1925. When building this new team in 2021, everyone wanted a name that would stick. And so, they started asking for ideas.
"We had 50 to 60 conversations with everyone from city representatives to longtime fans," Scher said. "Beyond just the name, we wanted to see what people were looking for out of the new organization."
They also put out a call for people to send in name ideas. Over a two-week period, the group collected 1,200 submissions. Some people wanted a reference to Danville's past, while others suggested everything from a casino tie-in to a railroad link.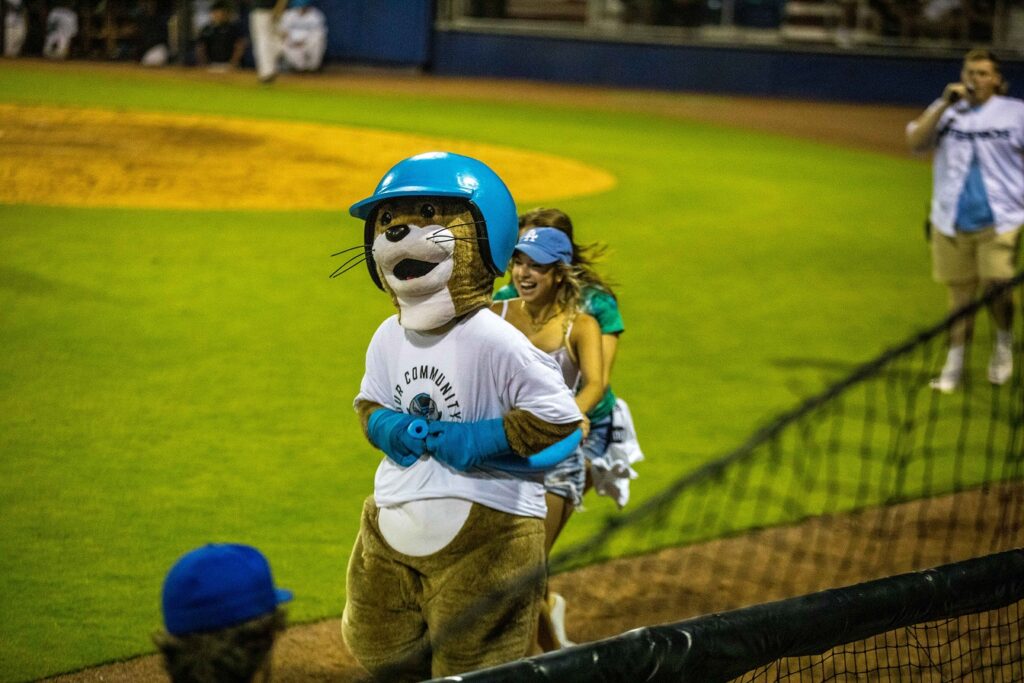 Picking A New Name
In the end, they settled on the Danville Otterbots. On the one hand, it referenced the furry creatures you can see at times playing in the Dan River. On the other hand, it pointed to Danville's growing focus on science and tech-based education.
And it worked. Everyone from ESPN to Barstool Sports ran a story about the unique name, giving Danville some time in the national spotlight. But Scher knew the team needed more than just a catchy name. Previous experience showed him what the Danville Otterbots could be, if built the right way.
Growing up in Durham, N.C., Scher and his family spent summers going to the Durham Bulls' games.
"I have pictures of myself dressed up as Wool E. Bull for Halloween," Scher said. "I had birthday parties there. I had field trips there. You could say I grew up around minor league baseball."
He stayed in baseball even after growing up. Working for different minor league teams, he cleaned the park, wore the mascot suit, and worked his way up, eventually becoming assistant general manager for the Daytona Tortugas. Throughout that time, he saw how a baseball team could become more than just players on a field. "I've seen what it means to have a baseball team focused around the community," Scher said. And that's what he set about building here.
Building A Better Bot
One of the first things Scher set up was a partnership with Danville Public Schools. Last year, the team worked with Johnson Elementary on their first computer coding camp, hosting students at Legion Field and sending Scotter the Otter to hang out in class. This semester, the team helped Danville implement MLB's "Fun At Bat" program into the P.E. curriculum at all six of the local elementary schools. Fun At Bat uses baseball to teach character development, functional movement, and encourage kids to be active.
This summer, the team, with help from corporate sponsors, will set up a "Read Around The Bases" program for local kids. In baseball, it's 90 feet between bases. Every time a kid reads for 90 minutes this summer, they'll get a prize. Then they can keep reading, until they "hit a home run" by reading for 360 minutes. Once that happens, they'll get a free ticket to a game, where they'll get a pregame parade around the warning track and be recognized on the field by name.
"One of the things we wanted to do when we came into the market was ensure this ballpark and the Danville Otterbots were not just for baseball fans," Scher said. "We want to be part of the community." That's done through local programs and also their callbacks to the city's past.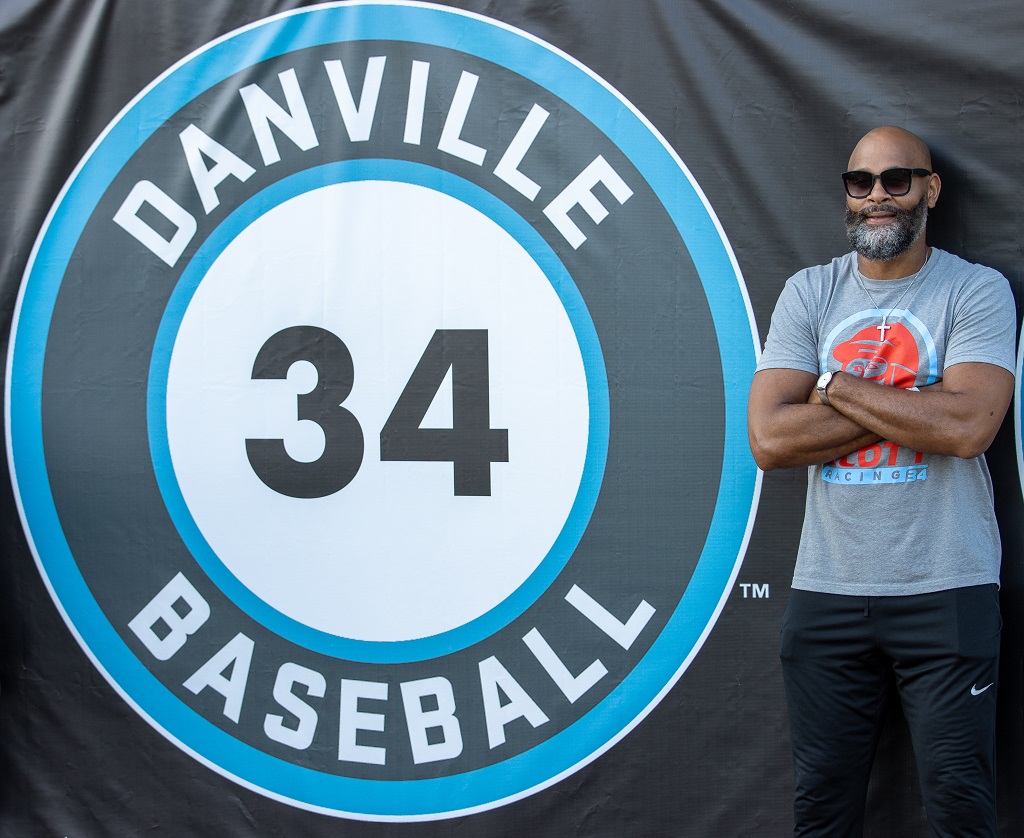 Danville Baseball Then and Now
Even though the team is only one year old, one uniform number has already been retired. Number 34 is on the outfield wall in memory of NASCAR driver Wendell Scott. The Danville resident became the first African American to race in NASCAR when he debuted in the Grand National Series on March 4, 1961. He was also the first African American driver to win a race on the circuit and is in NASCAR's Hall of Fame.
As you walk into Legion Field, located at 302 River Park Drive, you'll also see a mural dedicated to some of Danville's baseball teams of the past. We mentioned the Braves, Bugs, Red Sox and Tobacconists before. But beyond that, the River City was home to several others through the years. Dan River Mills had its own baseball league, for example. The people that worked at the mills organized into teams and would play each other on the weekends.
The city was also home to the Leafs, who played in Danville on and off from 1934 to 1958. During that span, they served as a minor league squad for the New York Giants and made history. In 1951, the Leafs signed outfielder Percy Miller Jr. from the Negro Carolina League, becoming the first integrated team in Virginia. Miller was just two months out of high school when he got the offer in August. Days later, he hit a two-run single in his debut.
The team Miller left also called Danville home. If you go to 151 Foster Street, you'll find a marker where Peters Park used to be. This was the home of the Danville All-Stars after it opened in 1948. The All-Stars were part of the Negro Carolina League and played for three years before shutting down. Miller Jr. played here his last two years of high school.
All-Stars, Braves, Bugs, Leafs, Red Sox and Tobacconists. Now you can add Otterbots to that list. If one thing is certain, it's that baseball is in Danville's blood.
If you want to watch an Otterbots game this summer, just click on this link and check out their schedule. 
Brian Carlton loves to tell a good story. The Axton resident has been in journalism 20 years, reporting on parts of Virginia and North Carolina for BBC Travel, NPR, and the Associated Press over the last few years. A nine-time Virginia Press Association award winner, he also ran the Martinsville Bulletin from 2016 to late 2018.