DANVILLE, VA- We like to refer to ourselves as "Apparel with Purpose"! Starting a retail business in the middle of a pandemic would seem a bit odd and risky to most. However, for us this venture has more meaning and power than the eye can see.
My husband and I are natives of Danville and moved away in the 1980s to pursue college and careers. After several moves with the tobacco industry, we finally settled in the Winston Salem, NC area where our two sons attended middle and high school. Landon and Ryan attended Calvary Baptist Day School, and both played on the golf team. Brothers have a great way of bonding when playing a sport that they both love. Golf was the sport that brought them much joy and afforded us incredible family time.
Landon and Ryan were the kind of brothers that were also best friends. They both attended Belmont University in Nashville, Tenn. to pursue audio engineering degrees. However, when Landon decided to transfer to the University of Colorado, Colorado Springs, Ryan wanted no part of being left behind! With a little trepidation, we helped our sons load up their belongings and drive away for a new adventure and a promising future.
As one would expect, life in Colorado was full of beautiful scenery, road trips, hiking magnificent mountains, camping, skateboarding, snow skiing, golfing, and anything else that they could find to fill their free time. Although they were far from home, we were at peace because they were together. There was something about observing our (almost) grown children enjoying life together that was very satisfying for me. Honestly, life was not without its challenges for them, but the boys had the luxury of each other, and they leaned on that immensely.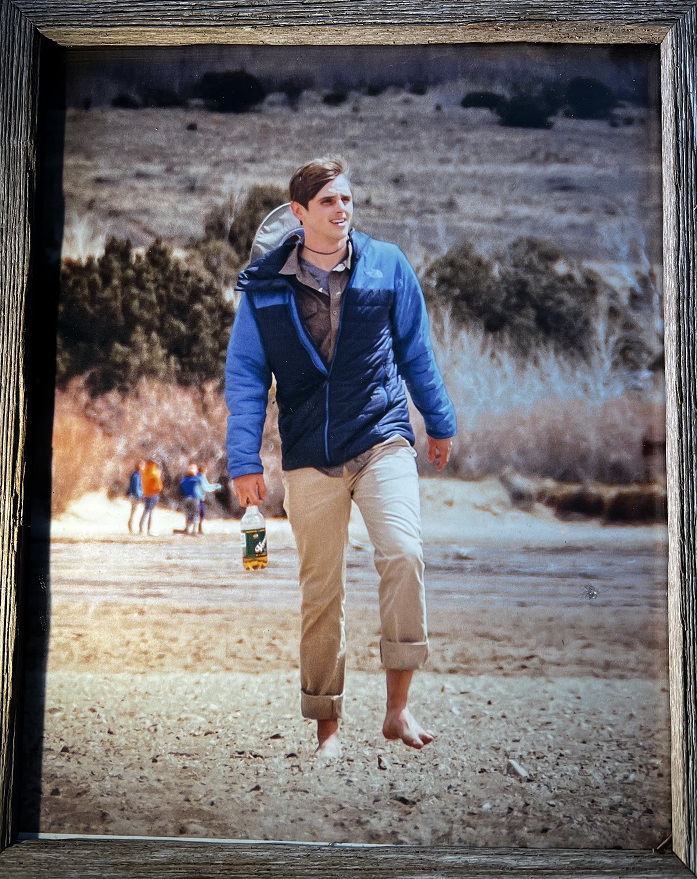 A Gift of Encouragement
In 2015, Ryan painted his brother a canvas as a gift of encouragement during a difficult time. The message on the side of the painting was "Head Up. Eyes Forward." In other words, no matter the trials that you are facing, keep your head up and your eyes forward and live your life to the fullest. The painting became Landon's treasured possession and encourages him to this day.
In 2016, Ryan lost his life hiking in the mountains of Colorado and the painting took on another level of meaning. Ryan lived his 24 short years to the fullest and followed his own advice…he lived with his head up and his eyes forward! He was gentle and kind to everyone he met. He had a heart to give back to his community but loved a good adventure. No matter the challenge, Ryan kept looking forward with anticipation of life to come.
Losing Ryan has been the most difficult journey of our lives, and navigating the grief process has been more than challenging. How can one go from the promise of a bright and promising future on one day and the next day face total devastation? I wish that I could claim that I always walked this road with grace, but that is just not the truth. I am a person of faith, but this was something that rocked me to the core. How could I breathe the next day? There were days that I didn't think I could function.
'Find A Way To Let Ryan Live'
A pastor friend gave us sound advice when he said, "Find a way to let Ryan live." So, we picked ourselves up by the bootstraps and decided to find a way to do that. Ryan loved adventure and often posted photos of his escapades on social media. After losing him, I couldn't get enough of his pictures or posts and realized that he also loved the apparel and the cool equipment as much as the adventures. Our company had to capture the essence of Ryan and all that he loved; adventure, clothes, and giving back to the community.
I remember the night that Landon called me and said that we should start a lifestyle brand. After he explained what a lifestyle brand is, I was all in and the mother-son business partnership began. But I must admit that Landon is the mastermind behind most of what we do.
As we embarked on designing a company logo, interestingly, Ryan's painting kept coming to mind. It was such a silly looking painting with a funny "van Gogh-ish" little man. Ryan was not an artist and painted to reduce stress and anxiety. Every time I looked at the painting it made me smile and I found it to be medicine for my soul. Then we started experimenting with printed iron-on transfers of the "little man" from the painting.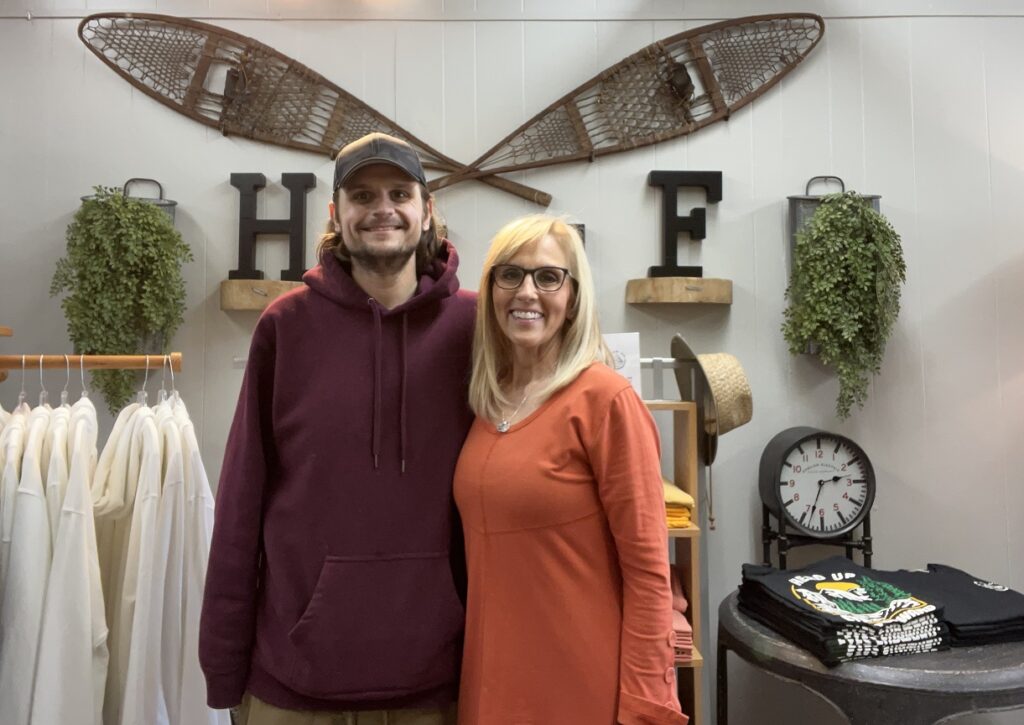 'A Healing Effect'
Anything that reminded me of Ryan captured my attention and had a healing effect. So, our company Head Up Eyes Forward was born, and the logo was designed from the "little man" in the painting, the mountains that took his life, and the message to his brother and best friend. New life had come from a tragic death.
The process of opening a business from conception to reality takes time, but in October of 2020 our website was live. The opening product line mainly consisted of t-shirts and sweatshirts printed with our logo as well as those that were designed with outdoor themes. We also offered athletic apparel to support a healthy lifestyle.
In March 2021 we opened a brick-and-mortar store on Main Street in the Danville River District. We have expanded considerably and offer apparel brands that align nicely with our vision of supporting an active lifestyle. Some of our favorite brands and products include performance hats from BOCO, Farm to Feet socks, Arcade belts, men's and women's clothing from prAna, handmade sterling silver jewelry, hand stamped bracelets, candles, Rock Creek soaps, and of course custom t-shirts, hoodies, and sweatshirts. However, our desire is that your visit to the store is so much more than buying another t-shirt, pants, or a great hat. It is more about connecting with people and supporting great non-profits from the sales.
Offering Encouragement
In memory of Ryan, we hope to encourage every person that we meet. He was an encourager by nature and most people left feeling better after spending time with him. He often volunteered at the soup kitchen in Colorado Springs and loved serving those less fortunate. That is why we give 10 percent of our profits to non-profit organizations that focus on helping those less fortunate in the community. We love supporting God's Storehouse in Danville for that reason. We have also supported Rockingham Hope in Eden, NC, World Central Kitchen, Cobb Imprint, and the Danville-Pittsylvania Cancer Association.
We strive to live each day with purpose and remember how we have been changed forever because of a young man that lived each day to the fullest and left his fingerprint on our hearts. EVERYONE has a story and ours is not so different from many others. However, Head Up Eyes Forward allows Ryan to live and gives us the opportunity to heal while we also help others. 'Apparel with Purpose!' Come visit us and join us in supporting our community and each other. May we never forget.

Head Up Eyes Forward
543 Main Street
Danville, Va. 24541
(434) 835-2641
HeadUpEyesForward.com