DANVILLE, VA- In the study of literature, there is something called "a sense of place," referring to emotional bonds and attachments people develop or experience in particular locations. In recent times, this idea has expanded into the fields of geography, health, and other areas of science.
Now, much attention is given to ideas such as healing places and attention paid to developing places that bring people comfort and a sense of safety and well-being. This is the story of one such place which opened in the middle of a pandemic and which everyone must visit.
My First Visit
The first time I visited Market on the Dan, I did not really see the outside with its Montana town façade – which, by the way, is not an entrance to the building. I entered from the parking lot side into the silo. Yes, visitors enter this wonderland through the silo – except in this silo, there is no grain but an eclectic mix of the fun to come.
Spirits are lifted as the eyes are drawn upward. There are tables, lamps, pictures, vases, and cabinets all tastefully arranged and offering a welcome. As I wandered from room to room, I had the sense of being in a special place. I kept muttering, "Toto, we are not in Kansas anymore."
Beautiful tables and chairs, soft overstuffed leather sofas, stained glass and art glass lamps, paintings, signs, and books. In every direction I turned, something new caught my eye. Or something old, for there is a marriage of the old and the new in this store. Vintage pieces of Fenton art glass sit on top of new painted chests.
Old books are scattered about, and in a corner sits a wooden school desk which makes a perfect resting place for a child to look at one of the old books, as my grandson did on a later visit. I kept finding things like old cookbooks, a wall of cast iron cookware, rugs, vases, and signs. Each corner I turned brought something new, like a giant picture of a tusked elephant appearing to charge off the wall with an old sign advertising Texaco Marine Lubricants. Another right under it advertises Coca-Cola. A cigar store Indian keeps watch by a window.
I lost count of the rooms I traveled through, but never lost the sense of the wonder I felt upon first entering. During that visit, I left with a Christmas wreath featuring an owl at its center for my wife, a couple of cookbooks, a sign for my daughter which read, "The rooster may crow, but it is the hen who delivers," and a wish list pages long. And I hadn't even made it outside to discover all the treasures there.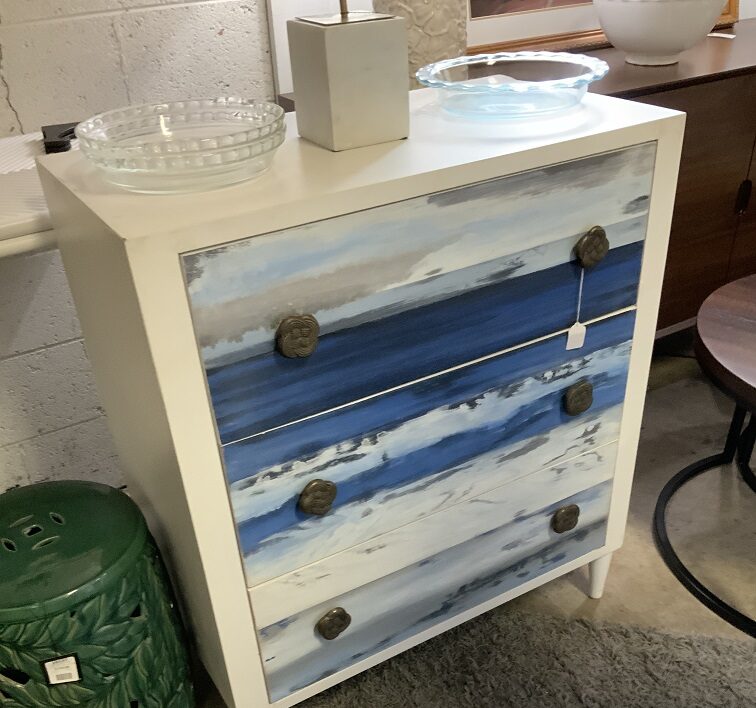 Looking for a Building
Having run a successful auction business since 1997, Steve and Cindy Burke were looking to open a retail store. Their years of running profitable auctions at 3739 Hwy. 29 North had brought them in contact with many repeat buyers and collectors, as well as people wishing to liquidate family estates, sell personal collections, and more recently, connections with High Point Furniture Market dealers wishing to sell off show items.
Although they had been thinking about a store before Covid hit, the Burkes had decided that they would wait to find exactly the right place. In February of 2020, they heard that the building at 100 Commerce Street was available. The previous owners, a couple from Montana, had purchased the old lumber business once located there.
They had renovated the building and added others to resemble the storefronts of a Montana town. For several years, they ran a successful party and event rental business, called Big Sky Rentals, from this location. But they became homesick for their real Montana town and decided to liquidate their business and return. Steve and Cindy realized they had found the place they wanted. The Montana couple was pleased to see the new business on the property as well and they keep in touch with Steve and Cindy.
Opening a New Business in Time of Covid
The Burkes planned to open the store in April, but when Covid caused uncertainty, they postponed the opening to late May. Their business model changed overnight with their auctions moving online and the physical location offering outdoor activities and markets to reach out to the community.
It became a place for previous live auction customers to gather and new customers to come and feel something of the same experience. The Burkes knew that opening in a time when almost everything was shut down was a big risk, but they did it anyway. It paid off; serving as a safe place for people to gather made it more than just a retail venture.
The Future of B&H Market 
Since opening in the summer of 2020, this place has been finding its niche in the community. Many long-time followers of B&H Auction already knew what to expect, and the new customers – this writer among them – are fast learning that this is more than a store; it is a gathering place for friends. They feel the same energy and character from the building and contents and the people who run it.
Trade shows and craft shows, among other things, are planned on site at the Market, as well as participation in the Hundred Mile Yard Sale which occurs in the area every summer. The store will continue to be a focal point of new furniture, vintage items, antiques, and consignments as well. The auctions will continue online, but there is always the physical place to visit at the Market. I can't wait for my next visit, but I must save up for it.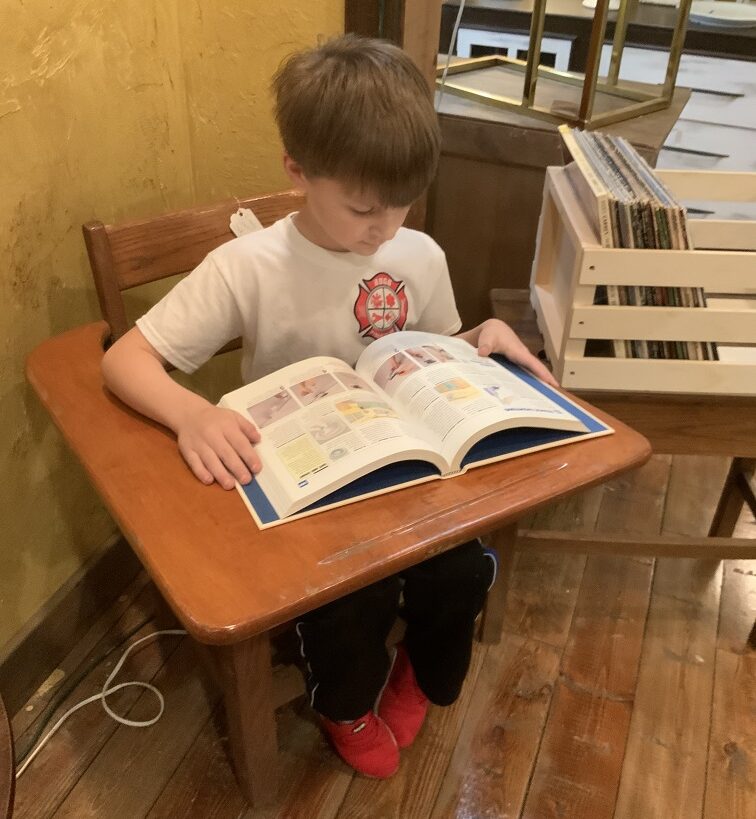 My Second Visit
I was accompanied by my wife, daughter, granddaughter, and grandson on my second visit. I tasked my granddaughter with taking pictures and gave her my iPad. My grandson soon discovered the wooden school desk and books and was quite happy to sit for a while. The other two were happy to wander about and kept calling out, "have you seen this?" and, "I never would have thought that would look so good together." Clearly, they had also fallen under the spell of this place.
Thanks to my daughter and grandkids, this time I made it outside and found a whole new wonderland of vintage yard art, including giant roosters, wrought iron planters of every shape and size, birdhouses, outdoor furniture, and many other things, including a pink pig.
About a hundred pictures later and a couple of purchases, we moved on. But I knew this wouldn't be my last visit, and it wasn't. I returned a couple of weeks later and found a perfect gift for a friend moving to another state. Now he will have a bit of the magic of this place in his new home.
A Very Special Place
In writing this story, I wanted to share a very special place run by three very special people – Steve and Cindy Burke and Chris Lynch – and encourage people to visit there. But somewhere along the way it became more. You see, Steve's dad, Roger Burke, was a well-known antiques dealer and auctioneer in Danville when Steve was growing up, thus his interest in the business.
I found I knew Roger and had attended auctions with him many times, especially at Kent Nelson's in Roxboro. (A story on Kent Nelson and his auctions appeared in a previous edition of Hyco Lake Magazine and can be found on the website.) Realizing this gave me chills because it reminded me of how we are connected in this region and share common memories and experiences. Perhaps that is why I was so attached and attracted to a place I had never been. There is a lot to this thing called "a sense of place."
B & H Market on the Dan is a place more than anything else. It evokes memory and stirs the imagination. It reminds us of home wherever that might have been and takes us to exotic locations that we have only dreamed of. It is more than a retail store.
It is an extension of an auction company; a consignment shop; a renovated lumber yard representing a part of the Montana skyline; a place to buy fine leather furniture, stained glass windows and lamps, paintings, painted chests, rugs, antiques, and enter through a silo. The only problem is that I keep taking pieces of this place home with me every time I visit.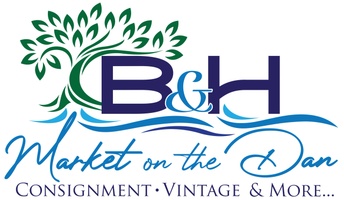 100 Commerce Street
Danville, Va. 24541
(434) 549-5980
MarketOnTheDan.com Online Auctions
bhantiqueauctions.com
Norwood Walker was born and raised in Hurdle Mills and was a member of the last eighth grade class at Hurdle Mills School. After all these years, he is still teaching, but more importantly, he is still learning.