Story by Stokes R. Reagan

When you talk to Amanda Hodges about Caswell County, her passion for the community is evident. And with a 23-year background in digital marketing, she is ready to help bring Caswell County into the 21st Century.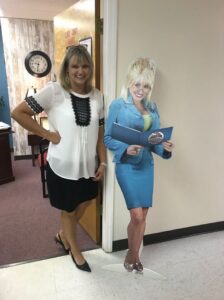 Amanda used that marketing experience last summer to mount a successful campaign to bring the community back to the Bright Leaf Hoedown. If you've heard of Caswell County, you've probably heard of this popular local festival. For those of you unfamiliar with it, the Hoedown is an annual Chamber of Commerce festival held in Yanceville every September since 1981 to celebrate Caswell's long agricultural history with local vendors, live music, and a car show.
At its height, the Hoedown was a two-day event, generously funded by tobacco companies. With the decline in the tobacco industry, however, funding from tobacco companies for things like the Bright Leaf Hoedown dried up. Now the Hoedown is supported by sponsors and fundraising events like an annual golf tournament at Caswell Pines Golf Club.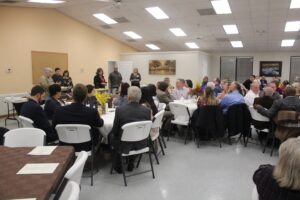 I can still remember the Bright Leaf Hoedown of my childhood — walking down the tent-lined streets as a young girl, pockets full of flavored honey sticks, mesmerized by the smell of funnel cake. My friends and I would meet up early in the morning on Saturday and spend all day wandering around the square, our group expanding with each new friend we met along the way. Lunch was always a steaming bowl of fresh Brunswick stew, made by a local fire department or Ruritan club. Even after a long, hot day walking on steaming asphalt, I was ready to do it again the next day.
Festivals are fun, but what does the Chamber of Commerce actually do? Amanda says the Chamber is "a catalyst for the community" and that seems perfect. According to its mission statement, the Chamber became this catalyst by meeting the "educational, networking, marketing, and advocacy needs" of the business and entrepreneurial community.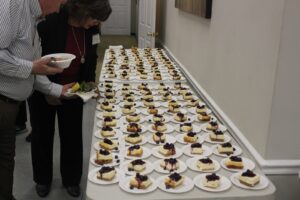 In her capacity as Chamber director, Amanda has two areas of focus. One is youth involvement. She wants high school students to have "pride in ownership where they live." She's working on this objective by offering a leadership program, in partnership with Caswell County Schools, called Decide to Succeed, based on the book The 7 Habits of Highly Successful People by Stephen Covey. This program is offered to high school juniors to improve leadership and accountability skills and prepare them for college or employment.
Amanda's other area of focus is agriculture. And that's how I know her. She comes to the Caswell Food Council's "The Lunch" every month. She visits the Caswell Farmers Market. I even see her at most of the agriculture events in Caswell County. Amanda Hodges wants to make it clear that she and the Caswell County Chamber of Commerce support local agriculture.
One of the services the Chamber offers is website building. Amanda wants local farmers to know that website building "can work for them here in Caswell too." If you're a local farmer and you're trying to reach a larger audience, let Amanda put her marketing magic and commitment to agriculture to work for you. The benefits of the digital age don't stop with technical assistance, however. The Caswell County Chamber of Commerce also publishes two monthly email blasts; one about Chamber events and another about Caswell events. I occasionally receive emails from Amanda herself, letting me know about information and events that the food council might find useful.
The 2020 Annual Membership Meeting in March reflected the Chamber's commitment to local food with a menu presented by local chef Lucindy Willis that featured proteins and produce from five local farms. The meal was a delicious taste of what Caswell County and the Hyco Lake area have to offer. The Farmer in the Dell salad featured kale from Terrapin Cove Farm as well as spinach, radishes, and kale from Honey Bee Hills Farm. The mouthwatering stew was bursting with flavor from the Locust Hill Farm beef and Catbriar Farm sweet potatoes. And the blueberry cheesecake made with blueberries from Briar Ridge Farm was the definition of decadent.
You can learn more about Honey Bee Hills and Catbriar Farms in a previous Hyco Lake Magazine issue at https://hycolakemagazine.com/fall-in-love-with-local-foods/.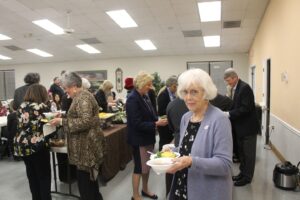 Amanda isn't just concentrating on the business leaders of tomorrow or those working in agriculture. "We really…want to get our arms around our community and help everybody grow," she said. Chamber services and programs, especially those like the Lunch & Learn and Business Leaders Networking Series, are available to all members.
Lunch & Learn is a partnership between Caswell County's Chamber of Commerce and the State Employees Credit Union (SECU) branch in Yanceyville. The Chamber and the SECU invite members to enjoy a complimentary lunch with a presentation by financial leaders on topics like insurance and credit fraud. The Business Leaders Networking Series is a part of the Connecting Caswell series as a way of creating relationship-building spaces in Caswell County. Members enjoy a complimentary breakfast and a presentation from local business leaders, along with a question-and-answer session.
If the future of Caswell County looks anything like Amanda envisions it, I'm ready. 2021 will mark the 40th anniversary of the Bright Leaf Hoedown. Can we look forward to the return of the two-day festival? Is it possible that the streets surrounding the downtown Square could once again be lined with vendors and packed with people? Amanda thinks that's possible and so do I.
The Caswell County Chamber of Commerce is currently accepting new members. For more information about the Chamber and its programs, contact Amanda Hodges by phone at (336) 694-6106 or by email at [email protected].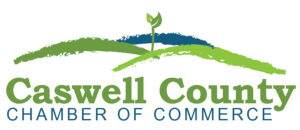 15 Main St
Yanceyville, NC 27379
(336) 694-6106
CaswellChamber.com
Stokes R. Reagan is a Caswell native with a strong passion for supporting her local community. She lives in Blanch with her husband and two children. You can find her at the Caswell County Local Food Council's free community lunch every second Wednesday with the #CaswellGrubClub, at the Caswell Farmers Market on Thursdays, or online at [email protected].