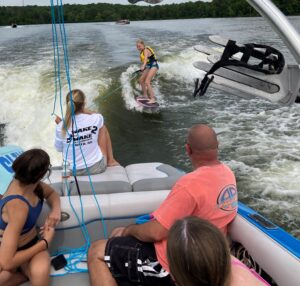 NC Marine held its exciting grand opening on Saturday, May 22. NC Marine is a boat shop close to Hyco Lake. I, among many others, really enjoyed myself at the grand opening. There was a bouncy house, Drizzle D's Donut truck, and various boats parked outside as well. The contents of the shop itself ranged from flip-flops to wakeboards and tubes, making it very well stocked with fun things for lake-goers.
My favorite part of the morning was the donuts, but the highlight of my afternoon was definitely a wakeboard and wake surf lesson taught by Carro Djupsjö! Carro is a professional wakeboarder from Sweden. She started wakeboarding when she was 13. Carro had wanted to be a professional wakeboarder almost since she started wakeboarding. Carro's sponsor is Heyday Boats, which NC Marine sells. Brandon Patrick, the owner of NC Marine, knew Carro through Heyday and asked her to come out and teach some lessons on the day of the grand opening.
I took the lesson with my friend Cece, and her lake neighbor Kailey. Cece and I swam at her family's dock at the lake in the morning. When Carro got there, we were ready to get on the water! We went wakeboarding first. Cece was the first one to try, so I sat at the end of the boat as Carro showed her what to do. Cece got her feet strapped onto the board and got into the water. Carro showed us how to get up at the count of three by grabbing our hands and putting her foot on the board. She eased us out of the water while our knees were bent, we counted to three, and then stood up. Carro did all this off the back of the boat while the boat was sitting idly in the water. She said this was a good way to show kids how to get up on a wakeboard in order to save gas. This way, we were comfortable with how it would feel when the boat pulled us up.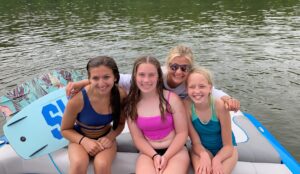 I am almost always open to new experiences, (especially when it comes to food) but I am a cautious person who is a bit of a worrier. So, I was naturally nervous about wakeboarding — but I figured that I should give it a try. When it was my turn to wakeboard, I got up on my first try! I then proceeded to face plant into the lake. The point is that I didn't give up, and with Carro's help, I eventually rode for a while and even learned how to ride with either foot forward. I had an amazing time, I learned a lot from Carro, and had a great time hanging out with a friend and getting to know a new one.
An important piece of advice from Carro when trying something new is, "Remember that you can do much more than you think you can, because a lot of the time we get scared and don't think we can do stuff that we haven't tried, and most of the time, if we try it, we find out that we actually can." It is so easy not to give something new a chance because of a bad past experience or the fear of failing, but if we keep an open mind, we might find something we really enjoy. I'm so glad Carro came to Roxboro and helped me to try something new.

33 Skylark Ln
Semora, NC 27343
(919) 867-1880
NCMarinesales.com