Great outdoor spaces are a harmony of elements. Usually in a backyard, one element anchors the project. If we are not careful, we neglect the attention needed on the complementary details that finish the project and "wow" guests. Stepping back from that patio or pool you have dreamed about for so long and considering how we can finish the entire space will ensure you create that perfect outdoor escape you crave.
When we begin a design/build project, I always want to find out a few key details from our customers. Their investment in their backyard needs a plan, and from that we can build off of their stated goals and personal taste. Whether rustic or modern, big or small, we need to ensure function and aesthetics are balanced to maximize the value in our build. Even the perfect hardscape that incorporates every feature imaginable can finish somewhat cold and disconnected from the outdoors without balancing its size, form, and direction.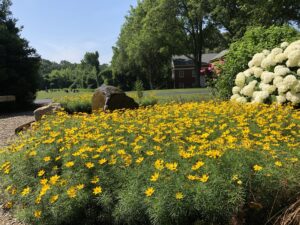 The need to incorporate plants into our hardscape projects is not always at the top of the list when we first meet with a customer; the patio or pool area can take over. Care needs to be taken so that the budget will allow us to complete the project.
We can all get tunnel vision from time to time, and it is easy to start planning a project and forget all the small details. First, we want to establish our purpose or goal for building, and then you can begin to break down most outdoor living spaces into a few basic elements: line, form, and mass.
Basics of Design
Line creates flow and carries our eyes through a project.
Mass is the visual size of a landscape element.
Form is the shape of the project.
We use lines to center our attention or carry us through a space. Think about that fireplace or water feature we may want to highlight; by directing our lines and angles, we can focus attention on that design element. The lines we create in our plants and hardscape will move us physically and emotionally. We can use our lines to focus on an area or create a mood. Emotionally, we know that hard, straight lines are formal and sweeping curves are more carefree. Planting bed layout and how we structure the hardscape will create this element.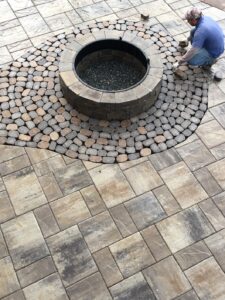 Common problems arise from disproportionate mass of the landscape or hardscape. Elements need to be balanced by their surroundings, and not be too big or small for the area. A hardscape or planting bed of the wrong size will disappoint every time, but when all the elements of a design find balance in scale, we feel at peace.
Form is used to create balance and the foundation for our landscape design. Plants come in many shapes and sizes, and a hardscape can take virtually any shape – round, pyramidal or free form. The use of plants around a hardscape brings that harmony with nature we need to begin to complete the space. Formal patios and more modern designs will use more tightly pruned and shaped plants. Meanwhile, informal yards will incorporate more natural plants and flowers.
Balance Creates Harmony
In our last story, we discussed uses of lighting in the landscape and how it can expand your enjoyment of the outdoors and create focal points. Plantings can be used in just the same way by softening transitions or creating a focal point that draws our attention. It is our job to work to balance these elements of design with the overall scope and purpose of the project.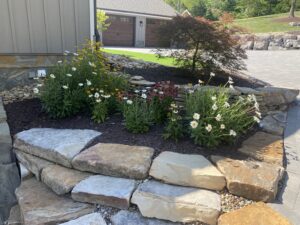 Landscape beds often allow us flexibility in our design. Maybe we need to expand an area in mass to balance its surroundings. Plants can fill that space. While it is not often considered, the form of a hardscape can really impact its pricing. Curves take time and materials, as we have to cut to make it work. We can often manage the budget of the hardscape by simply squaring off our build, but gain an informal flowing form with a planting bed.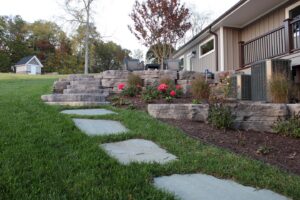 It is also helpful to use planting beds to transition our hardscape element to the yard or void areas in your landscape. A patio or wall right up to a grass yard can create a maintenance issue as you have to mow right up to that area, often blowing clippings on the patio or staining the walls as you trim along them. Using a nice sweeping bed creates separation from the hardscape and allows mowing without obstruction. This reduces time spent working and increases your time spent enjoying.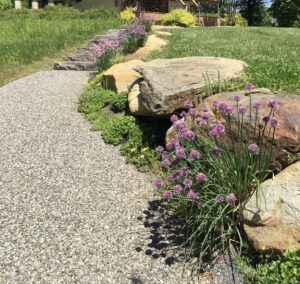 Plants can also create areas of separation in a landscape. The plants can help us border an area and flow us to a new area, or we can use them to effectively create a room or space outdoors. The plants can also create barriers to sight and sound, giving us much-needed privacy in our backyard.
When considering your next outdoor project, try to step back and see the entire space. Avoid fixating on that one spot, and consider how you want to feel when you step out into your outdoors.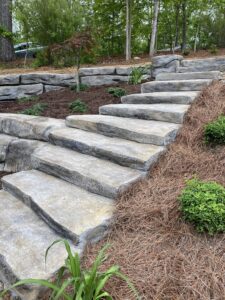 Building great outdoor spaces is a rewarding experience. Combining all the elements that complete the build is a challenge in creativity and execution. Those seemingly endless combinations excite us as we seek harmony in every outdoor space. Balance in the design helps us create balance in our lives as we create our perfect place of peace in our own backyard where we can detach from the world and renew our spirit.
(434) 579-5625
www.MaplehurstOutdoorLiving.com
[email protected]



Joe Wilkerson is the owner of Maplehurst Outdoor Living. His passion is building your dream outdoor living area. He is dedicated to building fine outdoor living projects in Southern Virginia and Northern North Carolina, so you can Unplug & Relax.