Career and College Promise Program – Piedmont Community College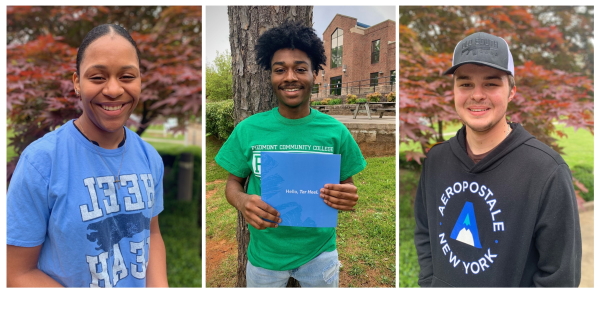 By Daniel Statum,
Communications Specialist, Piedmont Community College
Diligent, determined, and driven to success. Tamia Ross, Marcellus Abbott, and Troy Hancock Jr., three of Piedmont Community College's (PCC) newest graduates embody these words and went above and beyond over the last two years. They not only graduated from Bartlett Yancey Senior High School (BYSHS) in early June, but also achieved their associate in science degrees from PCC.
PCC's Career and College Promise (CCP) Program is developed for students to complete 30 credit hours of college by the time they graduate high school. If students choose the CCP College Transfer Pathway, they have around one year of college complete and save $2,280 in tuition and fees from PCC. If they choose to go to a university instead, earning one year of college credit could save $8,000 to $15,000 or more.
But Ross, Abbott, and Hancock thought even further ahead, completing 61, 61, and 81 college credit hours, respectively, and gaining an enormous head start in their education and careers.
Tamia Ross
"When I was 13, my class was given an assignment to write a goal on a flashcard and give it to our parents," Ross said. "I promised my mom that I would graduate high school with a 4.7 GPA and get into UNC Chapel Hill."
Fast forward five years: she succeeded in keeping her promise and added more by also completing her first two years of college while still a high school student. Ross is heading to Chapel Hill in the fall, majoring in exercise science with hopes to be a personal trainer while finding ways to benefit her community.
Ross has a lot to be excited for in this next step, but she's most looking forward to living somewhere new. "It's going to be interesting to be in a new area, in a bigger atmosphere, seeing new faces every day, and every semester. The one thing I'm not looking forward to?" Ross said, laughing. "Sharing my room."
Completing high school and PCC simultaneously was a challenge for Ross, especially factoring in a pandemic, but after some time, she figured out her schedule and how she would succeed. First, she got used to taking classes online. Then she developed a schedule to start school in the morning, work at her part time job at Walmart in Mebane, N.C. then finish any remaining work afterwards. And it helped that at home, she received immense support.
"At first my parents were surprised and didn't know I was doing it," Ross said. "But when they found out, they were behind me, encouraging me, reminding me that I can do this."
Even through the tough nights, Ross's advice to other high schoolers considering CCP is to "just do it." She continued, "Stay on top of your work, study, and relax in the moment. You'll learn to apply yourself, and if you have doubts, remember the money you'll save."
Marcellus Abbott
"The whole reason I started down this path is because of my brother," Abbot said. "We're competitive, and I wanted to show him that I'm better, so I decided I was going to get my associate's early."
The unexpected COVID-19 pandemic made Abbott's inner-family competition more of a challenge. He said when things changed to online learning his junior year, he struggled. He consulted with PCC's Caswell County Career Coach, McKenzie Burke, and he decided if he was going to get his associate degree, he would need to adapt and prioritize school. He cut back on his hours working at the McDonald's in Danville, Va., to give himself more time to study.
Growing up, Abbott was always a Tarheel fan, so he applied to UNC Chapel Hill as his dream school, but also applied to Duke, NC State, and UNC Charlotte as backups. Then the day came when he got his Carolina blue acceptance letter. "It was epic! Everyone was super excited and screaming so loud, telling me over and over how proud of me they were."
In the fall, Abbott will start his next chapter at UNC Chapel Hill majoring in biology pre med, with dreams of becoming an anesthesiologist.
"The CCP Program will help you mature," Abbott said. "It'll help you learn how to balance priorities and how to manage your time, but it also has great benefits. Like, I saved over $14,000 a year! But I'm honestly just glad I was part of the experience."
Troy Hancock Jr.
Hancock chose a different path than his two classmates. He focused instead on the Career Technical Education Pathway so he could start specialized work in welding as soon as he graduated.
"My sophomore year, I took a welding class and I loved it," Hancock said. "So, I thought, why not stick with it and see what options I have?"
Hancock participated in the CCP Program and graduated from BYSHS and PCC this spring with his associate degree in science as well as a certificate in welding technology.
"It wasn't easy, I had a lot of sleepless nights," Hancock said. "But I had a lot of support at home and at work. My parents and sister kept me on top of my schoolwork and helped me where they could; and my boss forced me to pick school over work. I was leaving the week before my final exams, and he told me, 'I better not see you here next week!'"
Hancock's advice to anyone interested in CCP is also to take advantage of it. "There's no reason not to do it. It saves time, saves money, it's a useful tool, and it's only going to help you in the future."
PCC's Career and College Promise Program
The Career and College Promise Program is tuition free for juniors and seniors in Person and Caswell counties. This program enables students to reach their career goals faster by receiving course credit toward an associate degree, and/or certificate toward an entry level job.
Courses in the associate in science or associate in arts program transfer to any of the 16 North Carolina public universities, as well as many private universities, if the student earns a grade of "C" or higher.
State or national credentials can be earned through the Career Technical Education Pathway.