Old-Time Charm with a High-Tech Edge – Southern Virginia Higher Education Center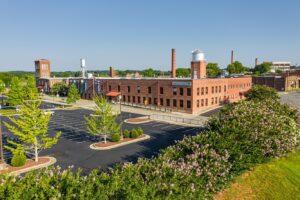 Perched high atop a hill along the southern edge of South Boston, Va., Southern Virginia Higher Education Center (SVHEC) stands as a beacon of hope in an area that has faced many economic downturns over the last few decades.
Located in the historic district of downtown South Boston, the SVHEC is housed in two repurposed tobacco warehouses and a renovated textile factory. The campus features 115,000 square feet of technically sophisticated space including high-tech classrooms and labs featuring simulation technology focused on science, technology, engineering, math, and healthcare (STEM-H). The warm brick buildings imbue an old-time charm that belies the cutting-edge technology housed inside, rivalling that of any of its big-city neighbors.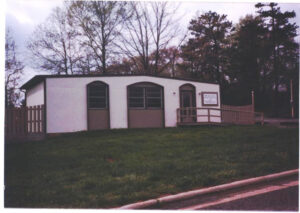 One of the first and most successful higher education centers of its kind, the SVHEC was founded in 1986 to help citizens of Halifax County continue their education while they live, work, and raise families here. For over 30 years, the center has been unwavering in fulfilling its vision — Educational Victories = Economic Strength — and has helped advance southern Virginia's economic potential by providing affordable access to higher education and hands-on workforce training.
Through a unique partnership with community colleges and state universities, SVHEC provides convenient, affordable access to college degree programs and job training opportunities.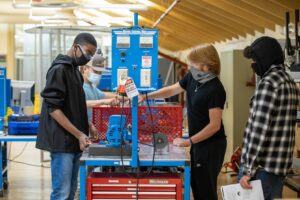 Danville Community College (DCC) and Southside Virginia Community College (SVCC) provide one-year certificates and two-year degrees in high-demand areas including healthcare, business, human services, and college parallel. Four-year partners Old Dominion University and Longwood University provide access to a range of bachelor's and master's degree programs.
"The SVHEC is the only higher education center not located on or near a community college campus. Our partnerships with two- and four-year colleges to provide access to everything from a GED to a Ph.D. is part of what makes us so unique," said Dr. Betty Adams, SVHEC's executive director.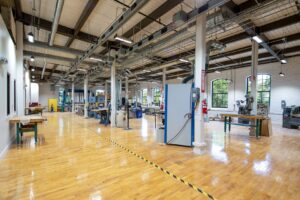 Recognizing the need for workers to have in-demand training and credentials, the SVHEC also offers a robust workforce training program. Short-term, (less than one year) hands-on training in automation technology, HVAC, information technology, (IT) and welding is available for adults who want to earn skills and certifications in high-demand fields. The center is steadily bridging a skills gap in Southern Virginia, bringing hope for the future to its citizens, its businesses, and its industry.
"Well-paying technical jobs are going unfilled in the region because of a lack of skilled workers. We help fill the skills gap by focusing on getting people enrolled, trained, and into the workforce in less than a year," said Adams.
To make these opportunities as accessible as possible, financial aid and financial assistance for programs and training opportunities are available, as well as offering day and evening classes for scheduling flexibility.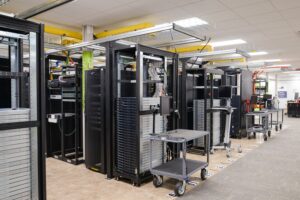 The SVHEC also seeks to help both new and existing businesses and industries remain productive and profitable, offering employers the opportunity to partner on customized, innovative training solutions that support their evolving workforce needs. All SVHEC workforce training programs can be customized to meet the specific needs of regional employers.
The SVHEC's ProductWorks serves as a unique resource for manufacturers and entrepreneurs, connecting them to a full-range of product design and development services. ProductWorks' staff leverages their advanced capabilities in planning, troubleshooting, prototyping, computer aided design, (CAD) and integrated computer aided machining (CAM) to provide industries and individuals with services that are typically unavailable in rural communities.
"When people visit the SVHEC, they're amazed that all of this sophisticated technology and varied opportunity exists under one roof. We've had people from large metropolitan areas tell us that even they don't have the assets and resources we do," Adams said.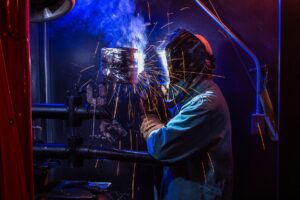 Welding
The SVHEC's welding program was launched in 2014 in response to employer requests for more certified welders. The 10-month program provides hands-on training in MIG, TlG, stick and pipe welding, and leads to certification through the National Center for Construction Education & Research (NCCER). NCCER is a portable, third-party validated industry credential recognized by employers across the nation.
Trainees attend class four hours a day, three days per week in the SVHEC's 10-bay welding lab. Day and evening classes are offered, providing trainees with the flexibility to earn the skills they need while keeping up with family or work commitments. A key feature of the program is the hands-on instruction. Trainees spend 80 percent of their class time in the lab, learning by doing.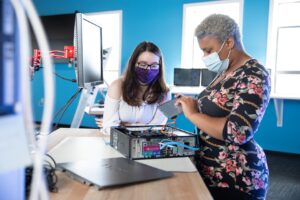 IT Academy
Virginia is consistently ranked as one of the top five states for employing information technology (IT) workers. Once upon a time, IT jobs were concentrated in Richmond, Norfolk, and Northern Virginia, but today a growing number of these positions can be found in Southern Virginia. The Microsoft datacenter in Boydton is just one example, and while the datacenter is a significant tech employer, many other industries from school systems and healthcare to manufacturing are hiring tech talent.
Launched in 2015, the IT Academy (ITA) provides short-term, hands-on training to prepare individuals to work as skilled IT professionals. Three classes (two semesters) provide the training needed to enter the workforce in entry-level IT roles such as IT technician or datacenter technician. Networking, cybersecurity, and Linux classes are also available and provide great opportunities to build skills and capacity and showcase those skills with industry-recognized certifications.
ITA learning spaces include two hardware repair centers, three classrooms, and a working datacenter lab. Hands-on lab activities are all designed to simulate the work environment. Each IT Academy class culminates with students testing for their third-party IT certifications onsite at the SVHEC.
The IT Academy team listens to employers and follows industry trends.  Watch for a new cloud computing course scheduled to come online in the spring of 2022.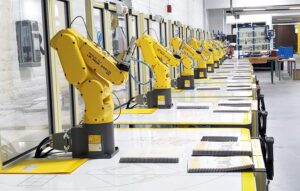 Automation Technician
Automation Technician@SVHEC is a short term, non-credit training program that prepares students to succeed in advanced operation positions in modern production environments that use automated technologies. Training covers in-demand skills like programmable controls, fluid power, robotics, and mechanical and electrical power. Training is ideal for individuals in related occupations like information technology, who want to become proficient in automation and programming.
SVHEC's Workforce Development staff work hand-in-hand with employers to provide customized training on some or all of the individual components of the curriculum. "Employers tell us what they need, and we listen. All the training is relevant so they start seeing results right away,"       said Ricky Gordon, acting director of Workforce Training Programs.
HVAC
SVHEC's newest hands-on program is HVAC (heating, ventilation, and air conditioning), launched in 2019. According to the U.S. Bureau of Labor Statistics, more than 500 individuals are employed in the HVAC industry in Southern Virginia, but employers cite difficulty in finding entry-level, work-ready technicians. HVAC@SVHEC addresses this issue by providing individuals with the skills and certifications they need to start an HVAC career in less than a year. Trainees may earn the NCCER Core, NCCER HVAC Level 1 and Level 2 (residential), and OSHA 10 certifications.
HVAC@SVHEC also provides experienced technicians with the industry certifications they need to work towards earning a journeyman's card.
Soft skills are built into all of the workforce programs. As trainees near program completion, they receive job placement assistance, including help with resume writing and interview skills. They also have an opportunity to participate in a mini job fair. SVHEC's ultimate goal is to see each and every one of its trainees successfully employed.
ProductWorks
ProductWorks@SVHEC is the Commonwealth of Virginia's only single-source location for product design and development services. Industrial partners, inventors, and entrepreneurial start-ups come with a vision and ProductWorks brings it to life. From design planning and prototyping to testing and small production runs, ProductWorks is a one-stop shop where technology, creativity, and industry insight connect.
ProductWorks' clients range from inventors like Stewart Topp, who worked with ProductWorks to produce a revolutionary tool for the cabinet making industry, to world-renowned piano craftsman Steinway & Sons. Locally, ProductWorks counts automobile manufacturer TMI Autotech, VIRginia International Raceway, and Huber Engineered Woods among its clients.
"As a small business consultant, I see first-hand the challenges entrepreneurs face in bringing new products to market. ProductWorks is an invaluable resource within the regional entrepreneurial ecosystem. Productworks' services are unparalleled, and provide Southern Virginia with services that rival those of much larger metropolitan areas," said Lin Hite, regional director for the Longwood Small Business Development Center.
Career Tech Academy
SVHEC also offers IT, automation & robotics, industrial technology, and welding classes for high school students through the Career Tech Academy (CTA), where students earn college and high school credits as well as industry credentials. CTA completers who enter the workforce have the skills they need to make above-average pay in in-demand fields. Those who continue their education have transferable credits and a strong foundation of technical knowledge and employability skills.
In a nutshell, opportunity lives at the SVHEC – today and in the future. Through the SVHEC, individuals can advance their career and education regardless of age or stage of life.
820 Bruce Street
South Boston, VA 24592
Toll-Free (800) 283-0098
(434) 572-5440
SVHEC.org