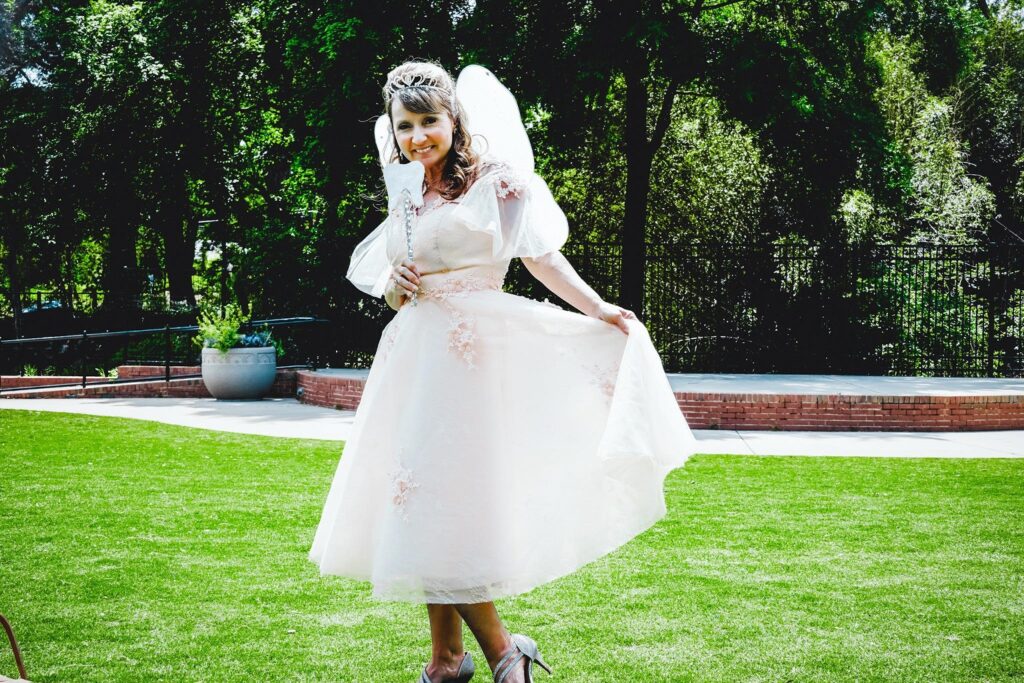 A Remarkable Adventure
When she's not doing her "real job," the Tooth Fairy assumes the identity of Caswell County resident Lori Welch Wilson, a bubbly, charming dental assistant and dental assisting instructor. After spending a couple of hours with her, I'm pretty sure I was introduced to half the county. Everyone knows and seems to love Lori.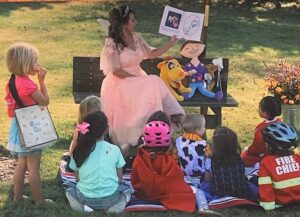 And, I have to say, I can understand why. She is an upbeat, positive, friendly, caring person. Exactly what we would expect from the Tooth Fairy — right?
In addition to all of her other talents and abilities, the Tooth Fairy has written two children's books about her double life and is working on a third.
Lori Wilson grew up in a large family, with four brothers, and wasn't able to get regular dental care as a child. When, as a youngster, she tagged along to work with her older cousin, who served as the dental hygienist for Alamance County, Lori said she knew what she wanted her life's work to be.
She has now spent over 30 years in dentistry, and said she always wanted to give her youngest patients a lasting, positive impression of the dentist, and teach them how to ensure a healthy smile. She said she has always loved teaching children about good dental health, and wanted to do so in a way the children would best relate to. She also loves to promote reading.
So, "The Tooth Fairy came up with the bright idea of working for a dentist during the day."
Children began asking why the Tooth Fairy was cleaning their teeth, Lori said, so she invented the secret. Now, after having lived her "double life" for the past 20-plus years, Lori is a local celebrity in Caswell and Alamance counties. She said she is constantly recognized by her young patients while running errands and going about her everyday business. I can attest to this, after spending an afternoon walking around Yanceyville with her. Everywhere we went, everyone, young and old, had to wave to or stop and speak to Lori.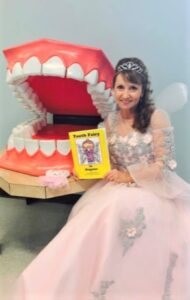 She told me that the feedback and recognition she gets from her current and former patients makes her "heart overflow with happiness. They're a blessing to me, and I want to be a blessing to them. I want to inspire them to keep their teeth healthy, and also to read."
She said, "One of my biggest rewards as a dental assistant was serving on the Alamance/Caswell County Give Kids A Smile Program Committee and volunteering at the event." The Give Kids A Smile program is a National Day that provides children with free oral health services. Lori added, "I had the honor to volunteer for over 10 years as a dental assistant and as the Tooth Fairy" with the program.
As part of her life as the Tooth Fairy, Lori travels to schools, libraries and community events in Caswell, Person, and neighboring counties, speaking to children about good dental health practices and the joy of reading.
One of the characters in her book is based on Lori's niece, Chloe Welch, who is a member of the "No Cavity Club."
This delightful little book is full-color, with pages at the end that kids can color for themselves. The book is about a tooth fairy who decides she has to do something to help children stop getting cavities. Wilson said she wanted to include the coloring pages because they would give children a chance to interact with the book and also serve as a keepsake for parents. Her own children are now adults, and Lori said she loves "to look back at what they did as kids."
There is now a second book in the Adventures of the Tooth Fairy in Disguise series. This one is titled Kindergarten Graduation Smiles and it has its own accompanying coloring book. In this charming tale, the Tooth Fairy is asked to speak at a kindergarten graduation ceremony.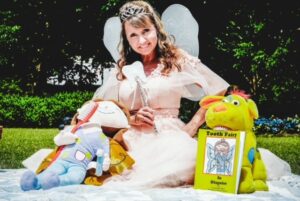 After waking up to discover a "crisp one dollar bill and a special note from the Tooth Fairy," Luke goes to his graduation to see her on stage. "The Tooth Fairy waved at Luke and winked at him. He was so happy!"
The illustrator of Tooth Fairy in Disguise is Hannah Thompson, a graduate of Bartlett Yancey High School in Yanceyville. She began drawing at a young age. She loved art class, and won her first art award while in kindergarten. Her illustrations perfectly represent Lori's writing.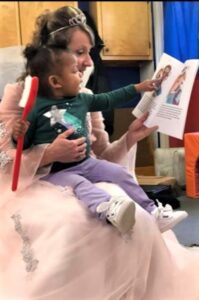 With Hannah now at Averett University and busy with softball, Lori said she asked her best friend, Sharon Tatum, to create the illustrations for Kindergarten Graduation Smiles and the coloring book.
Sharon is also a lifelong Caswell County resident. After many years serving as a pediatric ICU nurse, she now enjoys spending time with her children and grandchildren. In addition to painting and drawing, she also enjoys refurbishing furniture, decorating, and music.
Sharon's illustrations of the characters and scenes are vivid and colorful and sure to engage young readers.
Lori says the love and attention she gets from her young patients and readers is the best reward for what she does. She has also been recognized in other ways, however. She was named the 2019 Distinguished Alumni by Alamance Community College. She was recently named a Remarkable Woman of the Triad and was chosen as one of "Roy's Folks" on FOX8 news in Greensboro.
I can honestly say, after my day with her, that she is truly a remarkable woman.
Lori's books may be purchased at the Caswell Arts Council and Caswell Mercantile in Yanceyville, at the Children's Museum of Alamance and Persnickety Books in Burlington, and at Karen's Hallmark in Danville, Va. They are also available on Amazon.