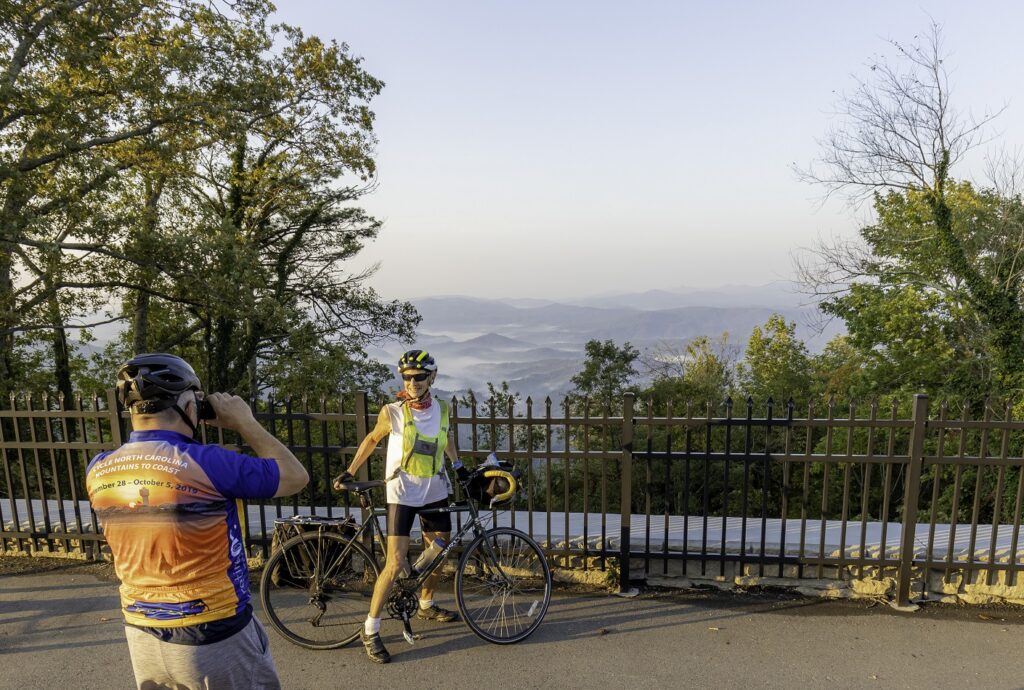 Story by Sara Coates
Photos by Rob Landwhermann
Mountains to Coast Ride
This October, the Cycle North Carolina Mountains to Coast Ride will stop overnight in Person County. Last year, this event was scheduled to travel through Yanceyville and spend the night in Roxboro, but COVID-19 got in the way. Now, riders are scheduled to arrive on Oct. 5 and leave on Oct. 6.
This bicycle tour has traveled throughout rural North Carolina every year since 1999. The ride is not a race, but instead a "recreational trek" designed to "promote physical fitness, good health, and the scenic beauty of North Carolina." While this is a recurring event, the route changes each year. In the past 21 years, this ride has stopped in more than 100 North Carolina towns overnight and passed through over 700 North Carolina communities. This year, the event will begin in Sparta and end in North Topsail Beach. Before Roxboro, bikers will visit Mount Airy and Reidsville. After Roxboro, bikers will visit Creedmoor/Butner, Smithfield, and Wallace before finally reaching their destination.
Prepping Person County
Marley Spencer, executive director of the Person County Tourism Development Authority, is responsible for working with Cycle NC to prepare the county for the arrival of the cyclists. "We have been coordinating volunteers and additional shuttles, as well as scheduling live music, food trucks, and communicating with local shops and restaurants so that they are prepared," Spencer said. "We have been ordering all of the decorations, shirts, and souvenirs to ensure our visitors have a wonderful evening in Person County."
Cycle NC coordinates camping accommodations, local lodging, and the cycling route, as well as the entire event schedule. This allows riders to enjoy themselves throughout the journey. Riders should sign up online, where they will be given the option to choose between RV camping, standard camping (which will take place at Huck Sansbury park), or booking a hotel room in the area. Some riders also bring along cars of support staff, who have the opportunity to enjoy local attractions during the day. Those who are not riding should still sign up for the Cycle NC Excursions by Visit NC. In the past, Visit NC has organized excursions for both riders and their guests to visit Grandfather Mountain, Charlotte Motor Speedway, the NC Museum of Art, the NC Seafood Festival, the Durham Bulls Athletic Park, and a number of wineries, breweries, and restaurants.
An Event with Impact and Purpose
This event has a big economic impact on our community considering the large influx of visitors who will be dining, sleeping, and shopping in the area. Spencer explained how the age range of the riders offers the potential to capture some visitors as new residents as well.
"This tour lends itself to interest in locations for retirement," she said, "Person County's proximity to other states and geographic regions, its cost of living, abundance of outdoor activities, and bodies of water make it a prime choice for those looking to retire."
Spencer said the purpose of this event varies depending on your perspective. "This event matters for the riders because it is an opportunity to see areas of the state on bike that they may otherwise not have the chance to see," she said. For Person County, this is also an opportunity "to show our visitors the beauty of the county and the kindness of our people."
Person County Tourism Development Authority
705 Durham Rd, Roxboro, NC 27573
(336) 597-2689
@visitpersoncounty
ItsBetterInPerson.com
Sara Coates is a graduate of Roxboro Community School, where she developed a deep love for journalism. She is currently finishing her last semester of undergrad, enjoying her new Family Service Worker position at Earl Bradsher Preschool, and appreciating every chance she gets to write for Hyco Lake Magazine.