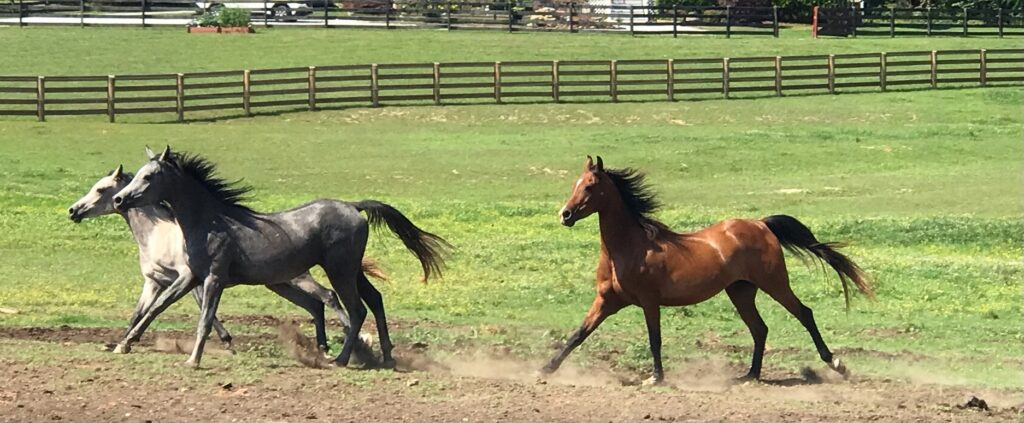 Story by Jo Proia
Photos by Jessica Whitt, Whitt Haven Photography
The Black Stallion, My Friend Flicka, Hidalgo, Lawrence of Arabia, Tina Turner's music video "Simply the Best" …. even the iconic paintings of Napoleon and George Washington on their white/gray steeds. If you remember or connect with any of these horses, then you have experienced the majesty of the Arabian breed.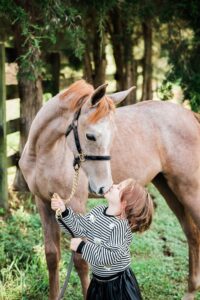 Some have the erroneous perception that Arabian horses are "too hot" and hard to handle but the truth is quite different. Arabians are the world's oldest human-bred horses, dating back to 2000 B.C. and the desert of Syria and the Bedouin people. They were bred to withstand extreme heat and endure much longer distances than other breeds, with little food or water. These horses were so important to the desert people that people brought young foals into their tents, where they hand fed them camel milk and dates. This horse breed won wars, helped obtain lands, and provided survival, companionship, adventure, and safety for humans. This intimate relationship from birth created an unusual affinity for Arabians to bond with their humans in a unique and powerful way. They are gentle, loyal, sensitive, and they want to please their human handler. The Arabian stallion is the only stallion ever to be allowed to be shown in the ring by children. If that doesn't alter our perception of this fine breed, nothing will.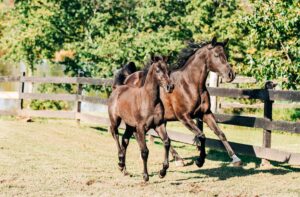 Their beginnings in the United States are controversial, but it is true that some of the first-ever purebred Arabians to be ridden and bred in the U.S. belonged to President George Washington at Mount Vernon, where his saddles and leather tack still remain in the stables. Washington — a widely known, accomplished, and ardent equestrian — used the Arabian to breed with cavalry mounts to strengthen the military. In fact, almost every current horse breed has some Arabian bloodlines. Ninety five percent of all thoroughbreds can be traced to the Arabian breed of horse, and you may remember the exceptional Secretariat, whose bloodline can be traced back to all three original foundational Arabian sires.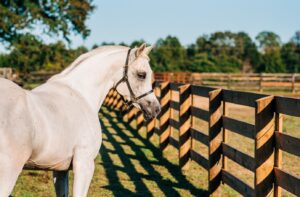 What makes them so physically superior? They have amazing traits from head to tail. Their nostrils are large and more flexible, allowing more air intake. Many have a larger sinus cavity (called a jibbah) which helps them in desert climates, and their necks are curved, allowing the windpipe to take in more air. They have one less vertebrae in their backs, making their backs stronger. Many have dark or black skin, helping to protect them from harsh sun. Their bones are much stronger and more dense than other horses, so even though some are small in stature, they can carry heavy riders for long distances with little food, water or breaks. The Arabians' rib cage is larger so the lungs can expand more than those of other horses, and they carry their head and tails higher than other breeds due to the one less vertebrae and tailbone, which helps with cooling. This proud carriage (horse in Arabic means "walk with pride") is visually exciting and mesmerizing and is one reason why the Arabian horse has been used extensively for movies and photos. They epitomize the majesty and beauty of all horses.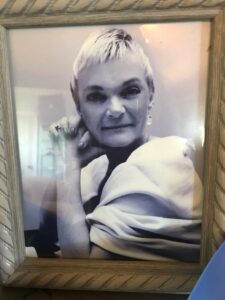 Empire Egyptian Farm in Timberlake has been breeding Straight Egyptian Arabians since 1994. The founders, Marlis and Michael Amato, started out in New York, and in 2002 moved the farm to Timberlake, on part of the previous Welch farm on Highway 158. Marlis had looked for an exceptional stallion for 20 years and finally found Mayaan, one of their two stallions. Unfortunately, just three weeks later, Marlis passed away. Michael and their daughter, Jillian Whitlow, and her husband Paul carry on the family tradition that Marlis began. Empire Egyptian Farm breeds Straight Egyptian Arabians. That means their horses are a blend of pure, undisputed, desert heritage bloodlines. Their offspring include the black horse in Tina Turner's video "Simply the Best," and horses owned by actors William Shatner and Patrick Swayze. Swayze loved his Arabians, was an accomplished equestrian, and showed his horses. Even the King of Morocco owns an Empire offspring.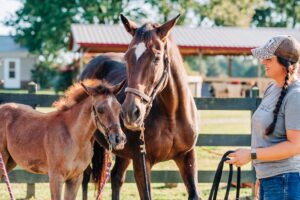 You may have the perception that owning or investing in an Egyptian Arabian is only for the super wealthy, but this is far from the truth. When I drove down the gravel drive to meet Jillian and Paul and their horses, including a weeks-old foal, I was struck by the fact that, instead of a fancy, over-the-top show barn atmosphere, they run a working farm. Having grown up on a farm in nearby Oxford, I could relate. Jillian and Paul are keeping their portion of the old Welch farm going and utilizing it by raising livestock and farming.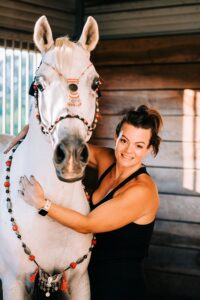 The original farm was about 150 acres and owned by Jim Welch and his wife, Maggie Snipes Welch. It was a tobacco and working farm with livestock, mules, and chickens. Lanny Welch, one of Jim's grandsons, still lives on a portion of the original family farm and remembers fields being plowed by mules and wheat being stored in the original white clapboard structure where I met with Jillian and Paul. Lanny and his brother rode their bicycles on the same trails that Jillian and her family now ride on their beautiful Arabian horses. The Welch family graveyard still stands on the property as well.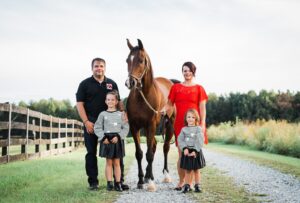 Jillian and Paul are preserving this farmland and continuing the tradition of a working farm and livestock. Some of the horses are actually ridden, either for trail riding or showing. It is not just a breeding operation. These horses are loved and cared for by Jillian and Paul and their daughters on a daily basis. They personally feed and ride the horses and birth the babies on site, maintaining a hands-on relationship with their horses.
There are several ways to be part of this historic, majestic breed through Empire Egyptians. You could purchase a horse from them for trail riding or endurance racing, or you can become an investor in several custom and lucrative ways. You can choose how involved you want to be and they can handle all aspects of investment ownership, whether or not you are local.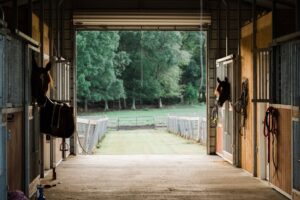 Investing in horse breeding is not usually well understood by the average person, myself included. As a lifelong equestrian, I had never really known about this side of horse ownership/investing. After learning about it, my eyes were opened to the exciting possibilities. One could invest in a mare and then potentially sell her annual offspring for long term, repeat profits, all the while enjoying the horse(s) and being a part of a breed that is ancient and noble. Jillian and Paul can customize the investment arrangement to work best for their clients. It is all insurable and offers a 100 percent tax credit because horses fall under the livestock category. CNBC.com touts it as an "Investment You Can Ride."
Most of Empire's investors are "blue collar, middle class, family-oriented" investors who want to be involved with the breed and make money at the same time. All expenses are tax deductible, including riding lessons. An investor can choose a short- or long-term investment. The largest return usually takes around eight to 10 years. Jillian and Paul will sit down with potential investors to create a plan based on their goals.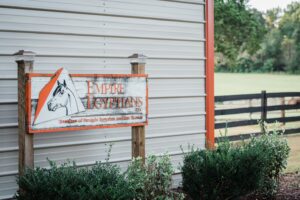 Empire Egyptian Farm is a vibrant member of the Timberlake/Person County community, sponsoring local soccer teams, being active members of the Roxboro Area Chamber of Commerce, and advertising in local publications like this one. The farm donated Covid shields to Bethel Hill Charter School. The Whitlows purchase as much of their supplies as possible from local vendors like Tunnel Creek Vineyards, Hurdle Mills Feed and Farm Supply, and Landscape Supply in Roxboro. They love what they do, are passionate about the Egyptian Arabian breed, and cherish opportunities to share and help the average investor be a part of something that is steeped in majesty, legend, and romance. Being a part of the breed is extremely exciting and rewarding, whether you are a "horse person" or not.
For those who are curious about the breed and would like to meet the horses and family and see the Welch farm, the Whitlows strongly recommend making an appointment before stopping by. You can also attend these upcoming events:
Aug. 6-8: East Coast Championship
The Egyptian Event at the Virginia Horse Center in Lexington, Va. Jillian and her family will have three horses there, including their exceptional stallion, Mayaan Al Nadir.
https://www.eastcoastshow.org/?fbclid=IwAR1kapvg8ewuhXy9oy3Mz_uACyhcaNNpN5GKsJVQWqFZCasx0LsCp63SmKk Sept. 16: Roxboro Area Chamber of Commerce Business After Hours
At Empire Egyptian Farm, featuring Tunnel Creek Vineyards wine and light appetizers by Chef Jillian, who is also the program head for Culinary Studies at Vance-Granville Community College.
Chamber of Commerce members only. Sept. 18, 11 a.m.-3 p.m.: Open Farm Day
During this floating event, learn the history of this breed and enjoy riding demos. Open to the public. Empire Egyptian Farm
 6929 Oxford Road
Timberlake, NC
(919) 724-9756
www.empireegyptians.com
www.facebook.com/empireegyptians