By Phyliss Boatwright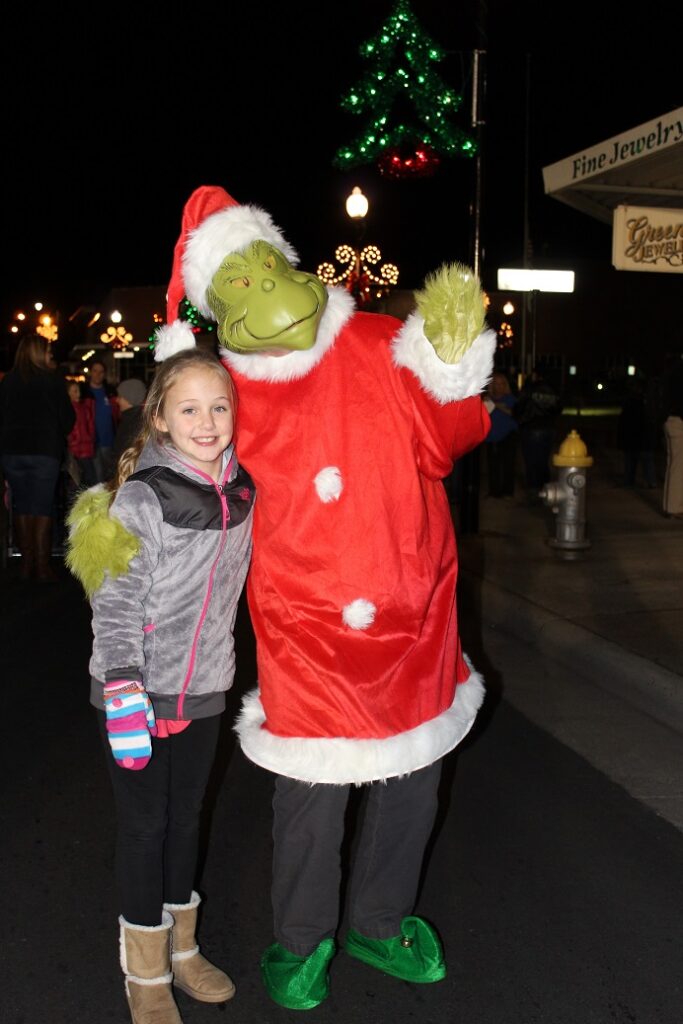 Cities, towns, counties are typically thought of as locations, places, dots on a map. But those dots are made up of people who live, work and do business there, and people give a place its spirit. Roxboro and Person County embody a spirit of service and giving.
When asked to define the spirit of Roxboro and Person County, Alicia Puryear, president of the Roxboro Area Chamber of Commerce, quickly said, "the spirit of service." She added that many people consistently give their time, talents and financial support to the city and county.
Person County business woman and volunteer Claudia Berryhill said, "We see the spirit of service all around us; from the volunteers who give of their time and talents for community events such as Relay For Life, Personality, Rox N Roll Cruise Ins, Museum events, and the list goes on."
One volunteer who often lends a hand for these events is Roxboro businessman Bruce Wrenn, who was also instrumental in forming a beautification committee to help make the city and county more attractive to visitors, and people who may want to live or do business in Person County. Wrenn said he was grateful to the many who stepped up to help, including students from Roxboro Community School and Person High School. The students have helped clean up and beautify areas like the grounds of the post office and the entry points to Roxboro.
Wrenn worked with the Roxboro Development Group and the county Tourism Development Authority to bring Rox N Roll Cruise Ins to uptown. These events, held monthly from May to October, bring hundreds of visitors to Roxboro. He said "sprucing up" the city was important to give people a positive feeling about the city.
"So many people have said, if they had not come to a Cruise-In, they wouldn't have known how pretty uptown is," said Wrenn.
Jingle on Main, the annual event that brings visitors to Roxboro during the holiday season, is another project close to Wrenn's heart. While volunteering with this project, he found himself mixing business with service. His security company, SentryWatch, had a campaign called "Don't Let the Grinch Steal Your Christmas." This afforded Wrenn the opportunity to dress as the Grinch. And that led to him becoming the official Jingle on Main and Christmas parade Grinch.
Wrenn said he enjoys playing the Grinch to help "make people forget about their problems" and "get in the spirit" of the holidays.
Beth Townsend, a member of the Directors Round Table, said she sees the spirit of giving and service year-round, but especially during the holidays, when many support programs and events like the Angel Tree project of the Person County Partnership for Children. The Angel Tree helps parents who aren't able to provide Christmas for their children. Needs are written on cards that adorn Christmas trees around town. Those who wish to help can pluck a "leaf" from the tree and help a child have a merry Christmas.
Roxboro Mayor Merilyn Newell, herself a volunteer for various projects, said she sees the spirit of service during holidays and on a daily basis. "When I think of service beyond expectations, we can certainly look to the Roxboro Police Department and Roxboro Fire Department. Both of these organizations reach into our community every day to work and serve the needs of citizens who have all kinds of issues well beyond safety and protection."
Newell said the officers of Roxboro Police Department "work with our youth, helping them to forge positive relationships with the police, installing basketball goals, fixing bicycles…really anything that can improve their lives in all kinds of ways."
The mayor added, "Our fire department has quietly gone about installing handicapped ramps, repairing masonry steps and walls in our community for seniors who don't have the physical abilities or financial means to have that work done. They all truly embody 'service beyond self."
Johnny Whitfield sees the city and county from different angles. Professionally, he reports stories of service through his job as editor of the local newspaper, The Courier-Times. One story that quickly comes to mind for Whitfield involves Roxboro Police Department officers D.S. Whitlow and J.G. Wright. Whitfield wrote last year about the men responding to an early-morning call from a frightened woman. The officers arrived at the home to find a heavily leaking bathroom pipe. The woman did not want to call a plumber in the wee hours, so she dialed 911, and the officers, using the only tools they had – a Swiss Army knife and a Leatherman's tool, to stop the leak.
According to Whitfield, Whitlow and Wright said the help they gave the woman may not seem like the kind of work police officers typically do, but it's more common than most realize.
"We spend a lot more time helping people with things than we do all this crazy stuff you see on TV," Wright said in a Courier-Times article. "You've got to be just as happy helping a lady with her plumbing as you are with getting a criminal off the street."
As a member of the Roxboro Rotary Club, Whitfield participates in service to the community, and sees others doing the same. The club's motto is "service above self," he said, and this translates to projects like the recent effort to help victims of Hurricane Florence. The club's annual paper product drive quickly turned into an effort to get supplies to the hardest hit areas of North Carolina.
After outlining several ways in which he has witnessed the spirit of service here, Whitfield said the spirit of service could be found "in just about every nook and cranny" of Person County.
Phyliss Boatwright is a journalist who for years reported Person County news in The Courier-Times. She has published two books and several short stories. Her book review show, Turn the Page, can be heard on WKRX, 96.7. For the past seven years, she has taught journalism and served as public information officer at Roxboro Community School. She can be reached via email at [email protected].