By Mackenzie Clayton, RCS Sophomore Journalism Student

"Dedication, that's Ruffin Woody," said Roxboro Fire Chief Kenneth Torian during a ceremony held on April 18 to honor Walter Ruffin Woody, Jr. with the Order of the Long Leaf Pine Award. The ceremony was held at the Roxboro Fire Department (RFD), where Woody has worked and volunteered since 1947, when he was "informally" added at 14-years-old.
When I started writing the news article about the award, I had no clue of the major impact that this man has had on my community. After learning more about Woody, I quickly figured out that he was an extremely humble person, which explains why I had not heard about many of the things he has done. Now that I am more aware of his extensive work and volunteer history, I most definitely agree with Chief Torian in saying that dedication perfectly describes Ruffin Woody.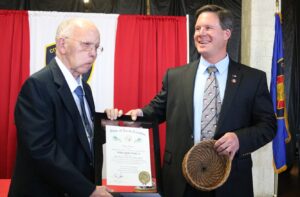 The Order of the Long Leaf Pine is the highest civilian award bestowed by the governor of North Carolina. The award is given to citizens who, through commendable service, have made a significant impact on the State of North Carolina and their communities. Recipients of the award will forever serve as North Carolina ambassadors, and their names are permanently a part of the roster maintained by the Order of the Long Leaf Pine.
Learning about this award has been an interesting process. Not only did I get to learn about the history of the award, but why a person would receive it. After learning about Woody's many accomplishments and achievements, I can clearly see why he was given this award.
The Order of the Long Leaf Pine is the "highest award the governor gives to a private citizen. It is not given out lightly," said Rep. Larry Yarborough, Woody's son-in-law. When presenting the award to Woody, Yarborough said, "I personally have grown to love this man. He's been a mentor, a friend, and a father to me."
According to Yarborough, Woody has done many remarkable things. Currently, he is a chairman of the RFD Firemen's Relief Fund and the RFD Supplemental Retirement Fund and has been a part of these organizations since 1971. He is also a founder of the Roxboro-Person County Rescue Squad.
While attending Roxboro High School, at the age of 14, Woody was a stock boy at Roses. Woody went to college at the University of North Carolina in Chapel Hill, where he earned a bachelor's degree in journalism. From 1954 to 1956, Woody was a part of the U.S. Navy. He was a gunnery officer on a destroyer escort and an assistant officer in charge in the Virginia Navy Recruiting District in Richmond. After returning from the Navy, Woody held various jobs including that of a farmer, a sales representative for Central NC, Motorola Communications and Electronics, Inc, and developed the Roxboro subdivisions of Fairfield Park and Windsor Hills. He was also an EMT for about 25 years.
When asked what he thought was his greatest achievement, Woody said, "Being somewhat successful in providing housing, both multifamily and single family, to those who qualified." He was also a developer of nine moderate-low income and senior handicap housing communities.
Today, Woody is the president and CEO of Ruffin Woody and Associates, Inc., in Roxboro. He is also a member of the Person Memorial Hospital Board of Trustees, where he was a chairman for three years. Woody is a member of the President's Club at Piedmont Community College, the Roxboro Elks Lodge, and the Kiwanis Club, where he is a former club president.
Woody has also donated land to many organizations in the community, including Roxboro Community School, the Person Memorial Hospital Foundation, and the Person County Museum of History.
Woody and his wife Lib have been married for 46 years and they have seven children, 12 grandchildren, and one great-grandchild.
When I first walked into the RFD to do the story on Woody, I was definitely a little nervous. I was not used to covering stories that did not center around school events. There were lots of older people, some who I happened to know from church and other community events, but also some I had never seen before. Having familiar faces around me made me feel more comfortable, especially since I did not really know what was going to happen during the ceremony.
At the award ceremony, along with Yarborough and Torian, Wayne Wrenn, the Battalion Chief at Roxboro Fire and Rescue, Tommy Davis, who spoke on behalf of EMS and Person Memorial Hospital, and Dr. Jim Owen, former Piedmont Community College president and Woody's neighbor, all spoke of Woody's accomplishments. Owen was also the 2009 recipient of the Long Leaf Pine Award.
Towards the end of the ceremony, Torian also presented Woody with a basket woven by Ernest Dixon, a former Person County sheriff and a recipient of the Long Leaf Pine Award. Torian gave one of Dixon's baskets to Woody on behalf of himself and the officers of the RFD.
"Ruffin, the Roxboro Fire Department loves you and you will always be a part of us. Our love is the highest honor we can bestow on you," Torian said.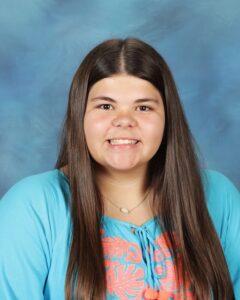 Writing about Mr. Woody has been a wonderful experience, and I believe that it has helped me learn new strategies that I can continue to use in my journalism class. I would like to thank Dr. Kimmie Yarborough for allowing me to write the news article and for helping me gather information on Mr. Woody. I would also like to thank Mr. Woody for letting me write about this special event in his life.
Calling all high school students that live in or visit the area around Hyco Lake… We pay you for your stories! Visit www.HycoLakeMagazine/article to send us your article.