By Sara Newell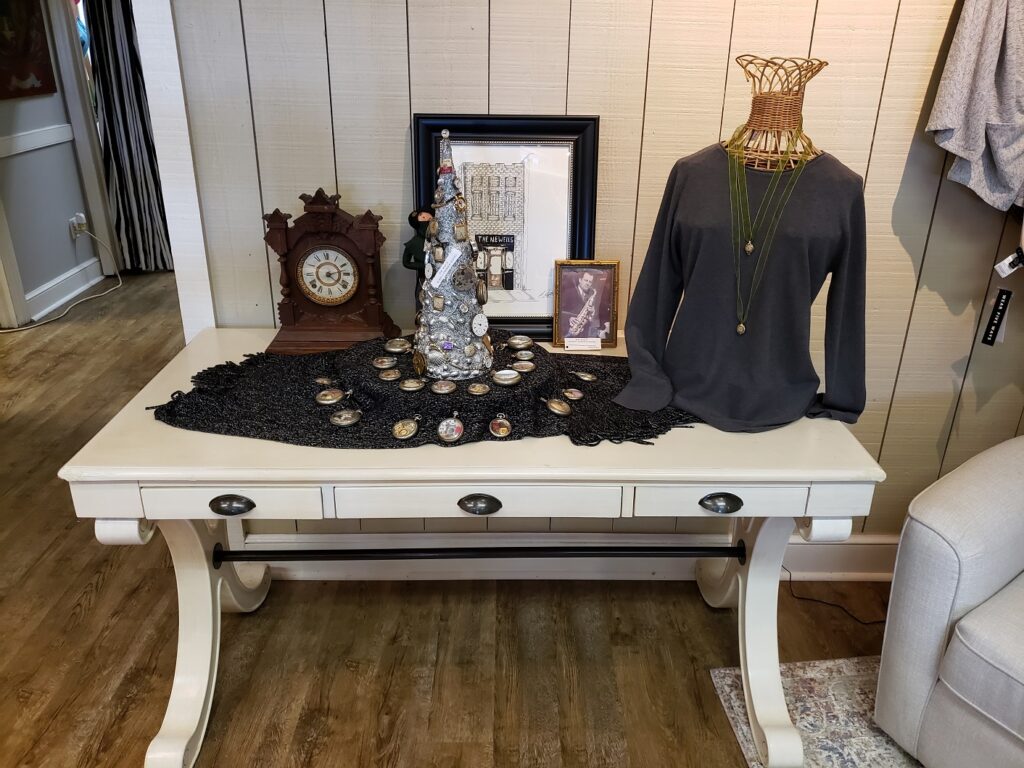 Russell Newell is the name sake for Russell's Ltd located in Uptown Roxboro, a women's fashion store that has been in business since January 1957. The family knows him as Pop!
Pop was already retired when Guy and I got married in 1978. I did not have the pleasure of watching Pop at his repair bench at Newell Jewelry. But I heard the stories as I became part of the family.
Years after Pop's passing, Zee gave me a box of parts. There were gizmos, whatits, and thingmons in that box. I knew then that one day I would know what to do with the parts. I had received a box of elegant little pieces of Pop's world, this was his life's working space. There were faces in there with names like Elgin, Gruen, Omega, and Bulova. And hands, minutes and hours.
There were main springs, hair springs, and a few watch crowns. How did he know how to make it all work, with all different types of minute wheels, hour wheels, and escape wheels. Pocket watches, some were case only. Silver plate, brass, stainless and rose gold. Some were engraved with art or initials, all having a past life in someone's pocket or on their wrist.
My favorites are the women's watches from the thirties and forties. Sweet, delicate and dainty was the Normandie wrist watch. Most had a black cord band, but some had an ornate chain and butterfly push button clasp. They sure don't make them like that anymore.
Last November I was spending time in my studio and it just came to me. I had the Christmas tree form, I sprayed it silver and then the fun began. I could not stop adding the parts to the collage. It all came together, and off the little tree went, back to Roxboro. All the parts are back together with Russell Emerson's daughters, Jan and Zee.
There were just enough of the small lady's styles to make all of the ladies and girls of the family a pendant necklace. I hung the pendants on a green organza ribbon. Attached with the quote. "Time does not pass, it continues" Marty Rubin. Author.
I was so happy to hear how much it has been enjoyed. I've always loved making art from repurposed items.
All the little pieces tell a story…just like family.
Sara, A.K.A. Sally Newell, is the wife of Guy Newell, Pop's grandson! See Sally's art work honoring Pop, on display at
Russell's Ltd
225 N. Main Street
Roxboro, NC
(336) 599-1561
The former Newells Jewelry building on Depot Street in Roxboro has since been the home to many different businesses. Today it is Rise Up Nutrition where you can get healthy breakfast & lunch smoothies, healthy snacks and post workout shakes, high protein iced coffee, and energy teas!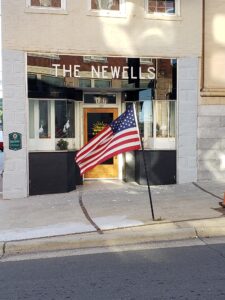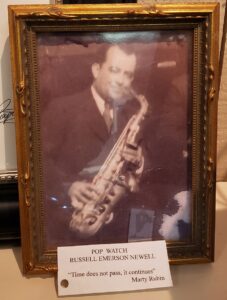 By Jan Newell Satterfield
Russell E. Newell
Was my Daddy…
Happy, always Smiling
Enjoyed Life
He did have Rules for Our Home
At the Table
We could share our stories of the day, but it had to be nice
If you couldn't say something nice – Don't say anything at all
If we were having a storm – in Roxboro
We had to go to our bedrooms or to the Den and
Be Quiet

Until the storm was over
Sundays – "Church"
Then we had a delicious at home meal
Then we would go visiting family & friends
No Telephone calls after 9:00 PM
Dating
Until 16 years old from 7:00-10:00 (In the house)
Nothing good happens after 11:00 PM
At the end of his life
Pastor Rev Bob Pearce opened his funeral with
Mr. Newell was a gentleman and a Gentle-man
That was my Daddy