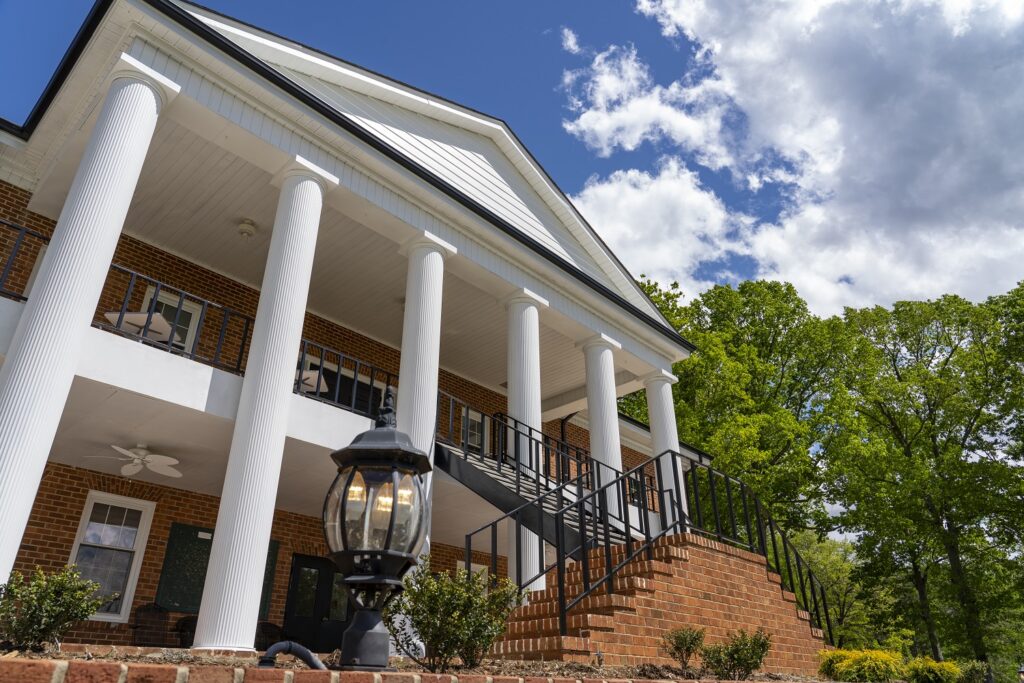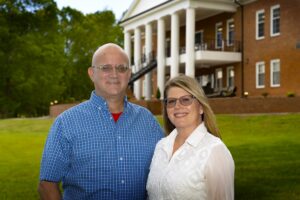 Story and photos by Paul Liggitt
The Carolina Estate is the name of the revitalized Roxboro Country Club clubhouse facility. Martin and Sheila Persson (that's right you pronounce it just like the county) recently took over the ownership with the vision of creating an elegant and affordable event venue. This venture for the Perssons is not a "by the way, let's buy an investment." Rather, it has been a dream of theirs to create a place where people can gather to celebrate moments that matter. In fact, that is their theme for The Carolina Estate, "Celebrating All Moments That Matter."
Checked All the Boxes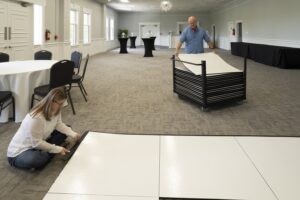 They had been looking for a place for a wedding and event destination for over a year without success, when a friend told them about the Roxboro Country Club property. After doing their due-diligence and running the numbers (Martin's expertise) they were able to purchase 23 acres that included the clubhouse, lake, what used to be holes one and two, the front half of the 15th fairway through the woods, and back to the old putting green side of the 18th green.
The Perssons said they were thrilled to find the property that checked all of the boxes for what they wanted and needed. The club had "great bones" and they also praised the former owners for taking care of the critical areas that kept the facility in good shape.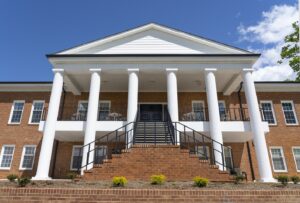 Sheila and Martin also expressed their gratitude to all of the city and county officials who helped to make the deal and transition possible. They said they feel genuinely welcomed by the county and all the Personians they have met. Martin recalled even getting a hug from a customer service lady at a local U-Haul dealer after he introduced himself as the new owner of the property. A couple of neighbors also helped him and his crew get a tractor unstuck near the lakeside. It brought a new and real meaning to the term "tractor pull." They say they are "thoroughly impressed" with the people they have met. That is the kind of community where they are glad to be. FYI, been there myself, including being stuck in a ditch!
Ain't From Around Here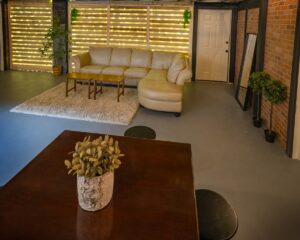 The Perssons "ain't from 'round here" but that shouldn't matter. They currently live just down the road in Cary. I will fill you in later about where they have been until now, but what does matter is that they have had a life-long passion and history of creating spaces and environments for special occasions where people can enjoy themselves. You know the type. When you are putting together a church reception, a prom party, or a fundraising dinner you say, "you need to call . . ." That's where you fill in the names Sheila and Martin Persson. Sitting across the table during the interview, I could see the sparkle in Sheila's eyes when she recounted her past experiences with events. You can also sense Martin's satisfaction and energy for the work they have already put in and the excitement for getting the venue completely ready to serve their customers. They make a great team.
Family Business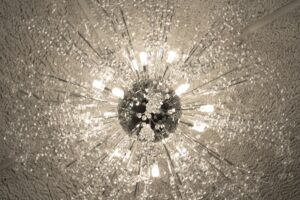 Sheila and Martin met at Sam Houston State College in Huntsville, Texas, and have been married for 31 years. One of their children was just married, so they have first-hand and recent experience with some of the trends for wedding and event venues. In fact, their children are part of the backroom marketing team / focus group, and estate team that helped guide some of their decisions. Along with some friends, they helped select the name "The Carolina Estate" and were instrumental in some of the remodeling decisions for the brides' and grooms' areas.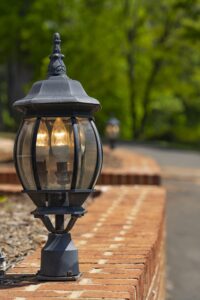 Sheila is a Texas girl and Martin, a Swede. Although they started their life together in Texas, they lived in Germany, California, South Carolina, Florence, Italy, and Sweden before landing in Cary. Whew, I am a little tired just listing their locations. I get the sense they have hospitality memories, ideas, and cultural influences that are coalescing into their vision for what they want to present to the marketplace as The Carolina Estate experience. They told me that they plan to be onsite for each event, which is good to know. That is the kind of "hands on" management that folks in this part of the country are used to and also appreciate.
Transformations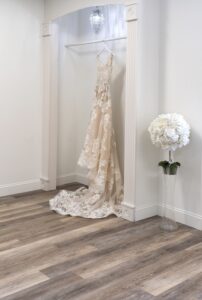 This article should really be more of a before and after pictorial on the transformation underway but you will just have to visit and see for yourself. True enough, there has been a lot of repainting and freshening up but there have also been fundamental changes with more to come. The upstairs is 98 percent complete, is already open for events, and can host up to 260 people. The ballroom was repainted, has new flooring, and an updated bar area. It's also now equipped with a new sound system that DJs, masters of ceremonies, and performers can simply plug into. There is an updated kitchen, remodeled entryway and bathroom areas with new tile flooring and furniture.
The final touches planned for the upstairs include additional lighting and design elements that will accent the wall at the east end of the ballroom. One feature for the main room is a modular dance floor that can be set up for dancing. The "modular" concept is something that the Perssons hope to incorporate into the entire venue.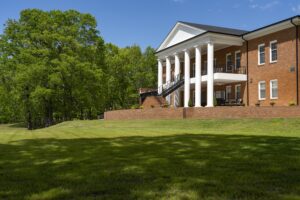 They have plans for a movable pergola that can be positioned to suit the needs of the bride and groom and to be the focal point of outdoor ceremonies and events at different places on the property. There is also a not-to-be-forgotten patio area off the ballroom. It is destined to be another open gathering area with a view of the lake, where you can watch the sunset, and is perfect for outdoor events with evening breezes. It will also have the option to be covered for rain or high sun protection.
At the time this article was written, the downstairs was about 85 percent complete. New floors are being installed throughout, along with remodeling the bathroom areas. The brides' area is spacious and airy with window light and separate rooms for makeup and dressing. The grooms' area is fittingly decorated and even large enough to hold a small corporate meeting if needed.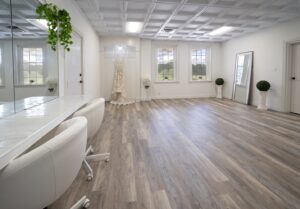 The former country club grill room will retain the counter but be redecorated and become an area for cocktails. There are also renovations underway on the exterior. Although the canopy has been removed, the front entryway has new landscaping and the stately back porch area has also been refreshed. The distinctive iconic columns that were the inspiration for The Carolina Estate logo have gotten fresh paint, and the area remains a spacious, elegant portico for gathering and simply taking in some of the vistas. The brick on the staircase has been cleaned up and some of the outside ground level concrete has been replaced. There are lots of fresh plantings on the retaining wall area and Sheila takes the appearance of a rogue weed personally.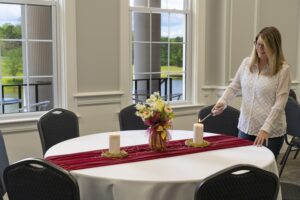 The Perssons also have plans to create places on the pathway around the lake that are suitable for photographs and personal reflective moments for couples and friends. According to Sheila, the master plan is specifically designed to be flexible enough to accommodate the needs and desires of their guests and offer options with a slightly more formal feel.
More than Weddings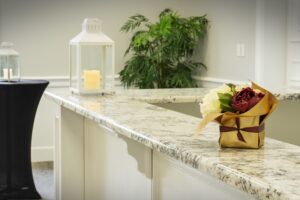 Martin Persson says that The Estate is expecting about 70 percent of its events to be weddings, with corporate, private parties, and family gatherings making up the rest of the bookings. He said they will not host children's birthday parties due to specific liabilities that could occur. That doesn't mean that balloons are prohibited, though.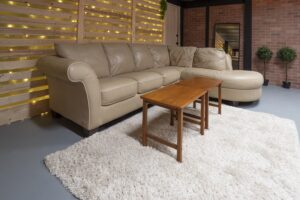 As always, balancing the financials for the venture is the biggest challenge, especially during these mid- and post-COVID-19 days. Getting some of the new furniture delivered is proving to be a bit of a juggling act. But other than that, things are going well. Sheila and Martin both agree that realizing their vision to create a space that is elegant, affordable, and has a Southern feel with a mix of traditional and modern touches is why they are all-in on the project.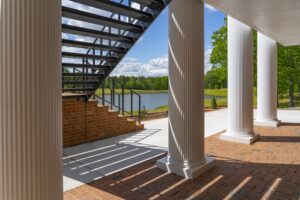 The Carolina Estate is open for bookings, and like all great venue hosts, the Perssons tell me they will find a way to make your event happen if at all possible. They are only 45 minutes to an hour from larger metro areas. That and the availability of overnight lodging in Roxboro, only nine minutes away, strategically locates them to provide optimal value for guests who need to stay overnight. They are also developing their social media presence and online booking features, and are planning an open house for vendors. Stay tuned.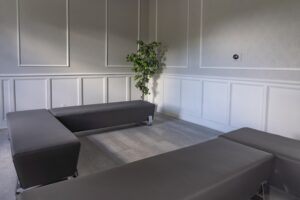 Sheila and Martin would love to hear from you to discuss how The Carolina Estate can help you celebrate moments that matter so that you can enjoy and appreciate the property the way they do. For more information and date availability, contact Sheila & Martin Persson at TheCarolinaEstate@gmail.com or call them at (336) 338-7030.

Not only can Paul write, he is also a professional photographer. And, he can fly a drone for your professional aerial photography and video needs! Paul Liggitt Photography, (336) 322-1167, www.plphoto.com