Story and Photos by Joe Wilkerson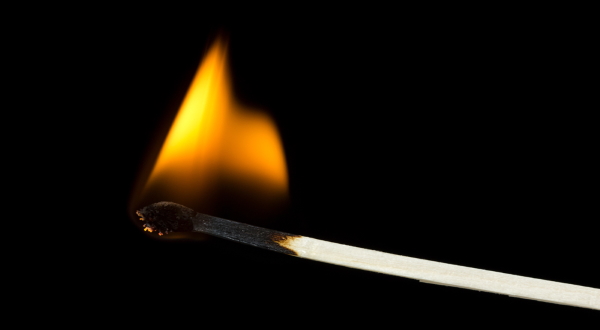 Fire – a simple word that can draw so much emotion. Few things compare to its power and importance to our lives -fire lights the dark, both strengthens and weakens steel, destroys and restores forests, heats our homes, cooks our food, propels us around the world. It has the ability to create and destroy. It conjures emotions of fear and panic, yet peace and tranquility as well. Fire is a beginning and an end.
Transformative Force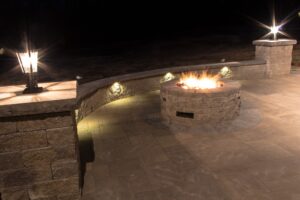 When studying the history of civilization, fire is likely the most transformative force in the development of society as we know it today. Harnessing the incredible positive effects of fire, our brains have developed by allowing us to eat better. We stay warm in the winter, and by converting it to electricity, cool in the summer with air conditioning. The day is extended by the light provided through fire. We survive longer than ever before.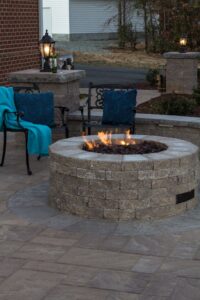 It is easy to count the millions of advances we have made just by harnessing the incredible power that is within fire. Often overlooked though, is the lesser discussed bonding power of family and friendship that happens AROUND fire. In simpler times, before the hijacking of our minds and time by an endless barrage of notifications and flickering LED lights that power the screens on our phones, computers, and televisions, people lived their lives by the flickering glow of fire. Stories were told, great debates unfolded, life changing inventions, and inseparable bonds were created amongst people in front of a fire.
Doing a little research about the mesmerizing effects of fire, I found that it is universal across cultures. It turns out that we have very primal instincts to learn to harness and control fire, hardwired into our brains from years of survival. As we become less and less dependent on our individual need to control fire as we have many tools to do it for us, we have not lost that urge. It draws us in.
Prescription: Unplug and Relax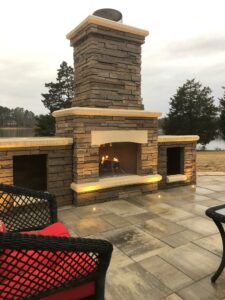 The evidence is clear, we are healthier and more creative when we allow ourselves a break from the daily grind to clear our minds and rejuvenate our soul. Watching a fire is mesmerizing, the soft glow dancing around to its own beat commands your focus and frees your mind of all troubles and thoughts. The freer our minds, the greater our ability to create and have clarity in our life's purpose. Through clarity of purpose, we have direction and real productivity ensues.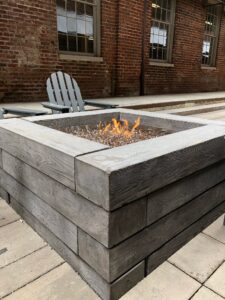 Whether we are alone, with family and friends, or with our spouse, a well-placed fire can create the perfect setting to bond and build memories. A nice fire feature can add so much to an outdoor living area. Firepits are often the first thought people have when considering adding fire to their patio or yard, but we are not limited to firepits. Fireplaces, ovens, torches, and lamps can all be used to create the perfect space in your outdoors.
What Should I Build?
I usually describe the main difference in the function of a firepit and fireplace as the firepit creates a spot to gather while an outdoor fireplace creates a room. The firepit creates a space to gather around and talk, roast marshmallows or hotdogs, and enjoy a cold beer. You will get a little heat from it, but we all have seen the dance around a firepit – heat the front of your body then turn around and heat the backside. The firepit draws air as it burns and will actually create a draft around you. You may be warm on the front, but you will surely be cooler on the backside.
The fireplace, on the other hand, frames the outdoor space, and is often the focal point of your outdoor living area. As the fire burns, it actually heats the entire fireplace, radiating heat from all around. Sure, it has a draft as it burns, but the radiant heat that emanates from the fireplace itself can really warm an area. The mood setting effect of an outdoor fireplace will transform any patio.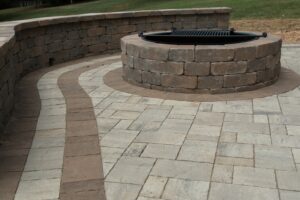 Another great addition to any patio and/or fireplace is an outdoor oven. They can be incorporated into a fireplace, or can be a stand-alone unit. Ever wondered why that wood fired pizza you had at that restaurant was so special? Well, it is in how the wood fired ovens actually cook. Just like that fireplace, the heat from the fire warms the entire oven, including the walls and floor. The stone floor of an outdoor pizza oven is the key component to that magical crispy crust and chewy inside. The oven truly cooks from all sides, and the results are second to none.
We can also incorporate fire into any landscape with small fire features such as torches and bowls. Torches can be used to create a perfect ambiance for your backyard. Glowing, flickering light draws us into the space, setting the mood for relaxation and great conversation. A boulder carved out, a giant millstone, a vase, lamps – the possibilities are endless to create fascinating fire features that will certainly inspire.
Great Debate – Gas or Wood
Building fire features is now easier than ever as the hardscape industry has worked to meet the growing demand for the perfect backyard. Just like everything we buy today, the options can be overwhelming. Most people think of firepits as a typical round feature in the center of their patio. The options go much further, however. We have built round, square, rectangular, and the increasingly popular linear firepits.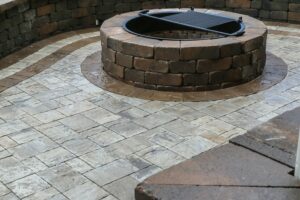 Wood or gas is always a topic for debate. Wood creates a great atmosphere, cracking and popping as it burns. It does require some maintenance though, such as gathering wood, keeping the fire fed, and cleaning up the ashes. Wet ashes left in a firepit can have a rather unpleasant smell. Gas, on the other hand, is cleaner, easy to light, and as long as there is gas in the tank, easy to maintain. It does lack that nostalgic cracking and popping of a good wood fire, however.
As it is often said, smoke follows beauty, and wood firepits do have smoke. This is the top complaint about wood burning units, however now there are smokeless inserts. It is a light play on words, as they are not 100 percent smokeless, but the inserts are constructed in a way that helps the fire burn hotter, generate less smoke and help to draft the smoke back into the fire and re-combust it. At first, I have to admit, I was skeptical, but after installing several I am sold on the benefits of these inserts for any firepit.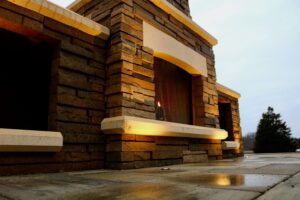 Gas components range from basic, lower quality, to high end units built with stainless and brass with powered remote start. Natural gas, where available, makes using gas easy. It is clean burning and easy to maintain. LP is most common in the rural areas, though. Most customers have existing LP tanks, as they are commonly used in heating systems. Most gas features can be fitted to burn LP or natural gas. It is imperative that the system be connected by a bonded gas plumber. There can be catastrophic results if installed incorrectly.
One of the coolest additions to the fire feature lists I've seen in recent years is a new design by Music City Fire. If you want to take your backyard experience to a new level, I suggest you check it out. Music City Fire transforms any fire feature into a certain crowd pleaser. I personally know the inventor, and his story is great. With their system, we can incorporate music into any gas fire feature and create a unique sound-reactive fire experience. You will be fascinated as the fire dances to the beat of the music.
How Are We Going to Build It?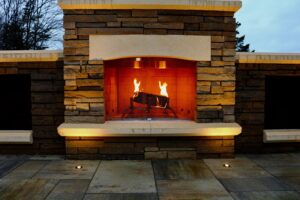 As with the seemingly endless list of components for your fire feature, the list for how we can build it is about as long. Commonly, firepits and fireplaces are either masonry or modular units. Masonry units require more time to build, are usually pretty messy during construction, and are heavy. Modular block units usually come on pallets and we assemble them onsite. We also commonly install prefabricated kits. While we typically add them to a patio during construction in minimal time, the kits themselves are pricier as you pay for the convenience.
Prefabricated units and modular block fireplaces and firepits are the most common fire features installed today. These fire features are so much simpler than masonry units, and with a dwindling number of skilled masons in the trade, these kits offer homeowners a great value. Like all good construction, you need a solid foundation. After that, installing the prefabricated units and modular block units is rather simple. There are many options available, with different colors and textures to accent any backyard.
We also install fireplaces and firepits using our Cliffrock Modular Panel system. The great thing about the Cliffrock system is the speed with which it can be installed. We prefabricate the panels in our shop and can install them in about any backyard. We have several molds that we cast and they can be set up for gas or wood burning as well as many other custom choices. Another great advantage of Cliffrock is the weight of the system. The panels are incredibly strong, yet lightweight. This allows us to install a fireplace in unconventional places, like on a deck or a limited access backyard.
Build Your Backyard and Build Memories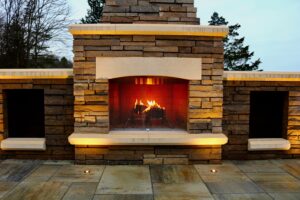 The addition of a well-built fireplace or firepit will certainly transform your backyard into an additional living area. Make your time at home count. Build a fire, talk with family and friends and share good times. Whether you just want a tranquil place to separate yourself from this crazy world, or a place to host large gatherings, building a fire will certainly help you build memories.
I am Joe Wilkerson, owner of Maplehurst Outdoor Living, previously named Southside Hardscape & Landscape Co. My passion is building your dream outdoor living area, and we recently changed our name to better reflect our purpose and mission. We are dedicated to building fine outdoor living projects in Southern Virginia and Northern North Carolina, so you can Unplug & Relax.
www.MaplehurstOutdoorLiving.com | (434) 579-5625 | unplug@MaplehurstOutdoorLiving.com