HYCO LAKE – Bruce and Laura Glode are the new operating and managing owners of Hyco Lake Marina. The two were given the opportunity to purchase the business in spring of 2019, which is when Laura said they "gave the situation to God." By the time fall came around, "we were there," Laura said, making everything official on Nov. 25, 2019. She described the entire process as a combination of "every emotion you can imagine–we felt scared, nervous, and ecstatic."
Roxboro Roots
Laura's grandparents settled in Roxboro many years ago. They were also one of the first families to build a home at Hyco Lake. Laura's father graduated from Person High School and immediately joined the Navy, where he met Laura's mother. As a result of her father's career choice, Laura has spent time living "everywhere," but says Hyco Lake will always be the one place she considers home.
Since the passing of Laura's grandparents and father, she said she feels an overwhelming sense of happiness when she is back in the area. "Overall, I think what has made me happy about being at Hyco Lake Marina is that I feel close to the family that taught me all of the values of life and how to treat people," she continued, "I feel that I'm making each and every one of those family members proud on a daily basis."
Products at the Marina
Bruce and Laura refer to the Hyco Lake Marina as a "one stop shop." While they sell common convenience store items, they also have food fresh off the grill and produce, straight from local farmers. The marina is famous for providing boating accessories, including batteries, lifejackets, and a variety of fishing supplies. They also offer camping supplies, bagged ice, propane exchanges, and fuel.
Located right off of the water, boats are able to pull right up to the dock and fuel up with ease. In addition to this, there is a wonderful wine selection at the marina, as well as cold drinks and beer. There is also Hershey's Ice Cream and tons of candy for the kids. According to Laura, the marina offers some grocery store items, like pet food and toilet paper. She believes "if you can name it, we got it," stating that, "if there's something you need and we don't have, all you have to do is name it and we can get it."
The Glode Family
Bruce and Laura met back in 2001, and despite neither of them looking for another relationship, they have been together ever since. Laura has two adult daughters, Tiffany and Megan, whom the couple raised together. They have three grandsons, Hunter Wayne, Mark Wayne, and John Henry, as well as one granddaughter, Emmalyn Jean.
Laura is an animal lover, who would "save all the fur babies" if she could. She and Bruce not only have three dogs, but also one miniature horse. When she isn't working or spending time with her grandchildren and animals, Laura enjoys spending time at the lake, camping, and four wheeling. While Bruce says the same about himself, he enjoys hunting and fishing as well.
Laura has never met a stranger, and Bruce has the ability to carry on a conversation with anyone. They each enjoy helping others, as they are hardworking, passionate people full of love. Laura can be spotted by her bubbly personality and Bruce by his smile, which is rarely absent from his face. Overall, they are simply very genuine.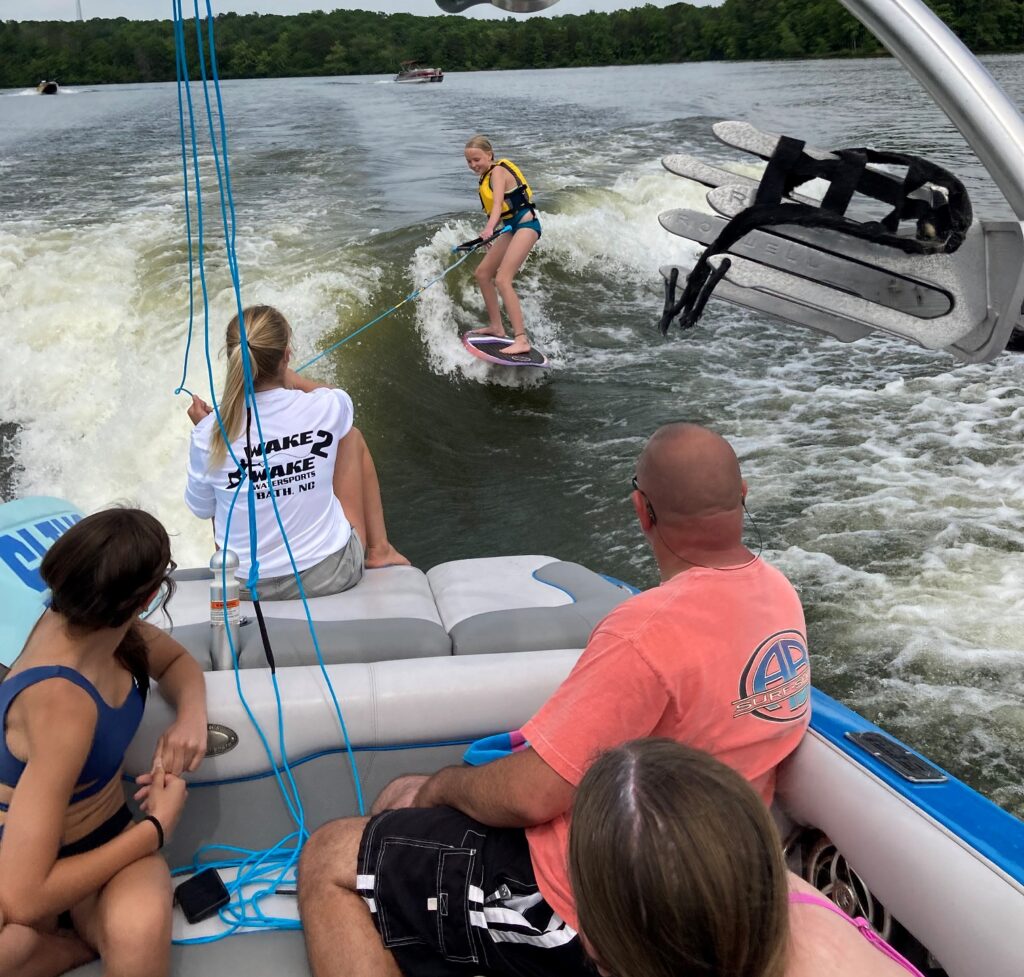 Years of Experience
Owning a business is not something new to the couple, as it is something they have each done in the past. Bruce was self-employed, building homes and doing custom work for more than 30 years, while Laura previously owned and operated a small diner.
For each of them, owning the marina has been much different than their past endeavors, as it has forced them to act as a team. "We are stronger than ever as husband and wife, operating this business together," said Laura, "we have a lot of respect for each other, our staff, and our customers." Bruce and Laura added that they are thankful to have a great team of support, including Brad Moser and Hyco Central, who lease the Glodes their space.
Building the Future
For now, Bruce and Laura only work at the lake, but they look forward to living there soon. The couple hopes to give their grandchildren some of the same memories Laura's grandparents once gave her. In the end, "we wish we would have done this years ago," they both said, "but now that we are here, we are happy," they concluded.
Bruce and Laura each love working at the marina, meeting new people, and building great friendships as a result. Laura added that they love seeing familiar faces return daily and getting to know customers that are loyal to their store. "Roxboro is home to us and the community is like family," Laura said, "we will always be thankful and grateful to all that conduct business with us."
Sara Coates is a graduate of Roxboro Community School, where she developed a deep love for journalism. After a year at Piedmont Community College, she transferred to the University of North Carolina at Wilmington, with plans to obtain a degree in social work. In the future, she hopes to return to Person County and have a great impact on the lives of children within our foster care system. In her spare time, Sara loves working with children, as a teacher in the three-year-old class at Small World Daycare in Timberlake, but also loves getting the opportunity to take photos and write for Hyco Lake Magazine.
Hyco Lake Marina
9500 Semora Rd
Leasburg, NC 27291
(336) 599-2211
https://hyco-lake-marina.business.site