Made in the USA Outdoor Furniture
By John Theo Jr.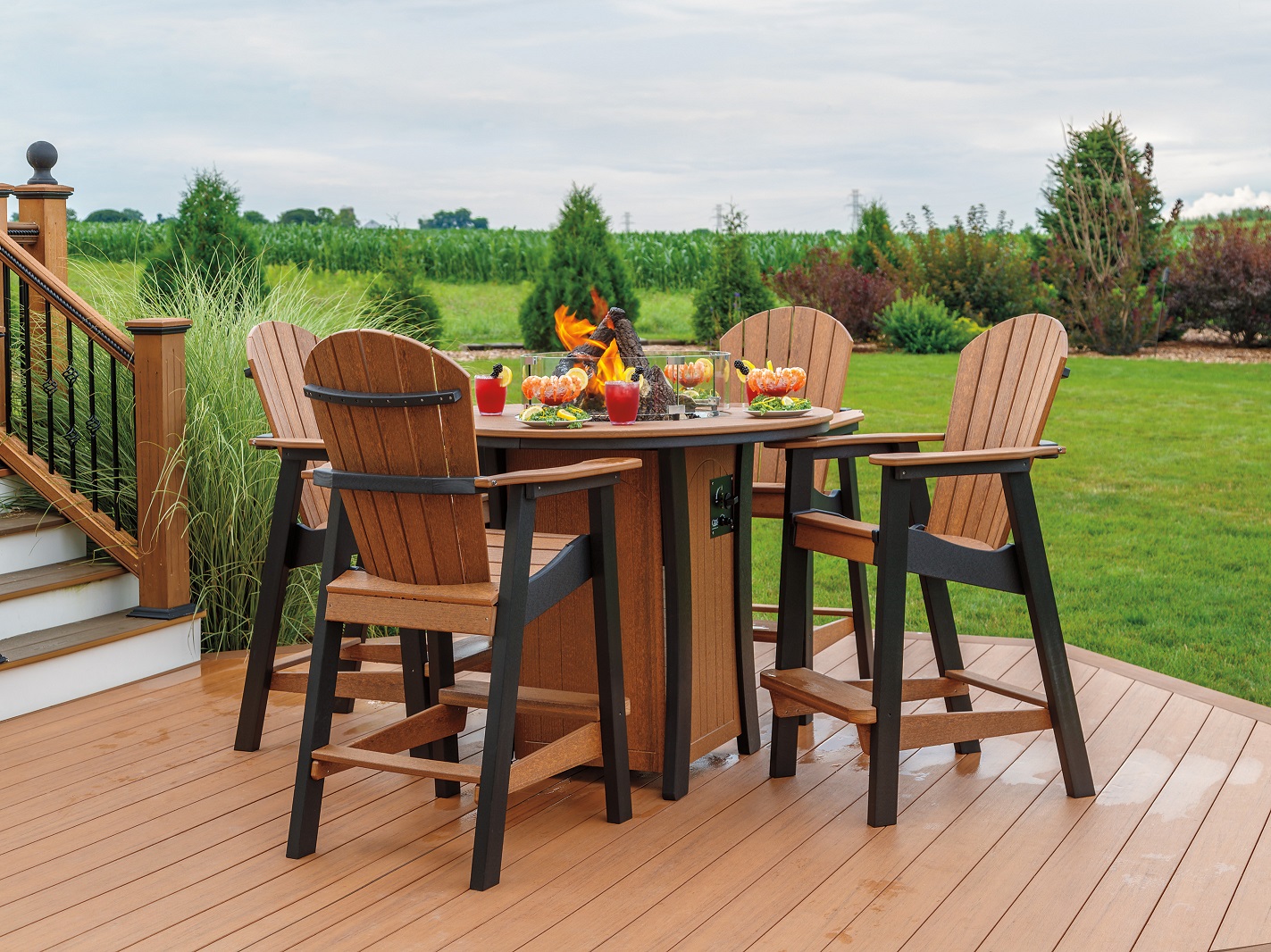 Recently, I had the pleasure of speaking with Shera Henderson, owner of Backyard Etc. located in Semora. Shera and husband Harold own a niche outdoor furniture business that is old-school with a modern twist. With terms like "Hand Made" and "Made in the USA" one would think Backyard Etc. was from the 1940s rather than 2020. Although everything is handmade by Amish tradesmen in Pennsylvania, Backyard Etc. incorporates a relatively new technology which utilizes recycled materials.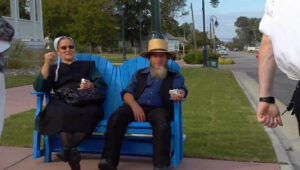 "What makes the furniture unique," Shera said, "is the polyethylene, which is derived from recycled milk jugs." She went on to explain that manufacturers grind milk jugs into pellets, and melt them in large vats. They add in color and a UV stabilizer to keep the material from fading. Customers have upwards of 20 colors to choose from. They mix everything in a heated vat, and it is extruded into lumber profiles of 1x4s, 2x4s, and 2x10s. The Amish purchase the materials and make the furniture by hand in their shops in Pennsylvania. One of the differences in this material compared to other polyethylene, used by box companies, is the density. The raw materials the Amish use have less air in them, making the furniture heavier and denser, which equates to much better quality. The end result is furniture that is maintenance-free. It will never crack, rot, or need to be repainted or re-stained. It is a one-time purchase that is virtually indestructible.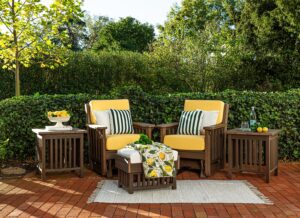 The Hendersons stumbled into the outdoor furniture industry by happenstance. In 2007, Shera and Harold moved to a new home on Hyco Lake. Prior to this, they went to a Home and Garden show in Raleigh and purchased deck furniture made from polyethylene. "It was handmade from the Amish in Pennsylvania," Shera said. "We were so impressed with the quality, and excited about the product and materials used, that we started to look into selling it on our own."
Shera explained this was back in the infancy of polyethylene technology, and no one had seen anything like it before. The federal government started using polyethylene to make handrails in the late 1980s and eventually someone successfully tried it out on furniture.
"The furniture is maintenance-free, high-density polyethylene all the way through," Shera said. "We were in love with finding outdoor furniture that needed so little upkeep."
Shera and Harold contacted the Amish couple they bought the furniture from and asked about becoming a dealer. Ironically, the makers were in the market for a dealer to sell the furniture, so they could go back to Pennsylvania and focus on building.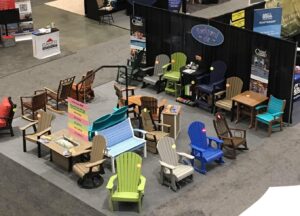 The Hendersons started Backyard Etc. as a part-time job in 2008. Soon thereafter, the great recession hit and Harold was laid off. At the time, Shera was a dental assistant and Harold was a plumber and electrician. They threw caution to the wind and decided to focus exclusively on their new venture. Not only were they starting up a new company during a recession, but it was in an industry where people were not spending money. Luxuries like travel, recreation, and outdoor furniture took a backseat to things like heating bills, car payments, and mortgages. Still, the Hendersons pressed onward and found success.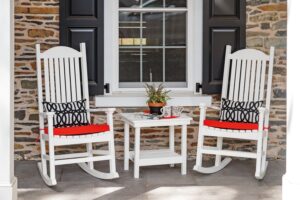 To keep risk down, the Hendersons started off on a consignment basis. Soon, the business took off, with numerous stores selling their products. Now Backyard Etc. has dealers throughout North Carolina and Virginia who sell the furniture. The dealer list is on the website at www.backyard-etc.com.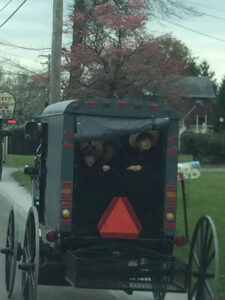 In fact, the demand became so high that the Hendersons had to take a road trip up to Pennsylvania to find additional polyethylene vendors that were available when there was a delay on their orders. Because the industry took off, manufacturers were forced to introduce more virgin materials to keep up with the stock. Still, 10 to 20 percent of the raw materials are derived from recycled milk jugs. Now, every three weeks, Shera and Harold take a tractor trailer to Pennsylvania to pick up furniture from 25 different Amish families. Shera chooses the items from each family that she feels will sell. Everything is made to order due to color choices. As of today, there is a three- to six-week lag time on orders due to high demand.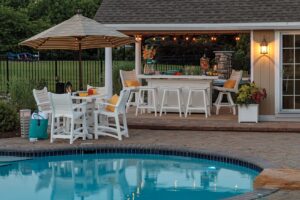 With their truck loaded, the Hendersons come back to North Carolina and deliver the furniture to stores. After going to Home and Garden and boat shows, they no longer need to market due to high demand, word of mouth, and the Internet.
The furniture Backyard, Etc. offers includes rockers, gliders, Adirondack chairs, swings, benches, settees, tables and much more.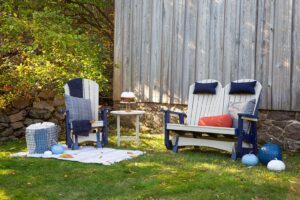 "The furniture comes fully assembled and ready to go," Shera said, "which is a big selling point." To date they have shipped all over the country and have learned that many of their clients live in places with extreme weather, such as Texas and Florida.
Shera is currently looking for new dealers. If you are interested, reach out to them at: [email protected]
Backyard, Etc.
http://backyard-etc.com/
P.O. Box 163
Semora, NC 27343
(336) 234-8850
(919) 815-1292
John Theo Jr. is relatively new to South Boston but not new to writing. He has authored several books and penned many articles. Hyco Lake Magazine is thankful to share his perspective on our community. Please welcome John and get to know him better by going to JohnTheo.com, visit him at Cozy Cave Self Storage & More at 306 Webster Street, South Boston, Va. 24592 or give him a call at (434) 579-2856.