By Norwood Walker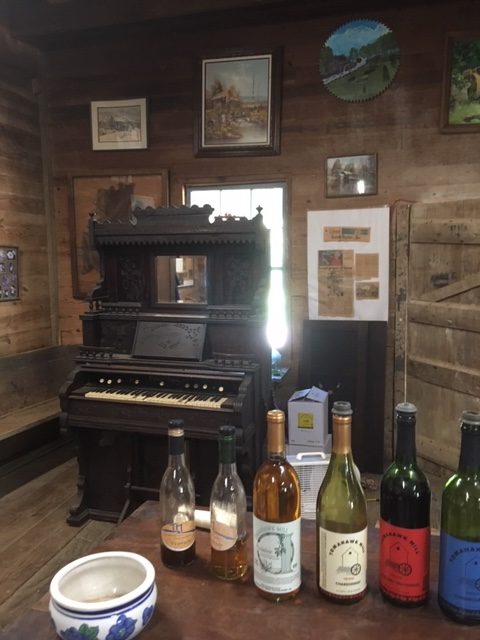 A short but steep gravel driveway off of Anderson Mill Road just a few miles outside of Chatham, Virginia leads not just to a unique wine tasting experience but a step back into yesterday.  Tomahawk Winery is housed in an old water-powered grist mill built by Confederate veteran James Anderson on the Tomahawk Creek in 1888.  The mill was taken over by James's son, Otey Watt Anderson in 1908.  Otey replaced the wooden dam of the mill pond with a concrete one and the wooden waterwheel with a steel one.  He operated the mill until his death in 1975.  Dying intestate, the property was auctioned off and Walter Crider, a cousin of Otey, bought it and renamed it Tomahawk Mill.  Tomahawk Mill remained a working mill until 1988 when Walter closed it and planted a vineyard, starting with Chardonnay and Concord varieties and later adding Pinot Noir, Johannisberg, Riesling, and Carbenet Sauvignon grapes.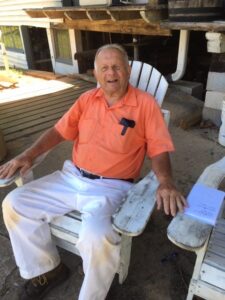 Cornelius "Corky" and Nancy Medaglia bought the property in 1996 which included the winery, vineyard, mill, and the house up the hill which once served as a general store and post office for the Tomahawk community.  Corky, whose nickname came from his 4-year-old sister, years ago and not the wine business, is a retired engineer from the Baltimore region.  After their children were grown, Corky and Nancy did as many empty nesters do and looked for a new adventure.  Having decided on a winery, they were lead to the rolling countryside out of Climax with a distant view of the mountains.  Corky as an engineer has toyed with the idea of restoring the mill to working condition.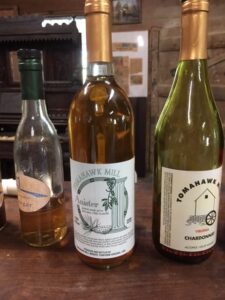 But as it is now, it is a charming old step into the past.  The mill pond located behind the mill, the worn Adirondack chairs, under the shade of the mill overhang, the grassy parking area, all let visitors know this is not a typical winery visit.  Inside the mill remains much the same as when it was a working mill, but now instead of sacks of flour there are bottles of wine.  Rustic and authentic are two words that immediately come to mind upon a visit here.  Corky raises all the grapes, with the exception of two varieties used in his 16 wines ranging from dry whites to sweet reds.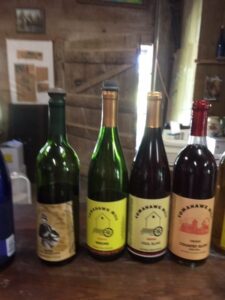 Among the wines here are SGT Anderson's Red, named for the Confederate soldier who built the grist mill; Tobacco Road Blues, a blend on Cabernet Sauvignon and Chambourcin; Anister, a dry white wine with a natural pine flavor; and also an apple wine and peach wine among others.
As one reviewer on YELP had to say: "The wine itself was very good. He is an experimenter for sure and I cared for some a lot more than others. But they were all very interesting and Corky clearly has a devotion and enthusiasm for the practice and art of wine-making.  The Tobacco Road Blue (which is a blend of two different reds) was phenomenal. February is the slowest month there and we got all his attention but I can imagine that it gets pretty busy in the late spring and early summer. I would highly recommend going there and making a new friend in Corky."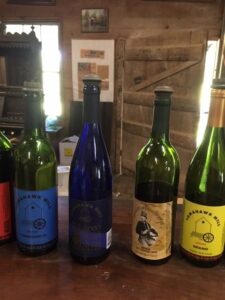 Since the passing of his wife in July 2017, Corky now focuses more on the grapes and wine. His wife was the event planner, but visiting with Corky is a real event.  Tomahawk wines are only available at the winery, online, or at the Community Market in Danville at a table manned by Corky.  He used to offer his wine to retailers but stopped because in his own words "I prefer to be kissed before I am (bleep)."
Tomahawk Mill Winery is located at 9221 Anderson Mill Rd, Chatham, VA 24531, (434) 432-1063.  On line they can be found at TomahawkMill.com and on Facebook at https://www.facebook.com/TomahawkMillWinery.