Couple Turns Historic Homeplace into Halifax Destination: Springfield Distillery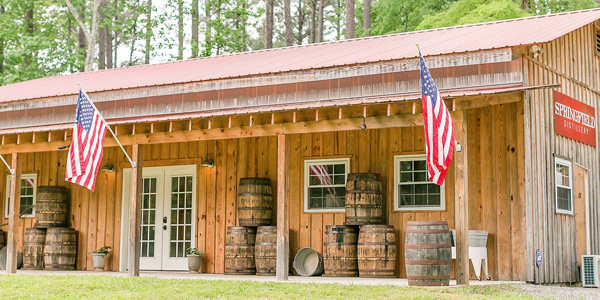 HALIFAX , VA- Enchanting is the best way to describe a trip to Springfield Distillery in Halifax, Virginia. Welcoming, warm and passionate are adjectives that best describe Springfield owners James and Kelly Gordon.
The drive to Springfield from Roxboro offers miles of rolling, tree-covered hills and beautiful, peaceful views of tobacco fields and pastures. Upon arrival, a friendly greeting makes visitors feel immediately at home. It is obvious that Springfield Distillery is an extension of the Gordons' nearby dwelling.
In search of a home that would allow them to pursue their love of early American craftsmanship and old-world trades, the Gordons in 2012 purchased the historic Springfield Farm, which was established in 1799. Kelly Gordon said she and her husband originally planned to make the Springfield house their forever home. Built in 1842, the house features the carpentry work of Thomas Day of nearby Milton, North Carolina.
Opening Springfield
In November of 2016, the Gordons opened Springfield Distillery, which boasts a charming tasting room that was once part of a nearby farm. Built in 1815, the small structure formerly housed a family of five. The building was moved and converted by Barnwood Builders, during the second season of the DIY Network show.
The distillery was originally intended to be a project for James's parents. The elder Mr. Gordon had been a bootlegger in South Africa for 25 years. He was then one of the first in his country to become licensed to distill whiskey. The plan for him to run a distillery in Virginia fell through, so his son and daughter-in-law, along with their son, Mason, decided to add whiskey making to their plans. Mason does all of Springfield's distilling.
Today, the venture has expanded from just a distillery to include a venue for weddings, receptions, fundraisers and other events. Two fully outfitted cabins are available for rent as well. Weekend afternoons at Springfield often feature live music, pizza or food trucks. There are also tours of the distillery and tour/tasting packages available.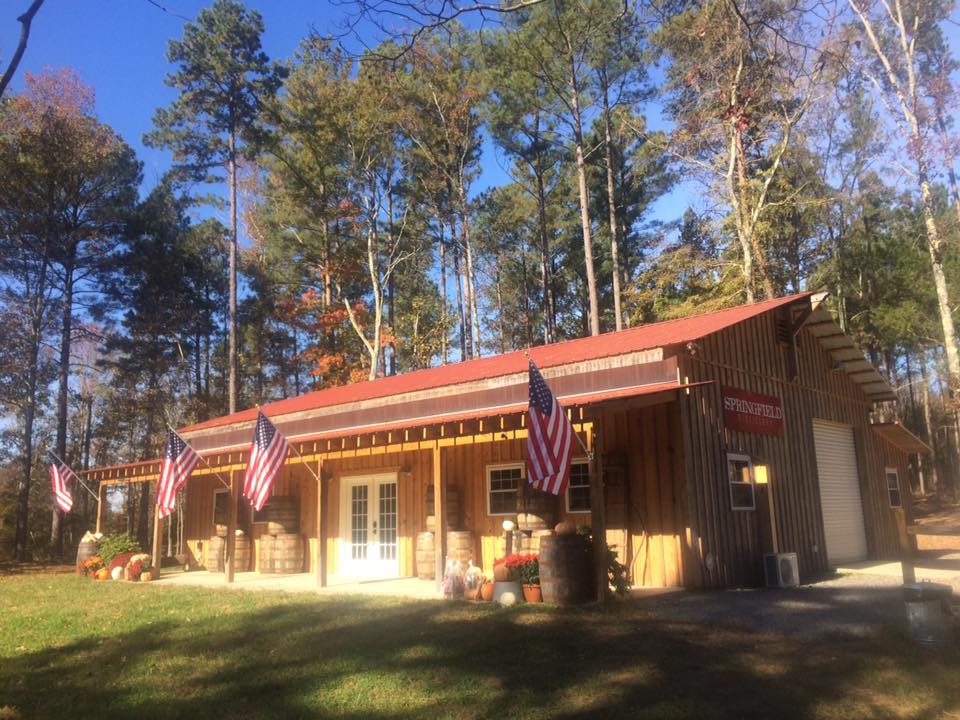 And Now, About The Whiskey…
And the whiskey, made with local ingredients, is superb. While serving sample cocktails from the rustic bar, Kelly Gordon's enthusiasm is apparent. She animatedly explains how to make a delicious drink using Springfield's popular Scratch Blackberry Flavored Whiskey. A little ginger ale and an orange slice are the only other ingredients in what makes for a refreshing treat on a warm fall day.
In addition to the Blackberry Whiskey, Springfield offers Scratch Brown Sugar Cinnamon Whiskey, Scratch Orange Flavored Whiskey, Scratch Corn Whiskey, Scratch Sweet Heat Whiskey, Scratch Bourbon, and Beaver King Rum. The Gordons hope to add two new whiskey choices soon.
A Great Deal of Research
When asked if distilling requires special training, James Gordon said there are programs of study, but they are not required. He said he and Kelly did a great deal of research and Skyping with James' father before beginning to distill. He also pointed out that there are federal, state and local compliance requirements that must be followed.
"There are no federally required [education] qualifications," he said, "your qualifications are what you put in the bottle."
From start to finish, it takes seven to 14 days to distill a batch of whiskey. Then, the aging for various flavors lasts from 60 to 90 days, the Gordons explained. "Fermentation is the greatest variable," James said, because atmospheric conditions can influence it. "Springfield uses a closed top fermentation process, in order to have more control over the fermentation," he said.
The research and work that go into making whiskey have paid off for the Gordons. They stay busy and have built up a following of repeat guests. Kelly Gordon said, for several years, they owned the property but lived in northern Virginia. They drove four hours on weekends just to spend time in what they saw as the perfect spot.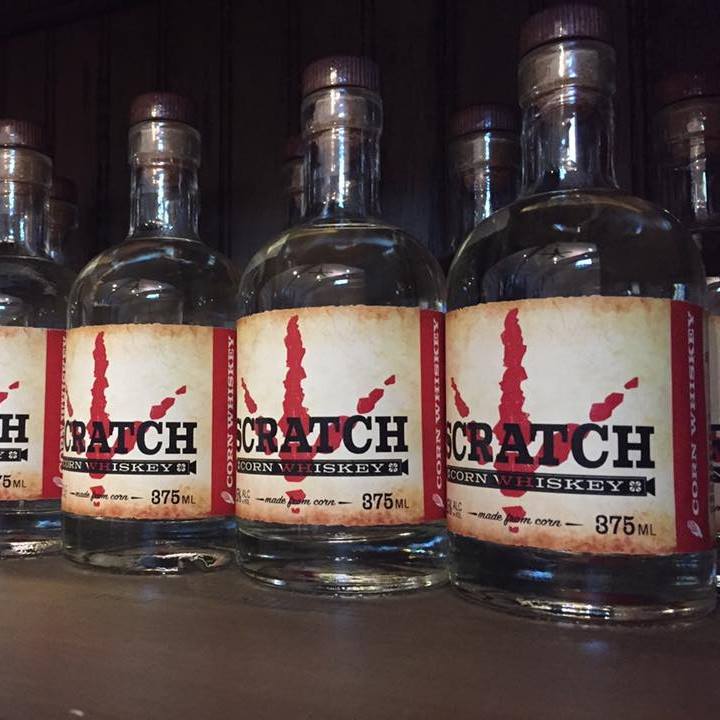 Settling in Halifax
The Gordons eventually settled in Halifax and started their business there for many reasons, one of which is the proximity to great restaurants, vineyards, historical sites and other entertainment such as the nearby Virginia International Raceway (VIR) and South Boston Speedway.
Springfield partners with other local restaurants and attractions because, the Gordons say, it makes sense to promote the entire area in order to attract visitors. With five-star restaurants like Molasses Grill in Halifax and Bistro 1888 in South Boston just a few miles away, say the Gordons, visitors can easily stop by Springfield for a tasting or cocktail before going out to dinner or to the track. The Berry Hill resort is just seven miles from Springfield, and there are several vineyards nearby, including Halifax County's Hunting Creek Winery and Vineyard.
"The area," said James Gordon, "is a perfect mix. We are out in the woods but we have things to do nearby. We live a very rich life here. Given every opportunity to live anywhere in the world, I would be here," he said.
Learn more about the Gordons and the distillery at www.springfield1842 and www.SpringfieldDistillery.com.