So Much in Common
Story by Norwood Walker
A brewery and a winery are not often thought to share many things in common.  After all, wine tasters and beer guzzlers have different tastes and quite frankly different lifestyles, and wine and beer are made from completely different ingredients.  So, the stereotypes go.
Among the things that San Soucy and Staunton River Brewing share are comfortable and homey tasting rooms with fireplaces for the cooler weather where people love returning to, an outdoor terrace located between the winery and the brewery, a parking lot, former tobacco land now used for growing grapes, wheat, and hops. Maybe the two most important the things are Vittles SoCo Kitchen and the Anctil family.
Paul Anctil Sr and his wife Jackie opened the first farm winery in Campbell County about 10 years ago. Jackie, born in Berlin, Germany and Paul, from Nashua, New Hampshire met while Paul was in the Marine Corp.  Traveling as a Marine Corp family with son Paul Jr, daughters Nicole and Naomi, they were able to experience food and wine cultures around the world.  Thinking of life after retirement, Paul purchased 50 acres in Campbell County.  Once all the kids were out on their own, the next family, a vineyard and winery, took root. The first planting took place in 2001 and consisted of Cabernet Franc, Petit Verdot, Traminette, and Viognier. A former school was remodeled to become the tasting room and wine making facility.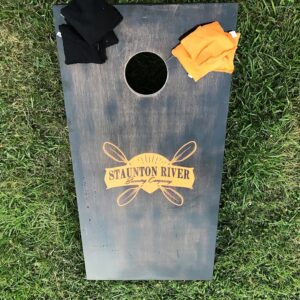 Paul Jr and his wife Cameron moved back home from Dayton, Florida where he was a chef.  After a run as the Chef de Cuisine at the Molasses Grille in Halifax and many months of going through the red tape of licensing, the Staunton River Brewing Co became a reality in 2016.  Nicole and husband Scott Meyer live in Florida (where Paul and Jackie winter) with their kids but attend as many events as possible during the year.  Naomi and her husband Marc Cline live in North Carolina where Naomi plans many of the events at the brewery/winery.
Some of those special events include Give Back Thursday, where non-profits can host events at the brewery on Thursday nights during the spring and summer; an Octoberfest has been held in the past, along with various fun music and food festivals.  On the second Saturday of December the Ugly Christmas Sweater party is held.  Live music at this year's event will be provided by Brandon Loving. In February of each year a Special Cabin Fever Party is held.  The future coming of winter's end is celebrated with wine, beer, and music.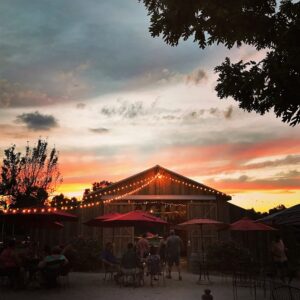 The Staunton River Brewing Co. Ad(h)option Society- has recently been establish with the planting of the hops yard. Members can claim parenting with major bragging rights- and can pretty much guarantee they can spend the day drinking while watching their beer grow.  On the winery side a special event involves the harvest of the grapes.  Harvest is done by the light of the moon and the stars. The result is less stress on the grapes, no bugs attacking the fruit or harvesting crew, and no sunburn. Besides the common-sense approach to the harvest, it is truly a magical experience. Trying to complete harvest by 7am, when everyone can enjoy an early-morning breakfast feast. The winery opens up harvest to a limited number of guests each year and invites them to participate in Vine to Wine Weekend where we harvest, enjoy a vineyard breakfast, enjoy a relaxing spa afternoon, and return for a nighttime celebration amongst the vines with food, wine, celebration, and music.  Select grapes are put into tobacco drying barns that are on what was once part of the original farm. We dry these grapes in a method adapted from the Italian style known as Appassimento. The result is a Legacy wine, which is produced in limited batches embracing an important part of the tobacco growing legacy of the region and adapting the old-world drying process to our winemaking.
Oh yeah, about the food.  The SoCo Kitchen is open every Friday and Saturday with a menu that changes appropriate with the season.  Offering can range from Croque Madame consisting of crunchy ham and cheese topped with a fried egg, to a Cubanito sandwich consisting of marissa roasted pork, sliced ham, jalapeno spread, mustard and cheddar/swiss. BUT not to be missed are the smothered tater tots (alone worth the trip).  Tater tots are perfectly fried to a wonderful crisp then covered with bits of ham, cherry tomatoes, a touch of onion and smothered with a cheddar cheese sauce.  I hear the wines and beer are great as well but I can testify to those tots.
A complete list of their wine offering along with a calendar of events can be found on their website http://www.sanssoucyvineyards.com/ and the same can be found for the Staunton River Brewing Co. at www.stauntonriverbrewing.com.