Story and photography by Meredith Bernard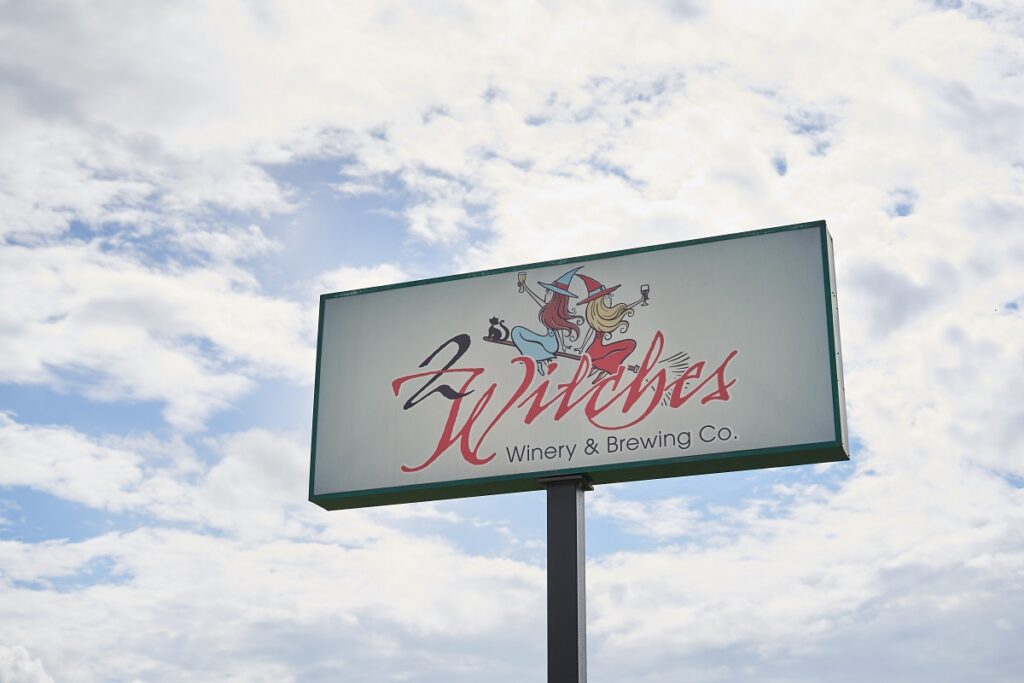 Blazing new trails, or in some cases brewing them, can be a long process, but you'd be hard pressed to find anyone who has made better progress than Ethan and Julie Brown. When Julie's parents Marvin and Caren Jefferson harvested their first grapes from their Pittsylvania County vineyard in 2011 with the understanding they had a market for them, only to find out at the last minute that understanding was not completely understood, they were left high and dry. As life has a way of teaching, they learned the hard way that they needed a sure source for their next year's crop and in the searching decided they would try their hand at making wine themselves. At the same time, Ethan and Julie began visiting urban wineries and breweries in North Carolina and the dream of opening a joint winery-brewery began to take shape. As it happened, Virginia passed a law in 2012 that would allow a business to operate a brewery without selling food, and in turn, allowed the dream of Two Witches Winery and Brewery to become reality, the very first of its kind in Virginia.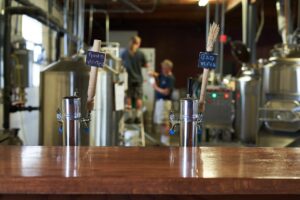 The hurdles weren't completely over, though. Since it was the first such establishment in Virginia, local government didn't have experience with permits and licensing. After nine months of back and forth, they finally received the ABC permit and secured a location in a building along Danville's riverside that met requirements for a winery, which had to have the ability to grow a crop on premises. Today they have Cabernet Sauvignon grapes and apple trees growing on site to meet those requirements and in turn, a large space for customers inside and out, allowing for several yearly events on location. They look forward to the expansion of the Riverwalk Trail that is planned to open next to their property sometime next year, which will allow a great way to further connect with the community.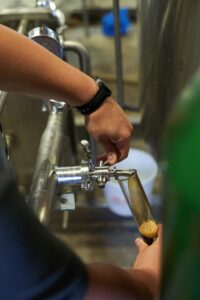 Virginia was later to the brewery bandwagon than it's neighboring southern state, but has since grown exponentially from only eleven registered breweries in 2012 to more than two-hundred in 2018. Ethan says they enjoyed the fruits of being the first in Danville for a while, and are now working alongside other local breweries to bring more products to the table, or bar as it were. The day I visited, they were making the first collaborative beer in conjunction with Axton, Virginia's Mountain Valley Brewery, to be released this fall. Watching the process first-hand is akin to watching scientists in a lab, except these results are taste-worthy. Ethan's son Alex has an Associate in Applied Sciences degree in Brewing, Distillation and Fermentation from Rockingham County Community College that has come in handy for the father-son team.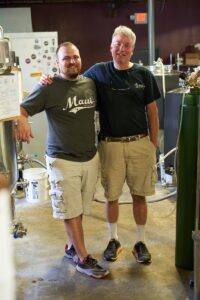 Two Witches Winery and Brewery, whose name was inspired after a childhood polaroid photo of Julie and her sister dressed as witches for Halloween, is scaring up plenty of ways to share their passion for wine and beer, with their annual Halloween party being one of the largest. People are encouraged to attend in costume, where they are judged for creativity and Ethan says they get better and better every year. Other events that allow people to get into the spirit of things include an annual St. Patrick's Day celebration and ugly Christmas sweater party held the last Saturday before Christmas. In addition, the joint winery-brewery has live music every Friday night on an indoor stage. They have become known as the local "Cheers" of Danville, due to the laidback, casual and friendly atmosphere. The Brown's and Jefferson's are proud to offer a place for people to come and unwind while having a good time.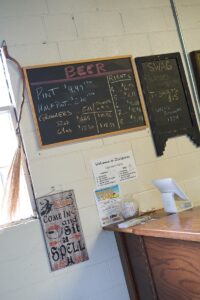 Two Witches continues to increase its brewery and winery selections. They are currently offering 2016 Traminette, 2017 Strawberry, and 2017 Muscat Blanc for their wine selection, made from grapes grown on their Pittsylvania County farm. Their 3.5-barrel brew system offers ten varieties on tap which change frequently and new additions are made monthly. This fall they are also excited to release their first cider, which will be made from Nelson County, VA apples, proudly keeping their sourcing as local as possible.
A visit to Two Witches Winery and Brewery is more than a visit to a place to enjoy spirits, it's a family run business that will make you want to visit again in the spirit of family, because you'll leave feeling like a part of theirs.
Get directions and keep up with all their events and drink selections through their website at http://www.2witcheswinebrew.com/, calling 434-549-BREW (2739), or emailing them at 2witcheswinery@gmail.com.
To learn more about Meredith Bernard visit her website MeredithBernard.com.