By Mary Bagwell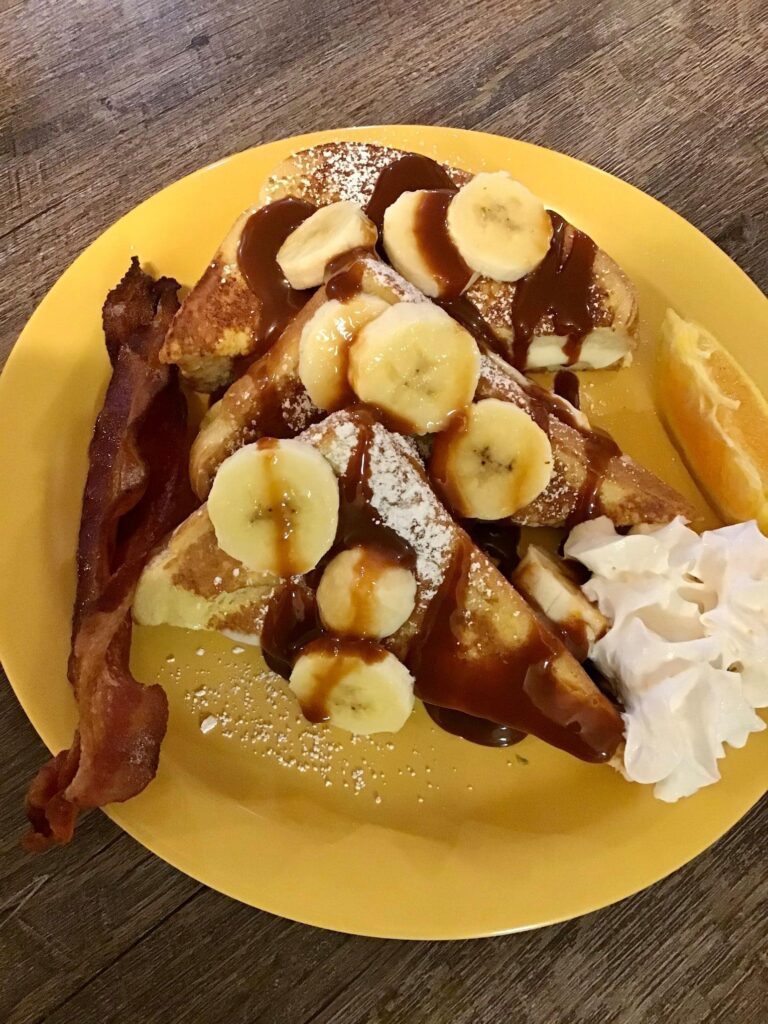 Growing up in Southern California in the late 1950's was a time of great wonder and amazement. My father was 40 when I, his youngest child, was born. Unlike my friends' fathers, he planted and maintained fruit trees and planted a garden. We even lived on Lemon Ave. He helped my mom can the fruits in the heat of the California summer and quite often was the chef when it came to our before-church breakfast. His specialty was pancakes and, on really special occasions, waffles. Breakfast is my all-time favorite meal and it always comes back to the love and care and predictable ritual my father created each Sunday morning.
Dad has been gone for 30 years. In 2010, I opened Southern Plenty Café in South Boston, Va. I mainly thought of having a café with pastries, coffee and sandwiches but over the years I've returned to my first love of creating a great breakfast. Dad would have loved it.
I have the usual things on the menu such as croissant egg sandwiches, bacon and eggs, and omelets, but the real stars are my other creations. I make a special buttermilk pancake that contains a bit of cornmeal and butter which adds a crispiness. We load them with fresh blueberries or chocolate chips or top them with bananas, pecans and cream. We pour on gobs of strawberry compote, or when local strawberries are at their best, we slice up fresh fruit and cream.
Another really popular dish is our chorizo bowl filled with hash browns, black beans, grilled onion and locally raised chorizo sausage, over easy eggs and our special chipotle sauce. A great start to any day. We do an almond croissant French toast with toasted almonds and almond maple syrup, a Sally Lund cream cheese French toast bun rolled in sugar and topped with warm berry compote and cream. This one is quite special.
As a kid, my first cookbook was about all kinds of quiche. I am from two grandmothers who were both known for their pies. One of them baked for my grandfather's market where he was the butcher and my other grandmother cooked for dorm students at Stanford, where my grandfather was head horticulturalist (thus my Dad's love of fruit trees). I never got to meet either of these wonderful women, but feel they are watching over me. I would have loved to have had them to the café. I make a wide range of quiche but some of the favorites are bacon cheddar, ham and swiss, spinach mushroom, lemon chicken, salmon, and a potato crust veggie quiche that is gluten free. I sell them by the slice or you can order them whole.
The real show stopper is our cream cheese stuffed French toast. The special ingredient is love. We use different types of bread and the toppings vary. Lemon poppyseed with homemade lemon curd, pumpkin cinnamon stuffed bread with spiced pears or apples, stuffed Hawaiian bread with a mixed berry compote, bananas and goat milk caramel, in-season raspberry sauce with fresh figs, peaches and cream and cinnamon sugared apple over sweet stuffed bread.
Our breakfast is served Tuesday through Saturday, from 8 to 11 a.m. You can call ahead to have it delivered to your car or come sit outside under our beautiful striped umbrellas or inside at one of our socially distanced tables. We also have a single table in the backroom and upstairs dining in our art gallery. So come and taste our secret ingredient…..it's called love in every bite.