Many of us have spent the last year trying to figure out what to do with all of the lemons of 2020. With a little passion and an idea that has been growing for years, Wendy Haymore Shields and I have made some pretty sweet lemonade! Although our combined passion for plants and container designs has had us dreaming of starting an on-the-go planting service for several years, the COVID-19 pandemic created the perfect storm, giving us the seamless opportunity to aid our customers with the ultimate "contactless" service.
Southern Garden Container Designs was born in the fall of 2020 as a sister business to Haymore Garden Center in Danville, Va. Haymore Garden Center was founded in 1980 by a young landscaper, Johnny Haymore. What began as plants and landscaping materials grew into much more over the years. Johnny worked hard and expanded the business to a 3,000 square foot retail space inside and a full garden center outside. Now owned and operated by his daughter, Wendy, it has become an eclectic retail destination for both inside and outside the home.
In 2014, armed with a bachelor of science degree in horticulture from North Carolina State University, I joined the Haymore Garden Center team. What started as on-site container gardening workshops quickly budded into a passion for designing attractive planters. I went on to work in design sales for a landscape company in Lynchburg, Va., and then spent two years teaching high school agriculture and horticulture. I also taught workshops and helped part-time at the garden center during busy seasons.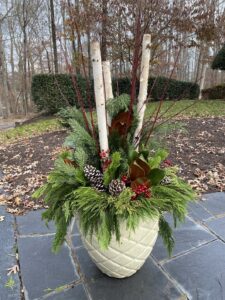 As my interest in container gardening grew, I dove into learning everything I could about creating well thought out and attractive planters for all seasons of the year. Every time Wendy and I were together, we would toss around the idea of offering at-home planting services for our customers at the garden center. While Haymore Garden Center has always offered custom plantings for seasonal summer containers, this meant patrons would load their heavy, dirty pots into their cars and bring them to the garden center for a few days for Wendy or I to work our magic. Customers then pick their planters back up, take them home, lug them out of their vehicles and wrangle them back into place. All while undoubtedly spilling dirt somewhere along the way.
Wendy and I knew there was a niche for the unique service we had to offer. As interest in our container designs grew, so did our long-term plans for expanding the business. Both of us continued to immerse ourselves in classes and hours of training. Wendy began networking with other container designers across the country, attending gatherings for the trade and participating in unique workshops to learn the ins and outs of everything from product sourcing to arranging winter greens into elegant designs.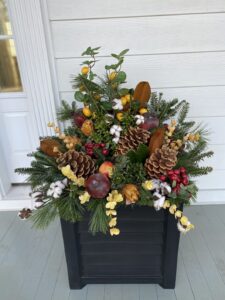 As the uncertainty of spring began in 2020 and folks became increasingly wary of venturing out in public, we knew it was time to move up the timeline on our business plans. After getting our feet wet with several clients for midsummer plantings, Southern Garden Container Designs formally launched for the 2020 fall season and I officially came back on board full time.
Based out of Danville, Va., Southern Garden covers Pittsylvania County and the surrounding areas, including Hyco Lake, Smith Mountain Lake and Lynchburg, Va. Our unique approach to planter designs ensures lush plantings and arrangements up to four times a year, matching each season. Plantings are custom designed for each client so you can be sure that your porch or patio won't match the neighbors'! After an initial consultation, Wendy and I work to choose plants that not only match our clients' style and color preferences but that are also sure to thrive in the conditions where they are planted. Deep shade on a lower patio? Not a problem! Full hot sun all day on your dock? We have solutions for that too. Whether it is two planters on your front porch or 30 across your property, no job is too big or too small.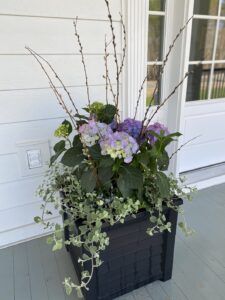 Summer gives the most variety available and the longest growing season, from late April to September. Color options range from dainty pastels to hot tropicals and everything in between. This is my favorite season because it gives me much more creative freedom and I love watching the planters grow and change over the season. Fall brings warm harvest hues and perennials that can later be transplanted to your landscape if desired. With the arrival of Thanksgiving comes the beginning of winter installations. We use unique evergreen cuttings from all over the country, along with berries, pinecones and other eclectic accents to create lavish arrangements. When well cared for, these designs will stay fresh well into February. Spring has the shortest growing season but brings a refreshing pop of color just as plants begin to bud and emerge in March, keeping planters full until time for summer plantings to begin.
www.SouthernGardenContainers.com
@southerngardencontainerdesigns
[email protected]
(434) 204-8002