ROXBORO, NC- Smokey Dave's BBQ opened June 2 at 1039 N. Madison Blvd. in Roxboro.
The restaurant offers pulled pork barbecue made with an Eastern North Carolina sauce that has "a sweet twist to it," says David Burch, owner. "We call it 'hogwash.'"
There's another sauce, a tomato-based sauce called 'birdbath' for customers who prefer it.
Both sauces, as well as barbecue rubs, are available for sale at Smokey Dave's BBQ. "We are a full-stop shop where you can get everything you need for barbecue," David says.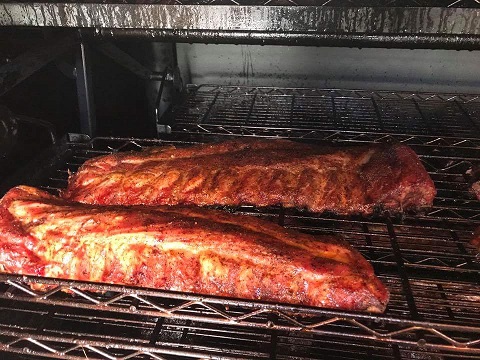 Smokey Dave's BBQ offers pulled pork barbecue as opposed to chopped pork barbecue.
"With pulled pork, we pull the meat off the bone into fine strands instead of chopping it up," he says.
David is often a judge for barbecue competitions across the state.
He is a certified judge for the Kansas City Barbecue Society and for the North Carolina Pork Council. Both organizations are dedicated to promoting and enjoying barbecue.
Smokey Dave's BBQ offers barbecue, chicken, ribs and brisket.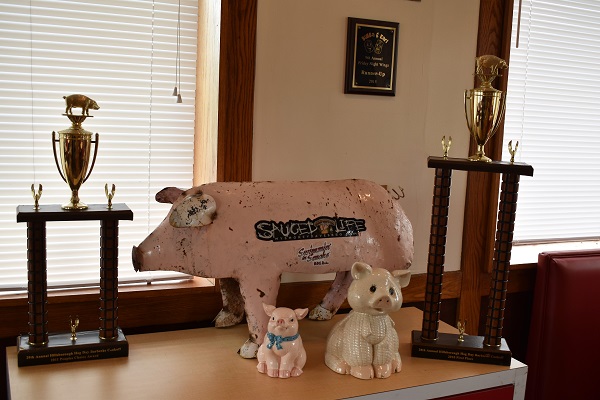 "We do any kind of meat you can smoke," David says. "At Thanksgiving and Christmas, we will be doing turkeys."
David, a native of Durham, resides in Rougemont.
He became interested in the barbecue business when, at the age of 13, he helped his uncle, Billy Johnson, and his cousin, Mark Johnson, who were owners of Hog Heaven in Durham.
"I have always just loved cooking," he says.
His son, Hunter, 13, has also taken up an interest in cooking. Hunter won the title of grand champion at the Lakeland Pig Fest in Florida.
"He can cook ribs better than I can," David says.
Kelly Freeman, David's fiancée, helps run the restaurant. David's parents, Bill and Helen Burch, are helping with the business side of the establishment.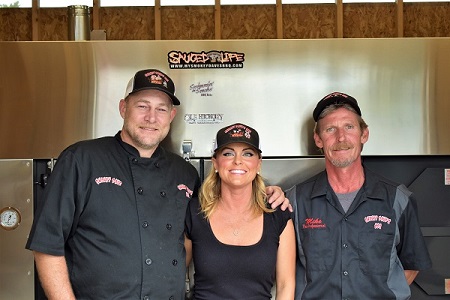 Smokey Dave's BBQ is open 11-8 Mon-Fri and 11-6 Sat. The restaurant, which has a drive-thru, can seat up to 40 people. It offers catering and pig pickins for wedding receptions, graduations and other events.
David says there is something exciting about a pig pickin.
"There's just an atmosphere you get when you put a pig on a grill and get your friends and family together outdoors," he says. "Pig pickins are a lot of fun. They are labor-intensive, but the rewards you get from them are worth it."
Pleasing the customer is a priority at Smokey Dave's BBQ.
"We focus 100 percent on our customers," David says. "We want our customers to get what they want and to have a lot of fun when they are at Smokey Dave's."
For catering, carryout, and for more information about Smokey Dave's BBQ, please call 336-332-0661.
Smokey Dave's BBQ
1039 N. Madison Blvd
Roxboro, NC
336-332-0661
[email protected]
www.Facebook.com/pg/smokeydavesBBQ