Story by Eva Miles
Photographs by Allison Satterfield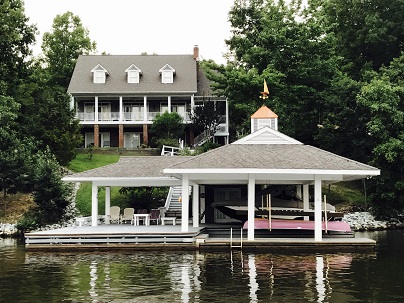 Clean lines. Warm materials. Pleasant textures. The Southern simplicity of this house will pamper all of your senses. So tasteful, yet exuding tons of charm and character. Plus, in true Southern hospitality, there is room for all of your family and friends. With 4 bedrooms and 4 1/2 bathrooms, there is room for all. Boasting 3,970 heated square feet of living area, and a 2 car carport.
This house is located at Hyco Lake, right off of Concord Church Rd., in a beautiful paved subdivision named South Landing. As you drive down this quiet street, passing neighbors out for a stroll, you will approach this hidden gem. You will love the paved driveway as well as the quaint carport and entrance into the house. Don't forget to walk around and be wowed by the beautiful lake views and the very inviting boathouse…it beckons to be used!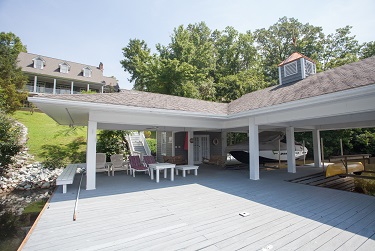 As you walk into the front door, the main area is perfect for entertaining, with an open floor plan that is ideal for large parties, yet cozy enough for intimate gatherings. Complete with a ceiling fan for warmer months and a fireplace for when the air turns chilly, this family room is an optimal gathering place. This traditional home features beautiful columns and clean lines. Neutral wall colors are perfect for all tastes and decors, giving you a blank canvas limited only by your imagination. In the kitchen, the light cabinets lend a bright and airy feel to the residence while a spacious island affords bar seating. Pendant lighting above the island casts extra light as you prepare your favorite meals in this eat-in kitchen. Ready to unwind? All of the bedrooms are large and provide ceiling fans. The expansive master suite is located on the main floor. Upstairs, you will find an additional three large bedrooms. Fancy a friendly game of pool or a Hollywood flick? The finished basement is an ideal media or game room. With doors that open to a large patio, you can easily move the party outside.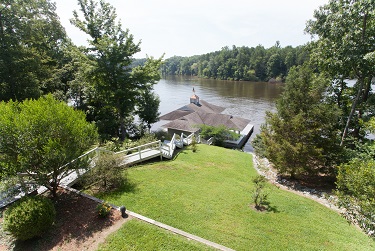 Take in spectacular views from one of the porches. Pull up a rocking chair on the charming Southern porch, with room for family and friends, or enjoy the peaceful porch swing. If you want to stay close to nature without inviting in unwelcome insects, the screened porch is a quiet spot to relax, with a ceiling fan to cool you off on hot and lazy summer afternoons. Of course, the showstopper of this home is the lake itself. Take a dip in the beautiful Hyco or anchor up from your own backyard. With your own double slip boathouse, your pontoon is always ready for a party.
This house is conveniently located, close to both Roxboro and Danville. A mere 60 miles to Raleigh or Greensboro, it is centrally situated for your daily commute. If you have young children, the local elementary school, Woodland Elementary, is a local favorite and boasts attentive and caring teachers. It is also close to VIR, a popular destination for the Hyco Lake crowd, complete with restaurant and spa.
Gay Poindexter
Remax Premier Realty at Hyco Lake
223 N Main St
Roxboro, NC 27573
(336) 504-3460
[email protected]
www.hycolife.com