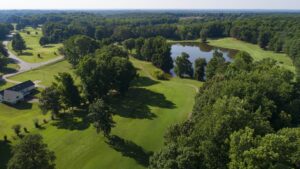 Story and photos by Paul Liggitt
The Roxboro Country Club has been a tradition in Person County for almost eighty years. Established in 1939, the club features an 18-hole golf course, practice range, available pool memberships, and a stately venue overlooking the lake that borders the 1st and 2nd fairways. You can even book your wedding on the 1st tee! The friendly and family atmosphere is accented by the lighthouse at the pro shop and serves as a reminder that we all need the "True" light for our path in life. RCC averages over 45 golf and banquet events each year due to it's close proximity to Roxboro and the Hyco Lake communities.
One of the best features of the course is the playability. From the tips there are twists and turns that challenge you to work the ball, but less skilled players and seniors can still be competitive from the shorter tees. Greens fees are only $24 Monday – Friday and $25 Saturday, Sunday. Seniors are always $20 and all greens fees include a cart. Older courses need love too, so besides the day-to-day maintenance; the dedicated staff is incrementally improving the course on every level. The bunkers have just been re-designed, the fairways are Bermuda and the greens are working hard to endure the summer heat to be ready for your next golf outing and a great playing experience. RCC is also planning golf programs for Juniors to teach the fundamentals of the game and make the best parts of the game of golf memorable.
Make sure you contact Roxboro Country Club at (336) 599-2332 for your next tee time, book your social event, or find out more about memberships and local tournaments. You can also visit them on the web at www.RoxboroCountryClub.com or on Facebook: Roxboro Country Club, to learn more.
Paul is one of our newest writers and professional photographers. Many of the images in this issue were provided by Paul, including the cover and table of contents. Paul Liggit Photography, (336) 322-1167, www.plphoto.com