Hyco Lake Golf Guide… It's not Pinehurst, but it's Close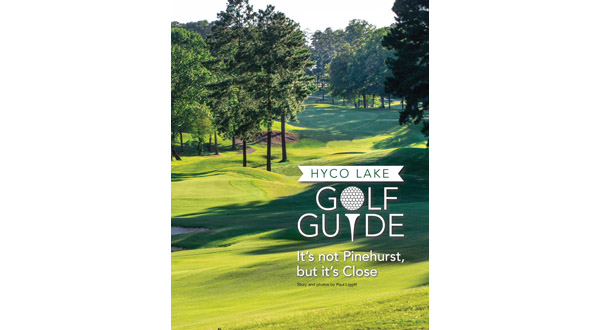 HYCO LAKE, NC- The Hyco Lake community is strategically located near 11 golf courses that are all within a short drive, obviously a bad choice of words for the golf enthusiast! No kidding, even if you don't play golf, many of these public access courses are also gathering places to enjoy a tasty lunch on the veranda, purchase equipment for the golfer in your family, or browse for fashions at the pro shop. For the player, each Hyco Lake golf course has its own personality and skill level.
Even if you don't play a full round, you can plan a visit to the putting green with your children or grandchildren to practice putt for free! Many of the courses have a driving range where you can work out the kinks in your swing or in my case, redesign your swing every time you go out. One of the greatest benefits about having access to so many courses is that even Saturday and Sunday greens fees are reasonable and all of the courses keep play moving.
In this review I will take a brief look at these eleven Hyco Lake golf courses and hopefully give you a taste of what to enjoy about each so you can have fun discovering another asset of the community. All of the driving times are estimates from the Hyco Lake Marina.
Roxboro Country Club
The nearest Hyco Lake golf course is The Roxboro Country Club, only about 15 minutes away. That is simply the name but the club is open to the public and features an 18-hole par 71 course.
It features a few water holes, an equal number of dog-legs right and left and a few holes where all your shots need to be good just to make par. With mostly gently rolling elevations, I have enjoyed playing many charity events there. RCC is also known for its banquet facilities, perfect for your reunion or reception. Their location is 260 Club House Rd, Roxboro, NC, 27574. Call them at (336) 599-2332 for rates and tee-times. 
Caswell Pines Golf Club
Only 18 minutes almost directly west of Hyco Lake is Caswell Pines Golf Club, located at 2380 Country Home Rd, Blanch, NC 27212. This course is closest to my home and always a pleasure to play. I love their practice facilities when I don't have time to play a full round and their grill serves as a great place for lunch for a foursome or more.
There is a good bit of up and down on this Hyco Lake golf course but landing areas don't penalize a reasonably struck tee-ball. Call them at (336) 694-2255. Click here for more information.
Quaker Creek Golf Course
Moving a little west and south towards Mebane, about 45 minutes, there are two Hyco Lake golf courses to enjoy. Quaker Creek Golf Course at 2817 Barnett Rd, Mebane, NC, 27302 is a Par 72 course and also has gently rolling terrain, wide fairways and features one par three surrounded on three sides by water.
Can you say "# 17 at the Players Championship?" GULP! I always enjoy their driving range to warm up before a round. I convince myself that it is helping. Maybe I should just take another Aleve. Call them at (336) 578-5789.
Mill Creek Country Club
Also, within the same approximate driving time is Mill Creek Country Club. The course is probably the closest you will get to a Members Only country club without having to have a membership. They are located at 1700 St. Andrews Dr. in Mebane, NC, 27302.
Call for a tee time at (919) 563-4653 and make a reservation, but public play is welcome and encouraged. It is fun to browse in their fully equipped pro shop before your round. Bring your "A" game because this Hyco Lake golf course challenges you on several holes from distance to layout.
The Challenge
Speaking of challenges, another course that is only about 45 minutes from the Hyco Lake area to the south is The Challenge. Yes, it is, from the quick rolling greens to some par 4s where playing the course more than once will give you the knowledge you need to make a good score.
There is a great grill for a sandwich and drink at the turn and a good time will be sure to be had by all. Call them at (336) 578-5070 for a tee time and make the 45-minute trip to 1179 Challenge Dr., Graham, NC 27573.
Indian Valley Golf Club
Indian Valley Golf Club is at the Southwest point of the compass and is also only 45 minutes away; 1005 Indian Valley Dr., Burlington, NC 27217. The course is a Par 70 track, owned and maintained by the City of Burlington and they do a great job. Their putting green also has a practice bunker.
Maybe I should take advantage of that sometime! All the holes are playable and good for the middle handicapper. There are some short par 4s with opportunities to score, but shorter holes never made it much easier for me. You can call them at (336) 584-7871. You be the judge.
Lake Winds Golf Course
On the southernmost point of our golf compass is Lake Winds Golf Course, located just 35 minutes down Rt. 501 at 1807 Moores Mill Rd, Rougemont, NC 27572. Guess what, any golf course with "Lake" in the name probably has a little water on it, you think? Can you say 11 holes!
I must say that the lakes and some of the tee-box vistas are what add to the beauty and challenge of this fun Hyco Lake golf course. Like a few of the other courses, there are some elevated greens that require good shots and a steady hand when putting. They can be reached at (919)471-4653.
North and West of Hyco Lake in the Danville area are three courses and a great golf equipment shop. Depending where your lay your head around the lake, you could have as little as a 20-minute drive to the 1st tee.
Goodyear Golf Club
Call ahead for a tee time at Goodyear Golf Club at 245 Jenny Lane, Danville, VA. 24541. Only a 35-minute drive and you can enjoy some golf that will test your game. There are many blind tee shots and approach shots that will challenge the mid to low handicapper.
Also knowing your club distances will be important to help you land your ball in the right spot. Goodyear is another club that you should play more than once to gain the course knowledge, you'll need to play your best. They are ready to fit you or your group in, just call for a tee time at (434) 797-1909.
Ringgold Golf Club
Ringgold Golf Club at 1493 Ringgold Rd, Ringold, VA 24586 is a short 20 minutes north and a little west. It is a great public course also for the mid to high handicapper.
The fairways are wide and forgiving with a few holes that make you think twice about where to aim. They have a pro shop with all the necessities, a great grill and plenty of open golf. Call (434) 822-8728.
Southern Hills Golf Course
On the West side of Danville is Southern Hills Golf Course at 188 Stokesland Ave Ext., Danville, VA 24541. You would not think there could be a course tucked away in this part of Danville, but there is. With a total yardage of nearly 6100 from the back tees, accuracy trumps distance on many of the holes.
You will also need to factor in some elevated greens and adjust accordingly. It is a great place to enjoy a quick round and still have time to do some errands in Danville before heading back to the lake. Call them today at (434) 793-2582 to book a tee time for a weekday $ 20 greens fee, including your cart or just $25 on the weekend. Also, just so you know, collared shirts are required.
Ray Rays Golf Shop
It took me a long time to realize that my game would improve if I spent as much time taking care of my equipment as I did watching great players on TV. At Ray Rays Golf Shop, just 33 minutes from Hyco Lake at 135 Crown Dr. Suite D. in Danville, VA 24540, that is exactly what they do.
Not only can Ray Pruitt replace your clubs if needed, but he has the experience to know when you really CAN blame those bad shots on your gear and not your swing, especially if your clubs aren't fitted properly. I will say however, that in my case it is typically operator error. Call Ray at (434) 792-1116, he knows his stuff, and has the stuff you want in your golf bag.
Greens Folly Golf Course
Greens Folly Golf Course is on the Northeast point of the golf compass just 37 minutes away. It is located at 1085 Greens Folly Rd., South Boston, VA 24592. The course is in Halifax County and ranges from 6773 yards from the back tees to only 5132 from the ladies' tees.
It also boasts of a 697-yard par 6, 18th hole as the number 1 handicap from the back tees. Golfers will also get a little taste of history with the Old Manor House adjacent to the club house. No doubt the local Haligonians can fill you in on what makes the area so special. Contact them today for a tee time at (800) 337-4998.
For the Hyco Lake community, having an enjoyable golf experience can mean a lot of things. From a trip to historic VA and the challenge of a nearly 700-yard par 5 to squeezing in a quick round near downtown Danville while still having time for some errands before heading back to the lake. There are lots of reasons to go to the Hyco Lake golf courses and many of them don't have anything to do with hitting the little ball with a club.
I have been playing for over 40 years, never really well, but always trying to improve, except for maybe my sand shots. After all these years I have realized a couple of things; time spent recreating at the golf course and the people I spent it with is rewarding, regardless of the score. I also get to enjoy someone else's nicely mowed grass, weeded flowerbeds and trimmed walkways without having to do it myself. The variety of nearby full-featured public courses with open tee-times and reasonable rates is honestly impressive.
I have played all of these courses and their staff always gives you the impression you are welcome, they are glad you decided to stop by and they hope you enjoy your stay. Be sure to visit them often and I hope you enjoy the guide.
Paul is one of our newest writers and professional photographers. Many of the images in this issue were provided by Paul, including the cover and table of contents. Paul Liggit Photography, (336) 322-1167, www.plphoto.com