PCC Foundation Has Been Golfing for Change Since 1990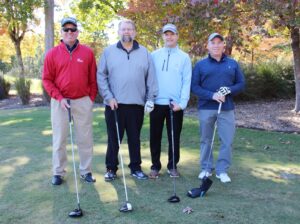 By Allison Satterfield – Executive Director, PCC Foundation
For nearly three decades, the Piedmont Community College Foundation has gathered friends and supporters each fall for a day on the golf course. The annual charity tournament, known as the PCC Foundation Golf Classic, has a long-standing reputation for its quality and fun, and is approaching its 29th round on October 15. The tournament has been held at Treyburn Country Club in Durham since 2012, providing a members-only style experience to participants at one of the most consistently recognized courses in North Carolina.
It is not just the experience that keeps supporters coming back to play in this tournament. According to Phillip Allen, member of the PCC Foundation's Board of Directors and Chair of the Golf Committee, it's the cause. "Way back in 1990 the Foundation was looking for an event that would hopefully help raise some money for scholarships. Within only a few short years it became quite successful due to the corporate sponsors and the overall community support. We never dreamed it would mature into the 'Classic' that it became, and absolutely no one could have predicted that we would have raised over $600,000 to support local students over this period of time!"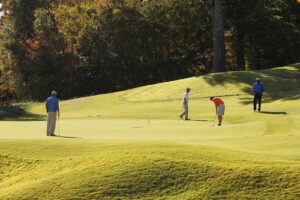 The PCC Foundation credits this day on the course as the source of many life-changing opportunities for local students at Piedmont Community College. The organization has one purpose – to support the students, faculty, and staff at PCC – helping the College to fulfill its vision as the leading contributor to the economic, educational, and cultural vitality of our communities. The scholarships that have been made possible by the Golf Classic have turned students facing financial hardship into successful contributing citizens, and that is something worthy of 18 rounds on a beautiful green.
Ayla Dunn, one of many of PCC Foundation's 2017-2018 scholarship recipients, says, "It is such a good feeling to know that there are real people right here in our community who care about my education. I have been given opportunities at PCC that I never dreamed of thanks to my scholarships, and I hope the businesses and individuals who support this tournament each year know how much their investment makes a difference. It has for me!"
On October 15, PCC Foundation will host its 29th Annual Golf Classic, once again at Treyburn Country Club. For more information about how to get involved as a sponsor or to reserve your playing spot in the tournament, please contact the PCC Foundation at (336) 322-2105. Learn more at www.piedmontcc.edu/golfclassic.