Grilled NC Shrimp and Rapini Salad with Local Buttermilk and Sesame Dressing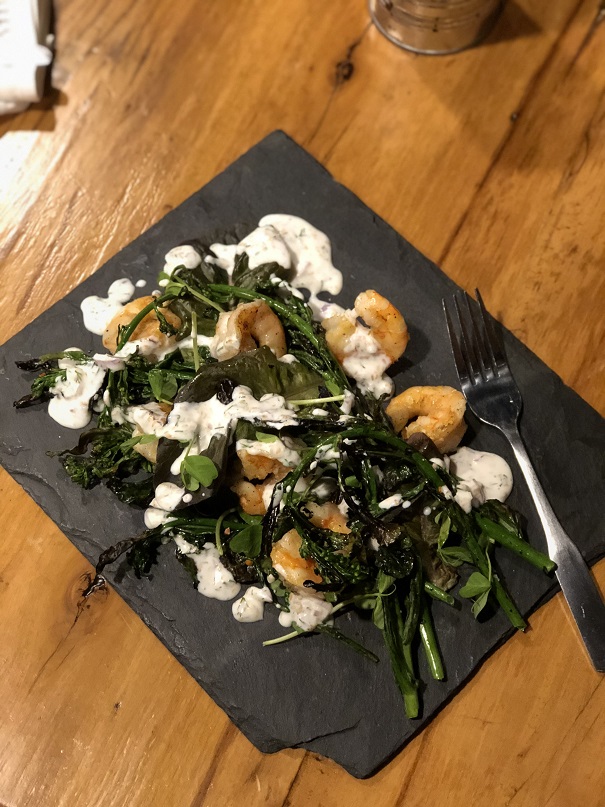 This is a great light salad to enjoy on these warmer spring days while also using some hearty vegetables left from late winter, any local farmer can point you in the right direction. Also, if you do not have a favorite fishmonger, go see Debbie at Farm to Home market in Roxboro for a great selection of NC seafood. Makes 4 Servings.
For the Shrimp
16 whole 21/25 fresh NC shrimp- peeled and deveined
Zest of 1/2 a lemon
Kosher Salt and Fresh Black Pepper – to taste
1 Tablespoon Canola oil
Combine together and set aside.
For the Rapini
16 stalks of rapini- I used Southwind Produce Kale Rapini in Rougemont
Pinch of dried chili flakes
Kosher Salt and Fresh Black Pepper- to taste
2 Tablespoons Canola oil
Trim rapini into smaller stalks if needed. Combine all ingredients in a bowl and set aside.
For the Dressing
1 small shallot, minced
1/2 teaspoon prepared horseradish
1/4 cup sour cream
1 1/4 cup Maple View Farm Buttermilk
Juice of half a lemon
1 1/2 Tablespoons fresh dill- finely chopped
1/4 teaspoon toasted sesame oil
3 Tablespoons Toasted Sesame Seeds
Kosher Salt and Fresh Black Pepper- to taste
Combine all ingredients in an airtight container and store in the refrigerator. Yields 2 cups.
For the Greens
Assorted salad greens such as arugula, pea shoots or other spring salad mix from local farmers.
On the Grill
Preheat your grill to a medium heat begin by placing the shrimp on the grill first grilling about 5-6 minutes per side or until done.
While the shrimp is cooking also grill the rapini until well charred and the stalks of the rapini still have a slight crunch to them which will take about 3-4 minutes per side. If the leaves begin burning too much reduce the heat to low on your grill to continue cooking.
Remove the shrimp and rapini from the grill and toss with other assorted salad greens of your choice then drizzle each salad with salad dressing and enjoy.
Use leftover salad dressing for potato salad or pasta salad. It makes a good deviled egg mix as well.
Kyle Wilkerson is the Executive Chef and Co-Owner of Heirloom, A Poppa Paul Kitchen located at 117 Depot Street in Uptown Roxboro. For reservations call (336) 322-3300.