What Is Pickleball? Popular Sport Draws Interest Around Hyco Lake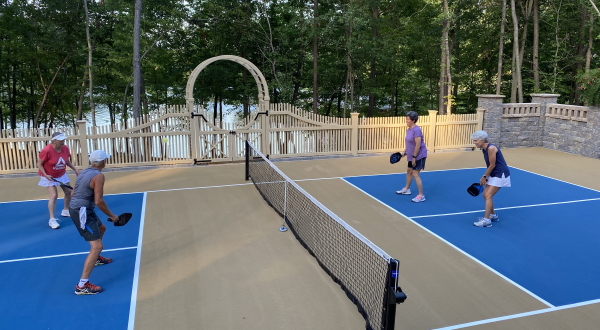 PERSON COUNTY, NC- It's easy to learn and fun for groups regardless of age or skill. As a result, over the last two years, pickleball has built a national following. But what is pickleball? And what's driving interest for it in Person County? 
For those who have never heard of the game, it was invented 55 years ago on Bainbridge Island, near Seattle, Washington.
One lazy summer day, three friends, including Joel Pritchard, Bill Bell and Barney McCallum, told their bored children to go out to their backyard badminton court. They gave them each a wooden ping pong paddle and a plastic baseball and told them to have at it. The game soon became so popular that people were lining the block waiting to get a turn to play this combination of ping pong, badminton and tennis.
The Nation's Fastest Growing Sport
Since that day 55 years ago, Pickleball has become the fastest growing sport in the United States and is played all over the world. It is being played by kids in physical education classes as well as seniors in retirement communities. There are over 15,000 indoor and outdoor courts all over the U.S., with 2.5 million players.
The biggest difference between pickleball and tennis is the size of the court. A pickleball court measures just 20 by 44 feet, so four pickleball courts would fit on one tennis court. Also, the serve is underhanded, making it much easier on the shoulder joint. There is a seven-foot non-volley zone on each side of the net, known as the kitchen, where smashes are not allowed.
Players may only step in the kitchen to hit a ball that has bounced in that zone. Singles or doubles can be played, but doubles is the most popular. Points are scored only by the serving team, with the first to reach 11 by two points winning the game. A match consists of the best two out of three games.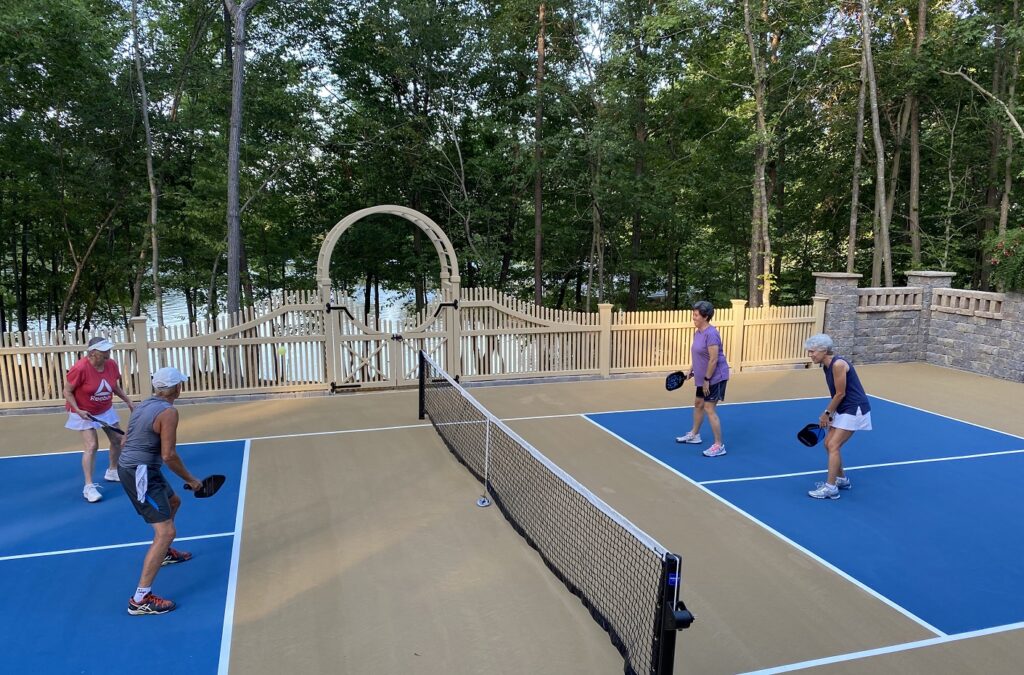 Some Personal Experience
Six years ago, I was recovering from a full rotator cuff repair caused by a bone spur and 50 years of playing tennis. I began playing tennis when I was 12, at a local park in Roanoke, Va. I was soon beating all the boys and found that I had a love for this racket sport. I became a fierce competitor. I played tennis in high school and college at the intramural level. After moving to Danville 30-some years ago, I began playing USTA tennis in Greensboro on as many as five different teams in the same season.
Before I could return to tennis after surgery, I heard pickleball was being played at the YMCA in Danville. I thought that might be a safe way to get back into tennis, so I dropped in and played my first pickleball game. I was hooked!
Not only is pickleball great exercise; it has been a way to meet wonderful friends.  Wherever I have gone, whether it be Harbour Island at Wrightsville Beach, Wintergreen Resort in Nelson County, Va. or Little Washington, N.C., there is always a drop-in game and a welcoming group of people to be found.
Now A Pickleball Coach
This past February, I completed my Professional Pickleball Registry coaching certification. I am the only PPR certified coach in Person County. My husband Bob and I have built a beautiful backyard court at our home on Hyco Lake. I offer beginner private and semi-private lessons and clinics for up to four people who are more advanced.
I am excited to grow this fun sport in the Hyco Lake Region. Below is a listing of opportunities.
Person County: Drop-in league at Huck Sansbury tennis courts in Roxboro on Morgan St.
Tuesdays and Thursdays at 9 m.
South Boston: Drop-in play at the Recreation Center off Broad St.
Tuesdays and Thursdays at 9:30 m.
Danville: YMCA indoor pickleball.
Cancelled due to COVID-19 until further notice.
Oh, and if you are wondering, pickleball was named after the Pritchard's dog, who was named "Pickles." See you on the court!
Peggy Mcfarland is the only PPR certified coach in the Hyco Lake Region. If you are interested in learning a new sport and making lots of great friends, contact her at [email protected] or text (434)-441-0872.