PERSON COUNTY, NC – Person County received a $776,086 zero-interest loan to help pay for their three new ambulances and safety gear. Piedmont Electric Membership Corporation is playing a supporting role in the purchase of these ambulances by facilitating this loan funded from the United States Department of Agriculture's (USDA) Rural Economic Development Loan and Grant (REDLG) program revolving loan fund.
With over 400 square miles of territory and a population of about 40,000 residents, these new ambulances will enhance Person County's ability to provide life-saving assistance. In addition to responding to an average of 6,000 calls each year, Person County and the City of Roxboro provide mutual aid to Caswell, Durham and Granville counties.
"It is our goal to continue to provide excellent patient care and maintain a cost-effective budget for our tax payers," stated Heidi York, Person County Manager. "Replacing these older ambulances will enhance our ability to maintain a reasonable regular vehicle replacement program, without overburdening our tax payers."
The funds for the three ambulances came from the revolving loan fund created from repaid USDA REDLG loans facilitated by Piedmont Electric. Payments from organizations who have received REDLG loans managed by Piedmont Electric in the past are placed into this revolving loan fund which allows these federal funds to be re-loaned in our local communities.
"We are always proud when we can support a project that improves our communities," stated Steve Hamlin, Piedmont Electric President and CEO. "Supporting Person County through these ambulances is a unique opportunity for us to help make one of our communities a safer place to live, work and raise a family."
In the past several years, Piedmont Electric has secured more than $12 million in USDA funding within Person, Alamance, Orange, Caswell and Durham counties for fire trucks, fire stations, ambulances, schools and a public library. As the funds are repaid they are re-loaned to assist with future projects in communities served by Piedmont Electric.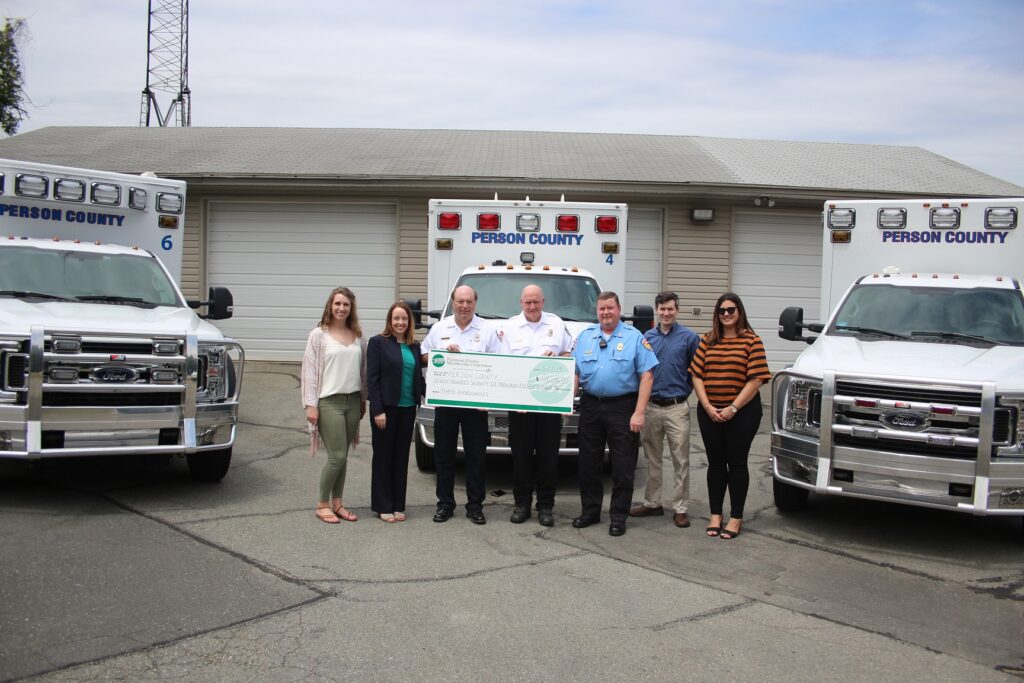 Attendees in photo from left to right:
Abigail Jacobsen – Public Relations Specialist at Piedmont Electric
Heidi York – Person County Manager
Doug Young – Director/Chief at the Person County Department of Emergency Services
Greg White – Division Chief at the Person County Department of Emergency Services
Lewis Powell – Captain and Fleet Manager at the Person County Department of Emergency Services
Brandon Reed – Manager of Member Services and Public Relations at Piedmont Electric
Rachael Benedict – Public Relations Specialist at Piedmont Electric
Piedmont Electric is a local, member-owned, not-for-profit electric cooperative serving more than 32,000 electric accounts in Person, Alamance, Caswell, Durham, Granville and Orange counties. Piedmont Electric exists to serve our members and improve the quality of life in our communities through local employment, economic development, business engagement, youth education, grants to educators, advocacy for energy issues, community involvement and emergency preparedness support. Visit www.pemc.coop for more information.