BROOKNEAL, VA – The magic of Red Hill starts as you turn off the main road onto our drive and continue up the winding way. As you do, you are able to slip back in time.
In many ways, the beauty of Red Hill and the landscape surrounding it has not changed substantially from the days when Patrick Henry himself would stroll the grounds, seeking comfort in the woods and gardens and sounds of nature. The serenity that he found here, in the place he called the "garden spot of the world," has been preserved.
Read more below about the history of this sweeping estate — what drew Henry to it in his retirement, what life was like here in the 18th Century, and more.
The History of Red Hill
Red Hill is the last home and burial site of Patrick Henry — Founding Father, voice of the American Revolution and Virginia's first elected governor. Red Hill has been reconstructed on its original site. The home is a simple one and one-half story structure that dates from the 1770s.
With its three rooms downstairs and two upstairs — a children's loft — this was home for the Henry family. At one point, as many as 20 family members lived under this roof. The furnishings on display in the house and other buildings include genuine 18th Century period pieces.
On the grounds is the National Champion Osage Orange Tree (also a member of the American Forestry Hall of Fame). This Osage orange tree has an astonishing 85-foot span and stands 60 feet high. It is a striking feature of the grounds at Red Hill, which Patrick Henry referred to as "one of the garden spots of Virginia."
When Henry moved to Red Hill in 1794, he was in semi-retirement from his law practice. Having served as governor of Virginia for five terms, and in failing health, Henry saw some clients here but used the office chiefly to instruct his sons, nephews, and a grandson in the law. The building may also have been used to occasionally house guests of the Henry family.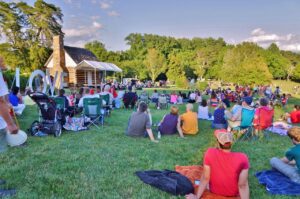 'Fame His Best Epitaph'
Patrick Henry died on June 6, 1799, at the age of 63, and is buried in the family cemetery at Red Hill. On his gravestone are carved the words, "His fame his best epitaph." Beside Henry is buried his second wife, Dorothea Dandridge Henry. Other family members are interred in the cemetery in graves both marked and unmarked.
Red Hill hosts over 2,000 children annually (over 20 school groups from the tri-county area) for Living History Days. These field trips are designed to be the spark that ignites a love of history. This interactive, hands-on experience is one that children, and parents, enjoy. It provides an environment in which all children can learn.
The children spin and weave wool, hear about 18th Century medicine, make nails at the blacksmith shop, make pottery, and hear Patrick Henry's "Give me liberty or give me death" speech, often delivered by Henry's sixth-great-grandson, Patrick Henry Jolly. He then gives the children a signed copy of his speech to save as a keepsake. This is a memory that these children will likely not forget. All of the Living History is done by volunteers and is by far one of the best programs out of all of Virginia's historic homes.
One of the favorite events at Red Hill is the Naturalization Ceremony in May. This is the final step in becoming a citizen of the United States of America. It is a beautiful and inspiring ceremony.
Be sure to visit our website, www.RedHill.org, to see our calendar of events. Throughout the year we have lantern tours, public living history days, starry night activities, a July 4th Celebration, the Bluegrass, Barbecue & Brew Festival and a Christmas Open House.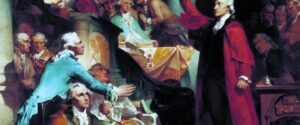 Red Hill houses the largest collection of Patrick Henry artifacts in the world. The Peter Frederick Rothermel painting is the best-known piece in the Red Hill Museum and one of America's most famous historical paintings. In the painting, Henry delivers his famous, "If this be treason, make the most of it!" speech, declaring his opposition to King George III's Stamp Act of 1765. A decade later, as revolutionary sentiments surged in America, Henry declared, "Give me liberty or give me death!" to the Virginia Convention gathered at St. John's Episcopal Church in Richmond.
Red Hill is a 501(c)(3) non-profit corporation devoted to education and historic preservation. Red Hill is open daily for tours (closed Thanksgiving, Christmas and New Year's Day) for individuals and groups. Advance notice is required for groups of 10 or more. Red Hill consists of over 1,000 acres.
Located in the countryside of southern Virginia, Patrick Henry's Red Hill is nearest to the town of Brookneal, Va. You may find that your cell phone service is patchy as you get nearer to Red Hill, so if you are relying on your phone to guide you to us, you might want to download an offline version of a map of the area. However, your GPS should continue to work as long as you input the address before leaving signal range. For your GPS type in this address: Patrick Henry National Memorial, 1497 Red Hill Road, Brookneal, Va. 24528.