Welcoming Hopper's Poppers
Story and photos by Sara Coates
First Impressions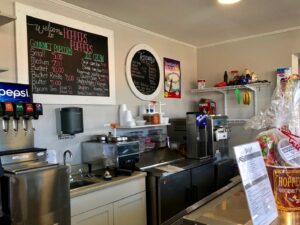 Nearly a year ago, rumors of a new business were rapidly spreading throughout Roxboro. Supposedly, an Illinois family was making plans to relocate their popcorn shop to our small town, and I'll be the first to admit that I found it quite bizarre. "Why here," I questioned, when I should have been asking "why not?" Now, after several months of success, I will also be the first to admit that Hopper's Poppers has proved me wrong.
My first trip to the store was nothing short of magical. When the doors opened, wonderful sights and smells took over. Sweet, homemade chocolates met the scent of savory, salty popcorn flavors mid-air. Fresh, warm waffle cones were being made from scratch to be filled with perfectly chilled Hershey's Ice Cream. Best of all, kind faces were working hard to make everyone feel at home, passing out samples to anyone who asked for one. In a matter of seconds, my mouth was watering and my heart was full. Without a doubt, it became clear that Roxboro was exactly where this business, and family, belonged.
Before Roxboro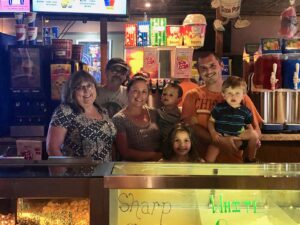 Before coming to North Carolina, the Hopper family had much success back in Illinois. Kenley and Daryl Hopper, along with their three children, successfully ran Sycamore State Theater for many years. In 2011, they decided to start selling gourmet popcorn at their theater, beginning with the iconic caramel and white cheddar flavors. Their son, Ryan Hopper, saw this as a great opportunity to make more money. He began taking the products to craft fairs and farmers markets each time he got the chance.
In 2016, Ryan decided to open the first Hopper's Poppers location in Oregon, Illinois. Daryl, Ryan's mother, expressed how she knew pretty early on that he would eventually be the one to run the business. Ryan said he was even doing research on what it would take to run a business when he was"as young as eight.". Currently, the Oregon store is still up and running. Additionally, Sycamore State Theater now sells six different flavors of their delectable popcorn. Meanwhile, their Roxboro store has been open, and popping, since Aug. 1, 2019.
Building the Future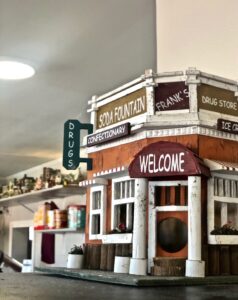 A combination of factors went into the Hopper family's decision to relocate. Kenley, Ryan's father, suffered a heart attack six years ago. After dedicating so much of their lives to their business, Daryl said she realized they had hardly set aside any time for themselves. "It made me ask, what more do we want in life," she questioned, "and when does that start?" The answer was sooner than she thought.
Ryan recalls making the life-changing decision on a flight home from Mexico. Acknowledging that his family could use a change, Ryan agreed to check out the Roxboro area with his mother. Daryl was drawn to the area because her brother has lived at Hyco Lake for years. "We were looking for a town that had a location close enough to a higher population," said Ryan, especially since the decision was "a big risk." In the end, "we felt like Roxboro was perfect," he said.
The Products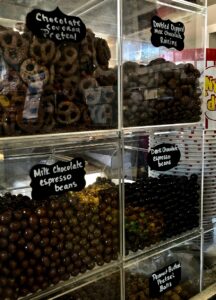 Hopper's Poppers makes and sells a variety of products in addition to their gourmet popcorn, including chocolates, candied nuts, Larry's Coffee, and Hershey's Ice Cream. As far as popcorn flavors are concerned, Ryan said they mostly "just come to you." He explained how the "cheese flavors" come prepackaged, so all they have to do is add spices. However, "sweet flavors take much more time," he explained, requiring at least 45 minutes each. Some flavors, including caramel, are created completely from scratch. Other flavors, such as "Over the Rainbow," can take nearly three hours to create.
Ryan is proud of his popcorn because he uses techniques that make it unlike most others. "Our popcorn is different because it comes out of warmers," he said, "it is literally as fresh as it could possibly be." The Hoppers also get the most they can out of each batch by bagging old flavors and selling them at a discounted price. This process gives customers a greater chance of catching flavors they may have missed the week before. Ryan and his mother are also "big sample people," as they believe "it's really important people know what they're getting before they buy it."
Community Impact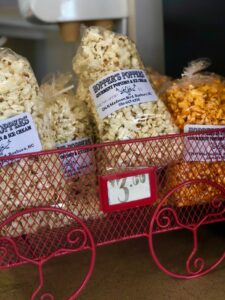 The Hopper family has already become a large part of our community, showing great dedication to the people they serve. They offer fundraising options, as well as catering for events, many of which have already been widely used and loved. Hopper's Poppers is also a great place for young people to work, giving teens the chance to learn valuable skills in a unique environment. In addition to their new customers and employees, Daryl and Ryan also praised their new business community for being supportive of them.
While Ryan acknowledges that "there is a separation of business and family," he wants people to know that his family ultimately came "to be a part of the community." Daryl was quick to add that she believes "if you treat your community and your employees as a family, then it will work both ways." Ryan put it best when he said, "it's not about making money, it's about family." Beyond that, Daryl is excited to welcome more new businesses to Roxboro. "We will be their biggest cheerleader," she said.
Personal Touches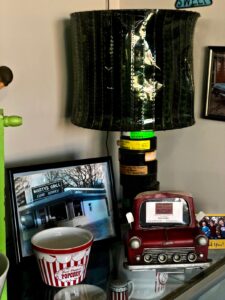 Aside from their community, the Hopper family also deeply values their roots. They believe it's important for their store to have "personal touches" that let customers learn about them, making them feel more at home. It may not always be evident at first glance, but their walls are covered in details that do just that. Awards won in Oregon are hanging on the wall alongside images of restaurants located within their theater back home. A lamp made of film, a project completed by Ryan during his freshman year of high school, can be found on a table. In addition to this, a collection of miniature theaters can be found lining the ceiling, each a gift to Daryl in the past.
One hard-to-miss detail is the large "Blarney Island" sign that hangs on the wall. Ryan came across this antique sign, from a popular Irish pub in Illinois, when he was cleaning out the building for their first location. While it may seem out of place to some, it means the world to Ryan, whose grandfather was an Irishman. Finding the sign felt like a sign itself from Ryan's grandfather. Daryl believes it was him "coming down" to let Ryan know he was "on the right path." Now, it hangs in their Roxboro location as a reminder that they're still right where they belong.
What Comes Next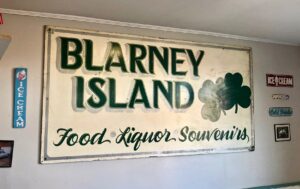 At some point, Ryan hopes to open at least one more store in the future, possibly in the Durham area. He has big plans, but Daryl said she will not be traveling outside of Roxboro to work. She loves the amount of freedom their new location allows, which is another reason she said her family "picked Roxboro and the lake life." Daryl understands and admires her son's ambition, adding that she will always support him and his dreams. She's just simply ready to slow down.
Ryan is open about his store and business. After having such success in another state, "I know what it takes," he told me, "I know what I'm strong at and what I'm weak at," which is an admirable trait. "I would say that I am well educated when it comes to running a small business," Ryan concluded, "but I know that I am very well educated when it comes to my business."
Hopper's Poppers is located at 234 Madison Boulevard in Roxboro.


Sara Coates is a graduate of Roxboro Community School, where she developed a deep love for journalism. After a year at Piedmont Community College, she transferred to the University of North Carolina at Wilmington, with plans to obtain a degree in social work. In the future, she hopes to return to Person County and have a great impact on the lives of children within our foster care system. In her spare time, Sara loves working with children, as a teacher in the three-year-old class at Small World Daycare in Timberlake, but also loves getting the opportunity to take photos and write for Hyco Lake Magazine.