By Marlo Countiss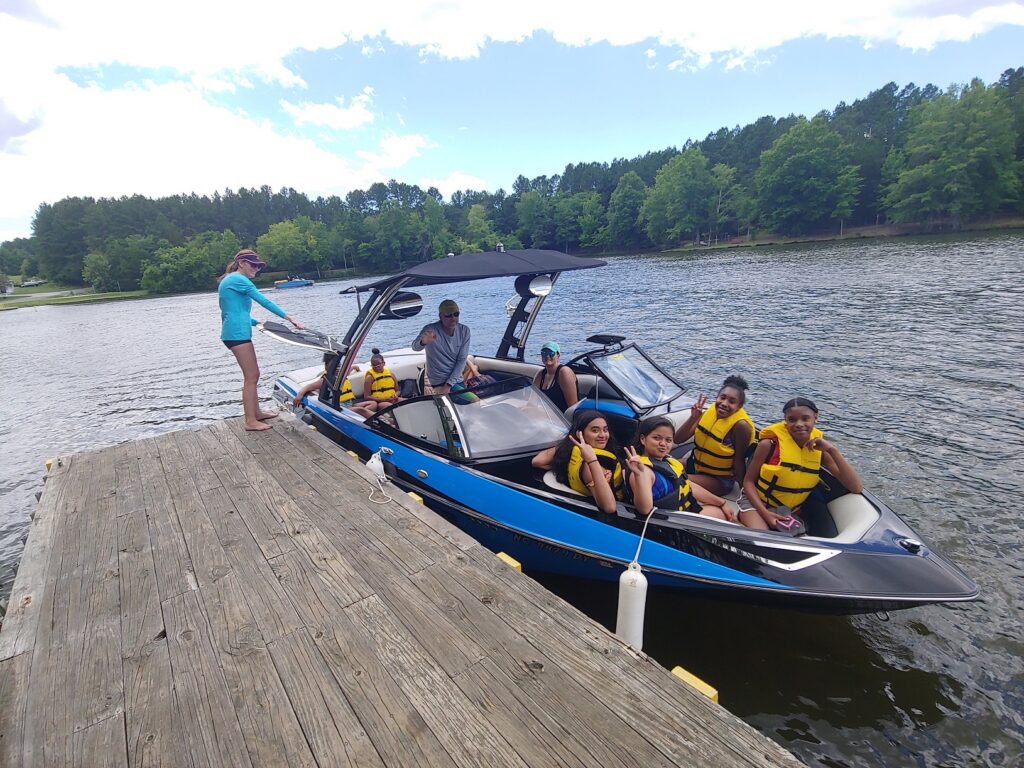 The 2019 Wake the World event at Hyco Lake was a huge success, and we hope to make 2020 even better. Last year, 11 boat drivers were able to provide a day that 68 kids from the Salvation Army Boys and Girls Club of Alamance County will never forget.
Wake The World is a non-profit organization founded by Master's Wake Boarding Champion Greg Hodgin and his wife, Lois. The couple is from Asheboro.  After a horrific traffic accident in 2008, Greg said he realized he wanted to make a difference.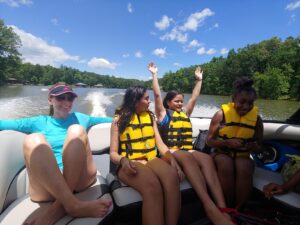 As the director of the Hyco event, I'd like to tell you a little about it. Hopefully, all the kids' smiles will inspire even more involvement in the upcoming 2020 event.
The day started off on the rough side last year. Storms ripped through the area on Thursday night before the event, and left most of our boat drivers without power, which created a huge problem preparing for the day. Hyco Lake Park, where the event was to be held, was without power as well. Carter Lewis, Buoy's Restaurant owner, volunteered to allow us to meet there when he discovered his was one of the few places on the lake that still had power.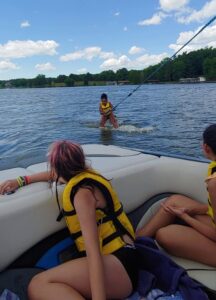 After a virtually sleepless night without power, my daughter and I got up at 5 a.m. and drove back to Mebane to prepare food for the event. We were trying to get everything ready for lunch when the texts started coming in from the drivers. The folks who were already at the lake could not get their boats off the lifts without power. We were just minutes away from postponing the event when the director for the Boys and Girls Club called and said that the kids were already starting to arrive. There was no way we could disappoint those kids. That is when everyone who could, rallied. People were sharing generators and hand-cranking their boats off the lifts. The effort these folks put in to make sure they didn't let down the kids was incredible.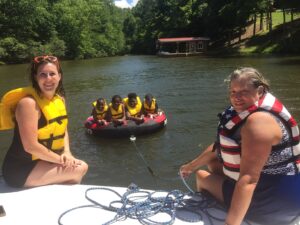 We ended up with 11 drivers who figured out a way to make the day work, and even though the kids may not have had as much individual instruction time as we had hoped, the smiles, laughter and waves for the camera told the story. To me, the most amazing part of the day was hearing the kids talking after getting off the water. They gained confidence through swimming, tubing and wakeboarding. The high winds made surfing difficult, but several of the kids learned how to wakeboard at the event.
After learning a lot last year, I have secured Misty Burgner, who has incredible organization skills, to assist with coordinating the 2020 event. Lisa Wright, whose family ran a restaurant for years, has agreed to help coordinate the meals for the kids. I know this year's event will be even better with their leadership.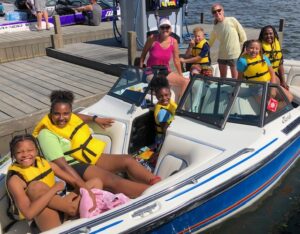 Because of the positive impact these events have, two additional organizations that heard about Wake the World asked to be included. One is the Mustard Seeds Ministry that works with at-risk kids in the Haw River area and the other is Person County Social Services. If we add these two groups, we will definitely need at least seven more boats to pull off this year's event.
Do you want to be involved in creating laughter, smiles and memories? The only qualifications are you must have a boat with an inboard motor, a boater safety license, and a heart for kids. If you do, help us make the 2020 event available to even more kids.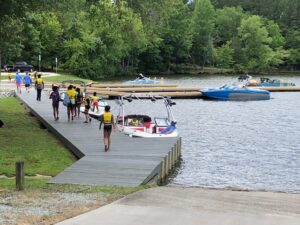 I would like to personally thank the drivers, Hans and Misty Burgner; Cameron Richardson with South Town Watersports; Frank Stoltmann and Jason Wrenn with Traditional Southern Construction and Renovations; LaRae Bennett and Zac Bennett; Jimmy Wright and family; Johnny from Inland Boat Company; Eric and Crystal Payne; Brandon Patrick, owner of Your Mobile Technician and NC Marine; Shelley Smith; Molly Rice; Kim and Angela Ingle; Jake Countiss and Rob Countiss for making this event possible. These folks were just incredible. We had to add more kids to their boats last minute and they never complained. They were awesome!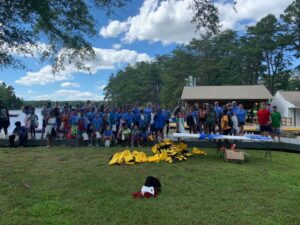 I would also like to thank Katy B. Hurn and Rose Bichsel from the Mebane Woman's Club and Kristin Howerton and family from the Mebane Rotary Club, Emily Countiss, Laura Countiss, Ashley Day and Alex Verouden (for manually dropping a boat from the lift and cooking over 250 hot dogs) for all their help with this event. None of this would have been possible without them.
If you are interested in finding out more about Wake The World, please visit the website at www.waketheworld.org , Remember, the only qualifications are: you must have a boat with an inboard motor, a boater safety license, and a heart for kids. So, if you are interested in participating in 2020, please contact Marlo Countiss at Marloc@remax.net.
Marlo Countiss is a Realtor/Broker with Re/Max Diamond Realty at 202 S. Fifth Street, Mebane, NC 27302. (336) 269-5292