Retaining Walls
By Joe Wilkerson
Often times as we envision our outdoor landscape our imaginations are limited by the current state of our property. We may want a patio off the back of our house, but the room isn't available. There may be water issues washing away once pristine landscape beds, or worse – collecting against the foundation of the house. Maybe there is a slope toward the basement that is constantly eroding, or you just can't mow the grass. Investing in a retaining wall can create more usable space, control drainage and erosion, or just simply enhance the beauty of the property. Whatever the desired goal, retaining walls can be used to improve your home.
What can a retaining wall do?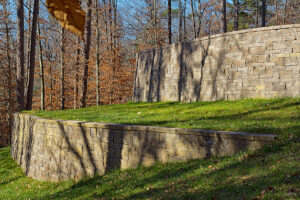 When we begin looking at a property to renovate or to assess problem areas, the first area we always address is drainage and water issues. Water is an incredible force, and without proper grades will ruin your dream backyard. It will also ruin a retaining wall if not properly constructed. As we lay out any landscape, often a retaining wall will allow us to achieve proper grades to manage the water and erosion effectively.
Another great benefit of a retaining wall is the creation of more usable space. Retaining walls can be as simple as a few blocks tall or engineered to towering heights to achieve large areas of usable space. Properly engineered, retaining walls can support buildings, additional parking, driveways, pools, patios, or simply more yard.
The terracing effect of a nice wall can also drastically improve the aesthetics of your backyard. We can use retaining walls to create dramatic effects and focal points in your yard. Accompanied with plants and lighting, the finished look is second to none. The clean, crisp lines that can be achieved with a properly laid out wall will make your landscape the envy of the neighborhood.
How are retaining walls built?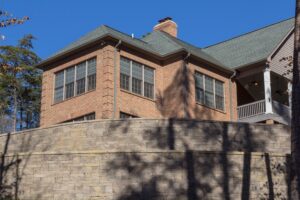 Retaining walls can be built several ways, but the principles behind the wall are the same. Essentially, a retaining wall is a structural mass holding back a determined amount of soil or structure. Walls should not be built without careful consideration of their purpose either. Careful planning and proper construction technique are critical to the long-term success and stability of the wall.
When choosing the material to construct your wall you should carefully consider all your options, and not rely solely on the cost of construction. From natural stone to concrete, several materials can be used to build different looking and functioning retaining walls.
Beginning with the type of soil located on your property, we can assess the needs of your retaining wall. The soil needs to be low clay content, preferably a sandy/gravel type soil to be used in the reinforced area of the wall. Poor draining soils often expand when wet, causing additional pressure on the wall and ultimately leading to failure. If the soils are unsuitable for the backfill, we typically bring in appropriate soil for behind the wall. Often this is the most cost-effective solution since we have a lot of extra labor in handling and compacting poor soils.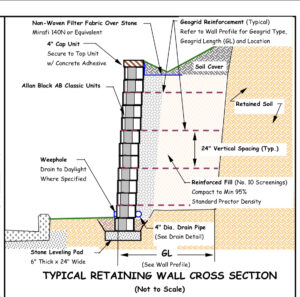 Like your home, a retaining wall needs a solid foundation on which to rest. Most walls are built on a gravel foundation that is leveled and compacted. Concrete can be used as well. Depending on the height and engineering requirements, the wall will likely be embedded into the ground to a certain degree to increase its stability.
Regardless of what materials you choose to construct your wall, it is imperative that you provide adequate drainage to prevent hydrostatic pressure from building up and forcing the wall over. Additionally, you need to ensure that the wall materials and design can sustain the forces behind and above the wall. Typical walls have weeps in the bottom of the wall, drain tiles behind the wall to allow water to easily escape, and clean stone behind the wall to allow drainage.
Types of Retaining Walls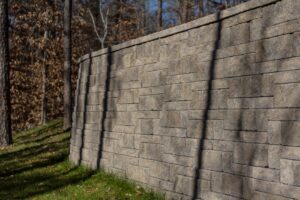 Retaining walls are built as either gravity walls or reinforced walls. Many segmental block walls can be built up to 4 feet in height without additional reinforcement or engineering. As these walls become taller, have top or bottom slopes, or have additional load considerations reinforcement is typically needed. Geogrid is usually used between the layers of block to tie the wall together and stabilize the soil and aggregate behind the wall. Concrete walls are commonly reinforced with rebar.
Geogrid can be best explained by drawing back on our childhood memories of building a sand castle at the beach. Everyone can remember building the castles out of sand and then jumping on them to flatten them back out. The reason they flatten back is because the sand lacks the strength to support your weight. Now imagine if you layered your sandcastle with sand-geogrid. You could then stand on your sandcastle and it would not collapse. The geogrid helps provide the lateral support needed for the sand to stand vertically. This same principle applies to block walls as well.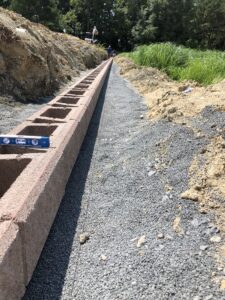 Segmental Retaining Wall Blocks (SRW) are the most common wall you see built today. Properly engineered SRW walls can be incredibly versatile, durable, and beautiful. The SRW block use an interlocking system to hold together and fortify itself. Numerous textures and colors are available, and SRW block offer speed and versatility in installation.
Natural Stone comes in many shapes, colors, and sizes. Natural stone is often used as a veneer or dry stacked. You can also use large boulders to build walls. While natural stone walls are some of the most gorgeous walls, they are also very time consuming to build and costly.
Timbers such as railroad ties or pressure treated lumber can also be used to build walls. Timber walls can be used for small walls and they give a natural look. While the material cost of timber walls is typically the lowest, they are also the least durable. As soon as you install the walls, they begin to decompose and break down.
Concrete and Masonry Walls are also commonly used to build walls. Concrete walls do not have to be just boring concrete either; you can veneer concrete with brick or natural stone to give a more aesthetically pleasing wall. Concrete walls can be very durable and allow additional flexibility by supporting building structures above the wall by serving as a foundation.
Before You Begin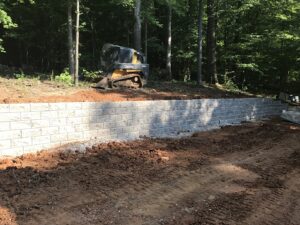 Before you begin, plan your work and identify your needs. Make sure you locate your underground utilities (it is the law). Additionally, depending on the size of your wall, you may need stamped engineered drawings. In North Carolina, walls over 5 vertical feet in height require a design, and a building permit may also be required.
We have had the privilege of building many types of walls over the years. We do specialize in segmental retaining walls, and we are always improving our systems and techniques. We have many tools to make our job easier, but at the end of the day 80 lb. blocks are just heavy. Building walls is not usually a weekend type of job. The wall design and construction are critical to its overall success and durability. Rebuilding retaining walls is no fun and extremely costly (typically more than double the original construction), so if you do have the need for a wall make sure you do your homework. Hire a contractor with experience.
While the design and construction process may seem daunting, properly constructed retaining walls will last a lifetime. Their design and construction need to be thought out and executed properly. When done correctly, a retaining wall can increase the value of your property, solve drainage and erosion issues, increase your livable area, and beautify your home.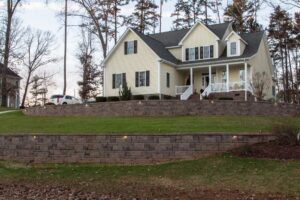 I am Joe Wilkerson, owner of Maplehurst Outdoor Living, previously named Southside Hardscape & Landscape Co. My passion is building your dream outdoor living area, and we recently changed our name to better reflect our purpose and mission. We are dedicated to building fine outdoor living projects in Southern Virginia and Northern North Carolina, so you can Unplug & Relax. (434) 579-5625

Here is a link in the second story in this series,
"Do you want fries with that?"
Don't forget to read the first article in this series,
"What's Involved in Outdoor Living Decision?"