HYCO LAKE, NC- A dock to a lake is as necessary as peanut butter is to two pieces of white bread and Smucker's jelly. Simply put, it's where lake life happens.
On the dock is where babies get their first feel of the water on their chubby toes, where little ones catch their first fish with Grandpa, where teenagers find and fall in young love and where retired couples get to watch the cycle of their well-lived, well-loved lives repeat through the next generation.
A well-worn Hyco Lake dock could tell a lot of tales, and eventually it begins to do just that, showing its age by turning color and losing the appeal it once had. This doesn't always mean that it needs to be replaced; quite possibly it just needs to be re-faced. Enter your new best dock friend – Dock Dockters.
What Is A Dock Dockter?
This unique business concept is the brain child of Hyco Lake lovers and residents, Nick and Zabrina Demagistris. Having lived on and fished the waters of Hyco for the last 15 years, this family of five is finding a new way to give back to the place they love to call home.
With 27-years of a successful automobile detailing business under his belt, including work in the Nascar industry, Nick knows a thing or two about making old things new again. A worn and weathered dock doesn't have to mean a lost cause anymore, once Dock Dockters is through with the job.
The idea for their business came to Nick as he was fishing on the lake one day and saw someone having their dock partially repaired and replaced. It was going to cost them upwards of ten thousand dollars and he saw a need that he and his wife could fill. Now Dock Doctors is helping people save money and literally save their docks by a unique process of cleaning that involves sanding the entire dock and then coating it with paint or another product of the owner's choice.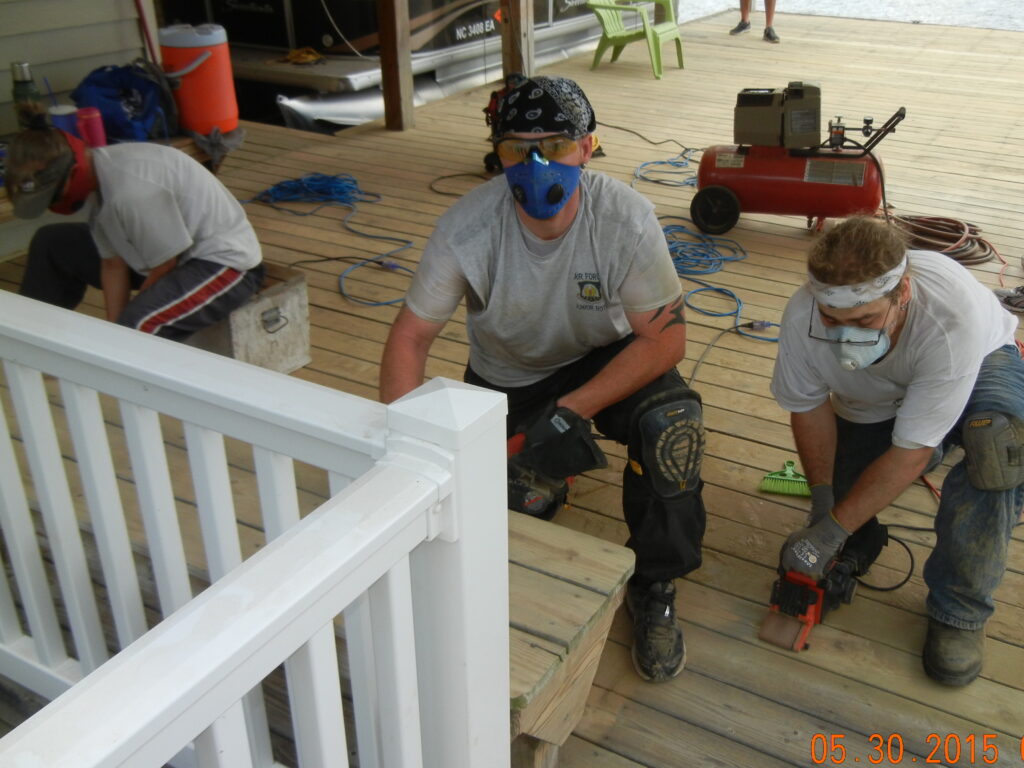 'A Lot of Ill Effects'
It goes without saying that over time, constant contact with water has a lot of ill effects on everything it touches. Wood namely begins to mold and mildew, making it as much of an eye-sore as it does making it unhealthy for the integrity of the dock. With this unique process of re-facing, a dock can be restored to its original color and condition without the expense of replacement. Genius!
For an average 1300 sq. ft. dock the entire process generally takes a week or less to finish, allowing the owners to get back to enjoying their good-as-new-dock by weekend, if at all possible. Of course, the work is weather dependent and spring is a great time to get on their schedule and get your dock ready to shine for summer. Depending on the size of the dock, a team of generally 3-5 people will work on each project at a time.
Nick and Zabrina take great pride in the quality of their work and have several Hyco Lake residential references ready to back them up. They also have slideshows of past jobs to show potential clients interested in having a first-hand look at a detailed view of the process. There's no better way to grow a successful business than with good word-of-mouth and a finished product that speaks for itself and Dock Dockters has both.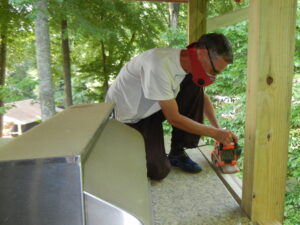 One of the best parts of having this work done is the instant gratification you get from seeing old be made new again in such a short time, and not breaking the bank in the process. Nick and Zabrina invite you to contact them to discuss letting them help meet the needs of your well-loved dock.
This article was first published in the spring of 2016, but Nick and Zabrina Demagistris are still "Sanding Tall!" Give him a call at (336) 260-8306
Meredith Bernard is a photographer, writer and farmer living and working with her husband and two children on a beef cattle farm in Milton, NC. Connect with her online at thisfarmwife.com.