Story by Meredith Bernard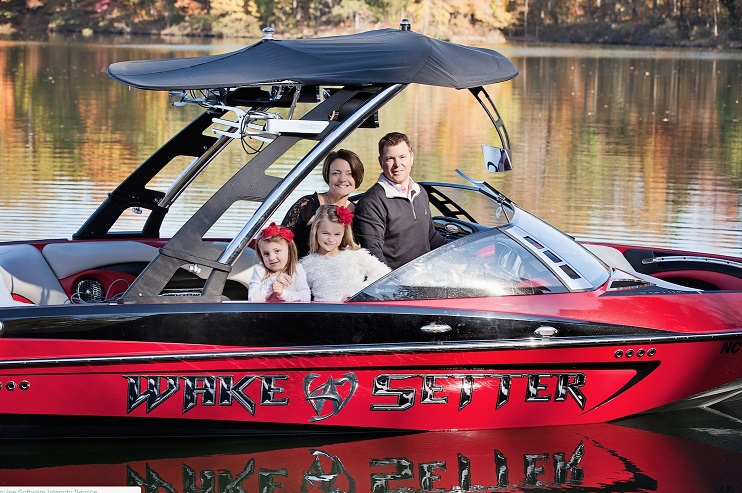 As often is the case, our lives tend to have a way of coming full circle. People, places and events wrap up and tie our stories together, even when we don't realize it's happening. As a child growing up enjoying the shores and waters of Hyco Lake, Janna Smith had no way of knowing how the lake and lake community would continue to weave itself through the story of her life.
As a teenager and young adult, Janna realized she had a unique gift and strong desire to pursue a career in art and graphic design. After receiving her fine arts degree from UNC-G, she continued her studies and went on to earn her commercial art, advertising and graphic design degree from Guilford Technical Community College. After graduating, she found work with a couple of different companies as an in-house graphic designer, and then changed gears by purchasing a paint-your-own pottery store, The Mad Platter, in Burlington, NC, which led to more interaction with the public and allowed her the chance to begin doing free-lance graphic design. Eventually Janna decided it was time to give her new design business a name and Blank Page Solutions was born. More than ten years later, her business is thriving, offering a myriad of creative solutions for just about any graphic design, advertising or printing need imaginable.
In-between graduating college and starting her graphic design business, Janna met Randall Smith. When he picked her up for one of their first dates trailering a boat, she was excited, but when he pulled into the boat ramp at Hyco Lake she was even more surprised. Both Janna and Randall had grown up on the waters of Hyco, but had never met there nor knew they shared this love affair with the lake until they began their own. Two years later the couple were married and their story continued together, still very much centered around lake life as they were able to later purchase a lot and build their own lake retreat.
After starting her company, Janna began to chase another dream that literally began as a dream. She woke one night with a million thoughts running through her head, wrote down several pages of notes and the next morning told her husband she was going to start a magazine. He may have thought the idea was a little far-fetched at first, but gave her his full support and soon Hyco Lake Magazine was born. Janna worked tirelessly learning what needed to be done, making contacts with local business leaders, and purchasing addresses for boat owners in adjoining counties and all Hyco Lake residents for the first mailing list. She began to sell ads, used her abilities to design the first layout and the magazine was off and running.
For almost ten years Janna has poured her heart and soul into this magazine that has become well-loved by not only Hyco Lake residents, but adjoining county residents, while at the same time growing her graphic design business. This past fall she made the tough decision that it was time to sell the magazine and focus more on her other business. She knows the magazine is in great hands with Peter and Chris Berry and is excited to still be on board as head of graphic design and layout. She's excited to see the ways Peter and Chris will take her original dream and make it their own.
In addition to continuing to grow her graphic design business, Janna is working to create an Etsy store she will call CrEAtiveInkEtc where she will sell original designs of birthday, baby shower, wedding, gender reveal and other types of invitations for either download or print, as well as other personalized and matching products.
Janna is excited about following her new dreams and thrilled to maintain a part in the continuing of the dream she started with Hyco Lake Magazine. Her and Randall's two girls, Ella, 11 and Aniston, 7, who have been raised on a boat at Hyco, are also excited to maintain their photos on the "Lake Shots" page in the back of the magazine, because even in the midst of change, some things needn't.
You can connect with Janna by phone at 336-260-3860, by email at jsmith@blankpagesolutions.com or online through her website at www.BlankPageSolutions.com for any and all of your graphic design needs and continue to see her beautiful design work in this and upcoming editions of Hyco Lake Magazine.
Meredith Bernard is a farm wife, mom to two, photographer, free-lance writer and regular contributor to this magazine, living and working on a beef cattle farm in Caswell County. She's a firm believer in the power of life stories, strong coffee and daily grace. Connect with her on Instagram, Facebook and Twitter @thisfarmwife and her personal blog at www.ThisFarmWife.com.